Starbucks (NASDAQ:SBUX) is one of the most well-recognized brands in the world. It currently has over 17,000 company owned and licensed stores that sell coffee, tea, food, other beverages, and accessories. With a market cap of $37 billion and a net income of $1.4 billion, Starbucks is one of the largest retail food chains in the world. (McDonald's (NYSE:MCD) has a market cap of 87 billion and net income of $5.4 billion).
I recently visited a Starbucks where it finally hit me, I'm waiting in line for 10 minutes for a cup of coffee. And in the meantime, the 5 people in front me of ordered a variety of different things: regular coffee, low-fat turkey bacon sandwich, raspberry scone, ham and cheese sandwich, green tea, Tazo tea, a Starbucks thermal cup, a CD, and the highlight of my very entertaining wait in line - a grande, low-fat, cinnamon and vanilla chai latte extra hot with a whipped cream topper. What? Did you just order a $7 cup of coffee? And this place sells much more than just coffee?
All kidding aside, I don't remember each person's order exactly but it was so obvious to me for so long, it just never resonated. I go to Starbucks at least twice a week, and although I order the plain regular coffee, this place is heaven to someone else, very unlike me. In fact, when I read that Starbucks had acquired Teavana (TEA), I thought "I hate tea," but it was a perfect fit. A great growth opportunity.
But as an investor, I wondered, is it already embedded in the price, or more importantly, can they pull it off?
The investment theme made sense. The opportunity is there for three primary reasons:
1. Channel Diversification
Starbucks had already been licensing stores within stores for some time, which helped it expand cheaply into high-traffic areas. The locally owned restaurant in our office building sells Starbucks coffee thanks to these licensing agreements. Had it not been so easily obtainable I may have had to walk 4 full blocks to my nearest Starbucks location.
But I wouldn't have lost much sleep (no pun intended). I could also get my Starbucks fix at Whole Foods, Trader Joe's and Costco. The point is, Starbucks is everywhere and people, like me, gravitate towards it.
With the Teavana acquisition, it can now offer a wide selection of teas, tea infusers and teapots, and with an average price ticket of $40 in a market estimated to be north of $40 billion, you have yourself an interesting investment opportunity. It doesn't plan on selling Teavana at Starbucks, but that's OK, Teavana gives Starbucks a much broader target market.
2. Product Expansion
Starbucks has also been focusing on the fast-growing single serve market. Let's face it, my experience waiting in line at Starbucks proves that we all have very unique preferences, especially, who would have thought this pre-Starbucks, of how we like our coffee. So the single serve market, where I can quickly brew a one cup French roast and sequentially brew a Rio Blend for my friend, is a fast growing $8 billion market.
3. Global Growth Opportunities
Finally, its growth potential outside the US is enormous. New store openings in China are expected to reach 5000 units over the long-term. And while I'm not a cultural expert, I believe the Teavana relationship may actually be extremely beneficial for expansion plans in Asia. Aren't Asians big consumers of tea? And the same might hold true for expansion plans in India, where there is potential for several thousand stores as well.
Valuation
Unfortunately, I'm not finding Starbucks to be at a good entry point. Morningstar's estimate of fair value is just $57, which was recently raised. At a current price of $50, I don't feel there is enough upside left in the stock over the short-term. Any meaningful pullback to around $45 would pique my interest, however.
On a relative value basis, the stock trades at a PE ratio of 28.4 compared to its 5 year average of 29.1. Similar relative valuation conclusions were drawn from the Price/Book, Price/Cash Flow, and Price Sales. See table below. It may be fairly valued, but it's not cheap.
source: Morningstar
And finally, using FAST graphs, I still wasn't convinced that the price was right. The first chart below is based on an earnings valuation proprietary to FAST graphs. The black line indicates that the stock currently trades slightly above the earnings justified valuation but slightly below the valuation that incorporates dividends. While the normal PE ratio valuation indicates it may be undervalued, it does not give me the calming feeling I would get from a sip of warm tea.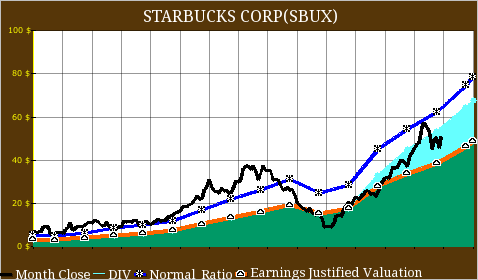 Going further in our analysis, the forward looking chart below is using an estimated earnings growth rate of 18% according to 22 analysts surveyed by Capital IQ. The stock looks overvalued. The yellow line is the earnings justified valuation. And each line above and below is a +10% and -10% difference from each subsequent line. So that the top red line is approximately 50% higher than the normal earnings valuation line indicated by the thick orange line.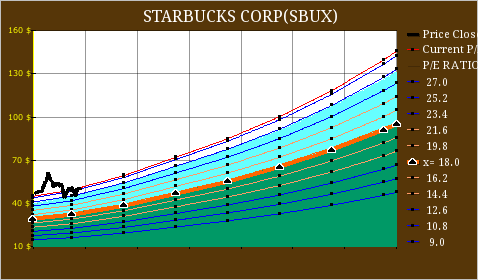 Only if we assume a 30% estimated growth in earnings, do we finally get a reasonable valuation. (See chart below). If it can pull off the Teavana integration, it may get there. But it's just not there yet.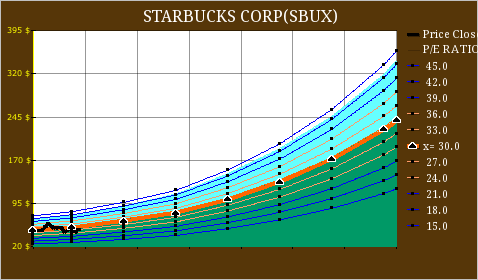 At these levels, Starbucks is just not my cup of tea. Yet.
Disclosure: I have no positions in any stocks mentioned, and no plans to initiate any positions within the next 72 hours. I wrote this article myself, and it expresses my own opinions. I am not receiving compensation for it (other than from Seeking Alpha). I have no business relationship with any company whose stock is mentioned in this article.