Over the last few days, a few blogs have been talking about a radical interpretation of the recent economic slowdown.
What if stagnating advanced-country growth is not merely a result of the recent credit crisis? What if global weakness reflects society's stagnation in technology and innovation?
And perhaps more interestingly, does this mean that investors are about to start shifting away from sexy growth industries towards more defensive industries?
From Kenneth Rogoff at Project Syndicate:
Recently, a few writers, including internet entrepreneur Peter Thiel and political activist and former world chess champion Garry Kasparov, have espoused a fairly radical interpretation of the slowdown. In a forthcoming book, they argue that the collapse of advanced-country growth is not merely a result of the financial crisis; at its root, they argue, these countries' weakness reflects secular stagnation in technology and innovation. As such, they are unlikely to see any sustained pickup in productivity growth without radical changes in innovation policy.

Economist Robert Gordon takes this idea even further. He argues that the period of rapid technological progress that followed the Industrial Revolution may prove to be a 250-year exception to the rule of stagnation in human history. Indeed, he suggests that today's technological innovations pale in significance compared to earlier advances like electricity, running water, the internal combustion engine, and other breakthroughs that are now more than a century old.
Don't Underestimate Human Innovation
Of course, this isn't the first time someone has called for the end, or at least a slowdown, in technological innovation. (One of my favorite examples is Lord Kelvin, speaking to the British Association for the Advancement of Science in 1900, saying that there is nothing new to be discovered in physics.)
History has shown us that it's never a good idea to underestimate human innovation. I, for one, tend to believe that recent advances in nanotechnology, stem cell research and synthetic life can dramatically improve our society on a scale that is comparable to past breakthroughs like electricity and running water.
But what do you think? Is this the end of "true innovation", or will another technological breakthrough keep economic growth pushing forward?
Let us know in the comments section.
A Switch Back to Defensive Sectors?
Whether we're seeing a long-term decline in innovation or not, it is interesting to note that our system of trading indicators have all turned positive on defensive sectors like healthcare and utilities, and turned negative on growth sectors like technology.
To date, we've built and backtested 40 proprietary indicators to predict the direction of the Health Care SPDR (NYSEARCA:XLV). Over recent sessions we've seen a significant increase in the number of "Up" signals for the ETF, suggesting near-term upside towards the end of the year.
At present, our indicators are signaling a high likelihood that XLV will be trading above 40.24 by the 12/26/12 close (backtests can be downloaded as a CSV file here).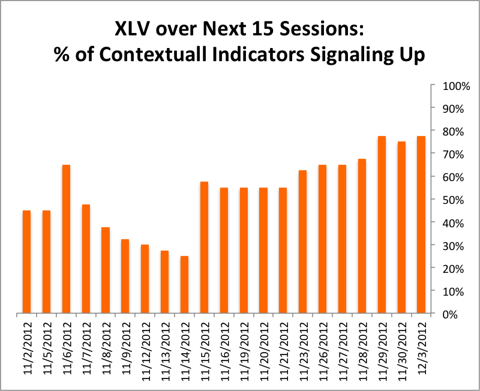 We've also noticed a significant increase in bullish indicators for the Utilities SPDR (NYSEARCA:XLU). Based on data from the December 4 close, 36 out of our 40 indicators are signaling that the ETF will be trading above 34.92 by the 12/26/12 close (backtests can be accessed as a CSV file here).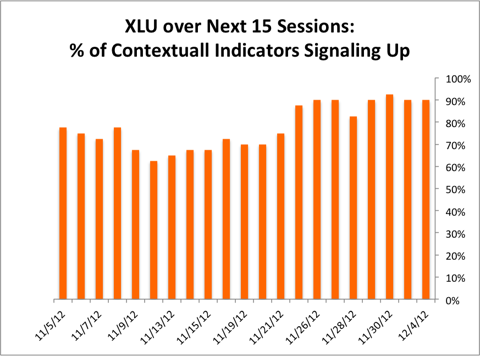 Investing Ideas: Institutional Favorites in the Utilities Sector
We suggest going long on the XLU and XLV exchange traded funds into the year-end. But if you're looking for specific stocks, here is a screen on utility stocks that have seen significant institutional buying during the most recent quarter (data sourced from SEC filings):
Use this list as a starting point for your own research.
1. Atlas Energy, L.P (NYSE:ATLS): Engages in the gathering and processing of natural gas in the Mid-Continent and Appalachia regions. Market cap at $1.74B. Net institutional purchases in the current quarter at 4.8M shares, which represents about 10.25% of the company's float of 46.83M shares.
2. NRG Energy, Inc. (NYSE:NRG): Operates as a wholesale power generation company. Market cap at $4.84B. Net institutional purchases in the current quarter at 15.8M shares, which represents about 6.96% of the company's float of 227.12M shares.
3. Suburban Propane Partners LP (NYSE:SPH): Engages in the retail marketing and distribution of propane, fuel oil, and refined fuels, and the marketing of natural gas and electricity in the United States. Market cap at $1.37B. Net institutional purchases in the current quarter at 7.7M shares, which represents about 21.89% of the company's float of 35.17M shares.
Disclosure: I have no positions in any stocks mentioned, and no plans to initiate any positions within the next 72 hours. I wrote this article myself, and it expresses my own opinions. I am not receiving compensation for it. I have no business relationship with any company whose stock is mentioned in this article.