Like a majority of my male friends, there was a time when I felt genetically predisposed to spend my weekends wandering in Best Buy (NYSE:BBY) stores. The stores were an affordable electronics "theater of dreams" with a great in-store experience. Best Buy stores did not change, I did, and I did not realize when that happened until I stopped to think about it. It has been hard to watch the Best Buy juggernaut flail in the waves created by Amazon (NASDAQ:AMZN), Target (NYSE:TGT) and Wal-Mart (NYSE:WMT). Even harder to accept that Best Buy may never recapture its mojo in the consumer electronics space. Beyond the numbers, I set out to understand why I and other customers stopped or reduced the frequency with which we shopped at Best Buy.
I started off my review by assuming that some of the rot that is afflicting Best Buy is systemic. To this end, I decided to compare against a similar competitor in h.h.gregg (NYSE:HGG). I did not factor in the nuances of store count, write downs, maturity level, new stores or international expansion for simplicity. In the last five years, the stock price of Best Buy and h.h.gregg are down 75.45% and 45.40% respectively. Note the spike in the stock price of h.h.gregg in the chart and supporting table below as well.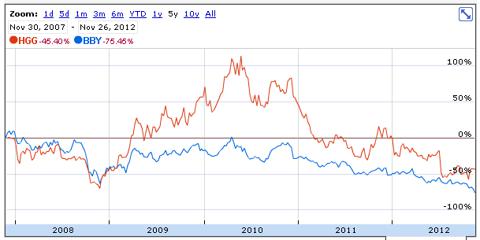 (Source: Google Finance)
A deeper dive into the numbers (see table below) shows that h.h.gregg posted a better percentage total revenue growth, from 2008 to 2012 with an average of 19.09% as opposed to 6.20% for Best Buy. The table also shows that the cost of revenue as a percentage of total revenue is 69.65% for h.h.gregg as opposed to 75.44% for Best Buy. This variance in the cost of revenue as a percentage to total revenue is of interest because of the size discrepancy between the two companies. This is indicative of Best Buy's inability to leverage its scale in its sourcing processes, or the fact that its assortment is bloated. SG&A expense as a percentage of total revenue is 20.50% for h.h.gregg versus 19.66% for Best Buy. These numbers are a percentage of total revenue so a sensible conclusion is that either Best Buy is not growing revenue fast enough or its costs are not managed to align with revenue trends. Initially, I was hoping this comparison would support my assumption that Best Buy was not performing any worse than similar companies but I could not make that conclusion.

Fundamental Flaws
Customer Experience - For me and some other customers, the incremental value of a physical visit to a Best Buy store does not offset the effort of driving to a store or the value of the time required to go to a store. The in-store experience is cavernous, the stores are no longer alive, and honestly the way I consume technology has changed. A respondent compared their shopping trip to Best Buy to that of Costco (NASDAQ:COST). They said, "I shop at Costco because it is rewarding and exploratory. I expect the store layout to be slightly different each time I visit and to sample something that I otherwise would not try at home." Kudos to Best Buy for the renewed emphasis on customer service. How about linking this experience with Reward Zone data to make customer service reactive and proactive? Even more kudos for the store redesigns/remodels. How about differentiating the feel so it is does not feel like imitation of something in the market? How about setting up the store to be an electronics solution destination rather than having "solution central" in the middle of the store? A store where customers can stand in front of a camera, and get an HD picture taken and broadcasted immediately on TVs around the store? An interactive experience where phones are connected to TVs, Notebooks, Tablets

and

PC

s. An evolving experience for every visitor that creates some inertia to want to revisit the store and generate the occasional impulse buy.
Positioning -

What

does Best Buy stand for, and who is their desired customer? Best Buy cannot change its gut while staying in the same shell. Let's put this in perspective by looking, for example, at the supposedly mundane grocery retail space, which is a relatively stagnant space. Whole Foods

has

positioned as a provider of organic products, Trader Joe's as a provider of private brands with a neighborhood feel, Wal-Mart

as

a low-cost leader, and

Target

as an in-between retailer at fair prices. Where is Best Buy positioned in the consumer electronics space? It started off with the big box format but competitive pressures have forced it off its original model. If my opinion were sought I will position the stores as an upscale "Theater of Electronics Dreams." A place beyond the comfort zone of online shopping in assortment, shopping experience and pricing. A place that is beyond Target and Wal-Mart in required staff training and complexity. A place infused with electronics exuberance that showcases the full extent of products in terms of connectivity and use. A place where customers go to be wowed. An experience that matches the paper description of what the purchase of Magnolia Hi Fi in 2001 was supposed to bring, diluted, and adopted for the entire store. I would acquire or start a low-cost online brand that leverages the scale and resources of Best Buy without calling it Best Buy.
Strategy - Fundamentally, Best Buy's strategy is to reduce square footage, increase margin, reduce costs, and grow standalone businesses (Kiosks and Best Buy Mobile stores). There is a push to align the online division and the stores (Omni-channel). The growth of the standalone mobile stores in particular is interesting from a branding and revenue perspective. The gap in this strategy is the inadequate emphasis on incremental value from the store or online experience. A failure to recognize that consumer electronics is at an intersection of hard and soft components, and factoring that into the expected consumer experience. As seen with other brands, Best Buy needs to put in place a strategy that uses its different brands to differentiate the experiences that customers get from it. Think of the strategy with Zappos from

Amazon

or C9 from Target to see how retailers use different brands to reach the customer, and also how those formats come together to create synergies for their parent brands. What Best Buy needs to figure out with the standalone experiences, is to build them into an ecosystem that revolves around the brand.
Competition - Knowing your competition is important but becoming competition is critical. It allows you to become what Amazon terms "the re-inventors of normal." It shapes the battlefield to favor what you are trying to achieve and in some cases creates mirages for competition. The table below shows how Amazon has defined the landscape for Best Buy, and why Best Buy might play catch up forever if it does not become competition.
| | | |
| --- | --- | --- |
| | Best Buy Co | Amazon Inc. |
| Desired state | Omni - Channel (online and in-store alignment) | Omnipresence (online, Apps, store pickup, kindle and everywhere else) |
| Customer approach | Satisfy customer needs | Identify and meet customer needs |
| Expectations | Taxes to level playing field | Taxes to enable expansion into new cities and enable same day distribution |
| Approach to competition | Best Buy and the others | Shared platform and Amazon |
| Entity | Single entity | Sum of many parts |
| Approach to innovation | Sell innovation | Re-invent normal by continuous innovation |
| Customer Experience | Transactionary | A continuous relationship |
| Physical Locations | Store closures | |
While Best Buy is trying to become the much desired Omni-channel by aligning its stores and online businesses Amazon is working on omnipresence - store pickup, Apps (TV, Phone, and Computers), Kindle, Amazon Prime, whispersync, cloud services etc. Amazon is competing today to ensure that tomorrow's customers are surrounded by a convenient Amazon ecosystem.
Best Buy is investing heavily to train its associates for better customer service to ensure that they service customers by the transaction. Amazon considers profitability as a secondary requirement to customer satisfaction. Its customer service policy is strictly enforced and the same across its platform including 3rd-party vendors. But, it is also working hard to predict future technology and consumer preferences and building an ecosystem around those. Customer service for Amazon is a relationship that invites customers beyond a transaction.
Best Buy and other retailers expect taxes to level the playing field with Amazon as they build out their distribution network. Amazon embraces this challenge as an operational opportunity, and thinks the convenience to customers of same-day delivery at better prices will be an advantage to them. Amazon understands that once it earns the trust of the customer and blurs the difference between online and in-store retailing it will increase its market share.
Amazon looks at every Internet connected device as a sales point, and builds technology (like whispersync) with that in mind. Amazon is not always the lowest priced on its site but it recognizes and accepts the platform as a competitive advantage. The platform provides it with data for trends, insights and also an indicator. Best Buy is not structured for openness, which could be a half-full or half-empty scenario. The danger for Best Buy and other retailers in attempting to copy Amazon is that they look at pictures of videos and miss the fluidity of the environment.
Best Buy sells the innovation of OEMs. Amazon does too. Best Buy sells private label products. Amazon does too. Amazon develops unique technology that it is willing to sell at a loss to drive sales and adoption of its platform. Best Buy cannot do that because it needs to show a profit. Inherently, the ability of Amazon to dictate the competitive landscape puts all competitors at a disadvantage. The one dimensional customer centric focus beyond immediate profits coupled with constant innovation is what provides Amazon's stock price the level of resistance it enjoys in the market place.
Conclusion
Disruptive innovation is the willingness to be misunderstood in pursuit of sustainable competencies. Think of the risk Amazon must have felt when it launched the first Kindle, which could potentially destroy its core business of selling books. Best Buy needs to think along those lines to truly differentiate itself from the field and to add value to its brand. Customer satisfaction extends beyond a transaction and does not always positively correlate to profitability in the short term. When Best Buy truly gets that it will realize that it can grow the pie as opposed to taking pieces of the pie from Amazon, Target and Wal-Mart.
Best Buy's stock will invariably remain a value trap - rising on short-term positive news like Black Friday traffic, and falling on the inevitable announcement of shrinking margins. Customers are smart enough to search for lower prices but they will pay for reliability and trust. Reliability as in when customers/investors understand that they can rely on a company because it takes care of them today and will take care of them tomorrow without ripping them off to be profitable. Best Buy lost my business because it stopped taking care of my dreams. As I thought about why I switched to Amazon even though it did not offer the opportunity for instant gratification that Best Buy provides, I concluded it occurred when I lost my Zune player and was able to download most of my songs from Amazon's MP3 cloud player. A free service that predicted a future need and took care of it without compromising my Amazon experience. Today, I am an Amazon Prime member with a high level of comfort and trust in Amazon. I would love to shop at Best Buy again but Best Buy must understand that the balance of power is shifting from retailers to customers and that consumers expect retailers to meet them more than half way in their purchasing decisions.
Disclosure: I have no positions in any stocks mentioned, and no plans to initiate any positions within the next 72 hours. I wrote this article myself, and it expresses my own opinions. I am not receiving compensation for it (other than from Seeking Alpha). I have no business relationship with any company whose stock is mentioned in this article.