When insiders buy, investors should pay attention. By following those who are understood to have greater knowledge of the company's opportunities, investors can often follow suit and enjoy the rewards of a more timely purchase. This is the reason why investors should continue to monitor the stock purchases of insiders and search out clues as to why they were made. After all, while there are typically many reasons for a person to sell stock, there are often very few reasons to buy company shares apart from a general belief in the price's undervaluation.

One such company that made a strong presence on the radar this past week comes from a small logistics service provider named Pacer International (PACR). What made the company stand out wasn't so much the size of the transactions, but the fact that several insiders had directly made open market purchases. This even included a purchase from the recently appointed chief operating officer who had joined the company a little over a month ago. Each of these purchases were conducted roughly around the same period (November 29-30) and may indeed be a coordinated action in itself.
| Name | Role | Shares | Price | Value | Form 4 |
| --- | --- | --- | --- | --- | --- |
| Daniel W. Avramovich | Chief Executive Officer | 30,000 | $3.50 | $105,000 | Link |
| John J. Hafferty | Chief Financial Officer | 5,000 | $3.29 | $16,450 | Link |
| J. Douglass Coates | Director | 3,000 | $3.29 | $9,870 | Link |
| Robert J. Grassi | Director | 20,000 | $3.31 | $66,200 | Link |
| Paul C. Svindland | Chief Operating Officer | 15,000 | $3.34 | $50,100 | Link |
| Robert D. Lake | Director | 18,000 | $3.43 | $61,740 | Link |
Pacer International is widely known as a third-party logistics firm that provides intermodal and logistics services in order to get a customer's freight from point A to point B as efficiently as possible. The company takes great pride in having one of the largest integrated, door-to-door intermodal and drayage networks in North America. As of December 4, Pacer International supports a $128.29 million market capitalization. The company carries a healthy current ratio of 1.38, forward price-to-earnings ratio of 14.09, and a book value of $3.37. The tangible book value per share has also steadily increased. Yet as seen in the graphic below, shares have continued to fall over the past year as the company now trades at a mere $3.66 (even after the 10% intraday spike seen on December 4).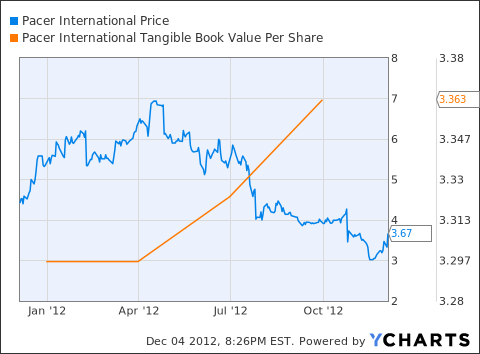 Several of the industry players have size-worthy advantages over Pacer, but each tend to have niche markets of their own. Some noteworthy competitors can be found in names such as C.H. Robinson (CHRW), Hub Group (HUBG), and Expeditors International of Washington Inc. (EXPD). A quick comparison table between these companies can be seen below. All data was taken as of December 4, 2012.
| Company | Market Cap. | Fwd. P/E | Price/Sales Ratio | Price/Book Ratio |
| --- | --- | --- | --- | --- |
| Pacer International | $128.3 Million | 14.09 | 0.08 | 1.09 |
| C.H. Robinson | $9.84 Billion | 19.31 | 0.90 | 7.62 |
| Hub Group | $1.20 Billion | 15.33 | 0.39 | 2.45 |
| Expeditors International of Washington | $7.74 Billion | 19.71 | 1.30 | 3.70 |
A possible cause for the company's recent storm of insider buying might rest in the hopes over a new agreement with Union Pacific Railroad (UNP) found here. The multi-year agreement to arrange, manage and provide intermodal freight transportation services bodes well for Pacer as it secures a noteworthy client. This can be viewed as even better news when taken in light of Reuters' latest article stating the transportation companies are prospering in light of a trade boom with Mexico. Such increased commerce between the United States and its neighbor can be beneficial for Pacer as goods crossing the border need an efficient logistics provider.
Overall, the recent insider purchases at Pacer International is a very strong sign for those who believe the company is trading at an attractive valuation. Despite the company's recent price decline, its earnings outlook remains in the black. The company's financials also show that total stockholder equity has steadily increased over the last several years. Taken as a whole, insiders appear to be leading by example as they dip their toes back into the company's stock. It would seem beneficial to readers if they ponder doing the same.
Disclosure: I have no positions in any stocks mentioned, and no plans to initiate any positions within the next 72 hours. I wrote this article myself, and it expresses my own opinions. I am not receiving compensation for it (other than from Seeking Alpha). I have no business relationship with any company whose stock is mentioned in this article.