Over the last decade, Warren Buffett's Berkshire Hathaway (NYSE:BRK.A) has morphed from a company that was largely a collection of investments executed by the finest capital allocator of the last half-century, to a conglomerate, which generates the majority of profits from a collection of high quality operating subsidiaries. Valuing Berkshire Hathaway has always been a fairly difficult task due to the wide swath of businesses and investments, plus the fact that so much of the company's value is due to Warren Buffett's aging, yet profound investment genius. After being introduced to Buffett's partnership and shareholder letters at an early age, I find myself appreciating some of the basic nuances of the Berkshire Hathaway business model more and more as I get older and more experienced. It is so refreshing investing in a business where the focus is on growing shareholder value by a maximum rate over the long term, and being able to trust that the organization will have the financial strength and stability to stick to those goals. Moving forward, I believe that Berkshire Hathaway offers an attractive value, which can be enhanced by the active value investor willing to incorporate some basic options strategies only for the purposes of generating additional income, and getting into the stock at more attractive prices.
To understand where Berkshire is going in the future, it is important to understand where it has come from. Between 1965 and 2011, the company has compounded book value by 19.8% annually compared to 9.2% a year for the S&P 500. Berkshire's transfer of capital from textiles to insurance and prudent capital management of the insurance float were in a simplistic way the catalysts for this explosive growth. Berkshire's insurance operations have grown from being average at best, to arguably the finest insurance operation in the world. Few companies can compare to Berkshire's 9 consecutive year streak of underwriting profits, totaling about $17 billion through 2011. Meanwhile, during that 9 years, the float has increased from $41 billion to $70 billion. Buffett mentioned in his 2011 shareholder letter that he doesn't expect the float to grow very much in the near future, as it is already quite large in relation to the amounts of premium written. While this may or may not be true, this float shows up as a liability for Berkshire Hathaway when in reality it is more of an asset considering the company's history in underwriting profitability. Berkshire's unique and diverse insurance operations will continue to provide the rocket fuel for the company's growth through acquisitions and investments.

http://www.berkshirehathaway.com/letters/2011ltr.pdf
As the company has grown larger, it has become increasingly difficult to move the needle, and it is foolish to believe the company can continue to grow equity at the same rate into the future. I believe that Buffett has prepared Berkshire for the day when he won't be pulling the strings, by attempting to somewhat reduce the risks of bad decisions by his successor through tying up capital in large operating subsidiaries. The 5 largest non-insurance companies are Burlington Northern Santa Fe (BNSF), Iscar, Lubrizol, Marmon Group and MidAmerican Energy. Seven years ago, the only one of these companies owned by Berkshire was MidAmerican, which had pre-tax earnings of $393MM. In 2011, these 5 companies earned more than $9 billion pre-tax and are on pace to earn around $10 billion in 2012. These companies are all leaders in their respective industries and have ample opportunity to improve pre-tax profits. Berkshire's enormous financial strength has allowed these companies to make tuck-in acquisitions to many of its subsidiaries in times of turmoil. In the recent past, MidAmerican has made numerous multi-billion dollar investments in wind and solar, as those alternative fuels have been out of favor with the reduction of subsidization from some Western European governments. In 2011, Berkshire spent $8.2 billion on PP&E, which was $2 billion more than the previous record year. I'd expect to see this number continue to climb because businesses like BNSF and MidAmerican are highly capital intensive, but they are attractive for Berkshire because they offer the ability to allocate substantial amounts of capital with the expectation that returns on incrementally invested capital will be above the cost of capital. Because Berkshire isn't pressured to pay dividends out of its utility and railroad operations, the company has the advantage of retaining stronger capital positions that enable the subsidiaries to invest when competitors are pulling back.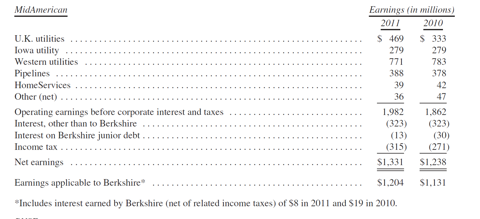 It is important to point out that Berkshire avoided these types of businesses for a long time because of their capital intensive characteristics. Businesses like See's Candies, Blue Chip Stamps and the insurance operations all had more attractive cash flow characteristics than BNSF or MidAmerican. The problem is that businesses like See's are not very common, and are certainly not often available at attractive prices and in scale to move the needle for Berkshire, therefore, I admire the fact that Buffett has adjusted his business model to deal with this reality. Another strength of Buffett's investment philosophy is the understanding that minority ownership positions in Coca-Cola (NYSE:KO), American Express (NYSE:AXP), International Business Machines (NYSE:IBM) etc. should be looked at in the same way its subsidiaries from the standpoint that Berkshire is an owner of a certain percentage of these companies' earnings streams. Because all 3 of these companies have been able to earn high returns on equity and invested capital, the reinvestment of these earnings streams into the businesses has improved Buffett's returns on investment beyond what likely could have been achieved had those companies paid out a larger percentage of earnings via dividends. Berkshire's earnings are hugely understated because they only reflect the dividend payments of its minority investments, as opposed to its full pro-rata share of earnings. It is even better for Berkshire when companies like IBM engage in huge buybacks at attractive prices, because it increases Berkshire's stake in future earnings.
One investment that deserves mention is Buffett's huge position in Wells Fargo (NYSE:WFC). As of 9/30/2012, Berkshire held approximately 422,549,545 shares of WFC. At T&T Capital Management, we agree with Buffett on WFC, and are confident that this stake could be worth in excess of $20 billion over the next year or two as the housing market continues to recover. In addition, Wells Fargo will be providing a gusher of dividends to Berkshire adding to the massive cash flow that the company is generating on a quarterly basis. Another gem of a deal for Berkshire was the $5 billion of 6% Bank of America (NYSE:BAC) preferred stock that was acquired last year. In addition to the attractive rate on the preferred, Berkshire acquired warrants, which enable the company to buy 700MM common shares of BAC at $7.14 per share any time before September 2, 2021. We believe Bank of America will be trading well in excess of $20-30 per share by that time, while generating prolific dividends, so it is not hard to envision this being another core position in the future Berkshire investment portfolio. Many market pundits believe that when Buffett is gone that Berkshire won't still get the sweetheart deals it reached with the likes of BAC, Goldman Sachs (NYSE:GS), General Electric (NYSE:GE) etc. While it may take time, I believe Buffett has created a culture at Berkshire that will endure for quite some time.
The fact that Buffett has had the resources and time to hand-select his successor really should reduce the risk of when is he is no longer heading the business. Berkshire is Buffett's Sistine Chapel, and to think that he would mess up on such a key decision seems highly unlikely. While I may certainly be wrong, I tend to believe that Berkshire insurance head Ajit Jain is likely going to be the man for the job. He strikes me as being very similar to Buffett in that he is immensely passionate about Berkshire, he is patient, and he understands the concept of maximizing risk-adjusted returns. Berkshire's conservative nature and strong capital position might hurt returns during the short term at times, but it is like having a store locker of ammunition available when times get tough. Under Jain, or whomever Buffett chooses to lead, I wouldn't expect this to change.
Over the past year, investment managers Todd Combs and Ted Weschler have impressed me a lot in terms of their investment decisions. I believe that they will do a fine job allocating Berkshire's low-cost investment capital into the future. Last year, Buffett announced that Berkshire was undervalued, and that he was willing to buy back stock at 110% book value or less with various conditions. I believe that this would be highly accretive to Berkshire shareholders if ever the stock would trade down for a long enough period for Buffett really to be able to buy aggressively. I think the future of Berkshire will entail more buyback type activities, and dividends are even a reasonable possibility, only after Buffett has moved on. Many of Berkshire's businesses and investments are related to the housing market in some way, so the emergence of that sector is likely to provide a large tailwind to Berkshire's bottom line. Berkshire continued investing in real estate related businesses throughout the depression in the industry, including a lucrative joint-venture with Leucadia (NYSE:LUK).
Currently Berkshire's B (NYSE:BRK.B) shares have a book value of roughly $74.48 per share. I focus on the B shares because they have stock options unlike the extremely expensive A shares. 110% of book value is around $82 per share, so Berkshire's stock price is just above Buffett's buyback criteria. Buffett has previously commented that the best way to value Berkshire is to split it into two parts with investments and operating companies. Even using a conservative multiple on pre-tax earnings would show Berkshire to be considerably undervalued, and I believe that Berkshire's investment portfolio has tremendous upside at current prices. When interest rates rise, Berkshire will be a huge beneficiary and the return on equity should increase dramatically.
At the recent closing price of $87.27, Berkshire trades at approximately 1.17 times book value. This is much cheaper than the historical multiples and I believe it is cheap on an absolute basis as well. Buffett is sitting on about $47.7 billion in cash and equivalents, meaning that he has close to $28 billion free for a sizable acquisition if he wanted to. At this stage in his career, Buffett tends to look for businesses that seek him out as opposed to being more aggressive in acquiring companies in the open market. If an attractive opportunity doesn't come to him, it is possible he will execute another IBM-type investment where he allocates in excess of $10 billion in a company that he deems to be well-managed, and most importantly undervalued.
One deal that I think would make a lot of sense for Berkshire is acquiring a large stake in insurance giant American International Group Inc. (NYSE:AIG). The government is looking to divest its remaining 15.9% stake, which at current prices would cost about $8 billion. I know it's not likely, but I think it would be a masterstroke for Buffett to acquire a large stake in AIG in the open market. AIG is going to be dramatically reducing its share count over the next few years in my estimation, and if Buffett were interested he could potentially acquire a controlling interest. Buffett has passed on AIG in the past and my guess is that the derivative portfolio made it easy to stay away, particularly after his experience with General Re in the early years. Because that portfolio is wound down dramatically, acquiring a controlling interest in AIG would allow him to control the massive float of AIG's various insurance businesses without the huge uncertainties of the financial products division. AIG's return on equity is far lower than Berkshire's typical investment fair, but I believe it will increase considerably as some of the legacy businesses are divested. It was rumored that Chubb Corp. (NYSE:CB) was in play earlier in the year for Berkshire, and while AIG's insurance business might not be up to Chubb or Berkshire's level, there would be no better way to improve the operations than through incorporating Berkshire's best practices. Even if Berkshire didn't take control, AIG offers the ability to invest a sizeable chunk of capital at a huge discount to both intrinsic and book value.
Berkshire has been a core position for us for quite some time. We use it as somewhat of a cash-like position in that we feel the stock has very little downside, and should compound at 10-13% over the long-term. For investors who are looking to get in at cheaper prices, it might make sense to sell some puts in addition to buying the stock. The January 2014 $90 puts are going for about $700, meaning that if Berkshire closes below $90 at expiration you'd be long the stock at $83. If the stock rises above $90, you'd make about 8.4% on the maximum risk. If you buy the stock in addition to selling the puts, you can still capture the upside, but using the put strategy to dollar cost average allows you the added benefit of increasing your profit if the stock doesn't give you a better entry price to buy more outright. You might consider selling a January 2014 $100 call for about $1.50 to create a synthetic dividend while keeping ample upside potential. I believe most market participants would do very well allocating a large percentage of their portfolio to Berkshire and not trading regularly, as I see no reason why it can't slightly exceed the S&P 500 over the long term, which is far better than most market participants do. Our fair value estimate is conservatively above $95, but I would only consider selling the stock remotely close to that price if I had better opportunities. Right now, other financial stocks offer more attractive risk-adjusted returns, but Berkshire is a fortress that is a wonderful long-term holding anywhere below 1.2 times book value.
Disclosure: I am long BRK.B, AIG, BAC, WFC. I wrote this article myself, and it expresses my own opinions. I am not receiving compensation for it (other than from Seeking Alpha). I have no business relationship with any company whose stock is mentioned in this article.