With the amount of coverage larger cap stocks get, it can be easy for retail investors to get caught up and forget that there's hundreds of smaller companies out there that are financially healthy and make great investments. Take for example, Provident Financial Holdings (NASDAQ:PROV), based in Southern California.
Provident is a small bank that serves primarily small businesses in retail banking and mortgage banking. They operate 18 branches throughout Riverside County in Southern California which means it has a smaller "community bank" feel to it. Their fundamentals remain solid though there has been a decline in revenue (possibly due to the recession which has hit small businesses the most).
What's good?
In today's market it seems as if a company must pay dividends to satisfy the small investor's thirst for short-term returns. Provident Financial, despite being a small cap, pays a dividend of 1.27%. While this isn't exactly a high yield, it's important to note that their payout ratio is only 10% which leaves a lot of room for company growth and dividend growth.
Provident Financial is trading at 10.59 times earnings compared to an industry average of 18.70 times earnings. Provident also has a Price-to-revenue ratio of only 1.79 compared to the industry average of 2.93. This means that for every dollar of revenue that Provident brings in, an investor is paying $1.79 (or $2.93 for the industry).
The book value of a company is equal to the net assets of the company. In other words it's the sum of facilities, cash, and receivables minus the liabilities. Provident has a price-to-book value of 1.11 versus the industry average of 1.61. Essentially, the investor pays $1.11 for every dollar of assets that Provident carries compared to $1.61 for the industry. Provident also retains larger profit margins than its peers (17% versus 14%) and has a higher return on assets (1.27% versus 0.88%).
While they don't hold much weight for long term investors, technicals can help pinpoint a good entry point so they're a valuable consideration. Moving averages are good indicators of the general trend of a stock. In the case of Provident, the stock value is above the 25 day moving average which is above the 50 day moving average which is above the 100 day moving average.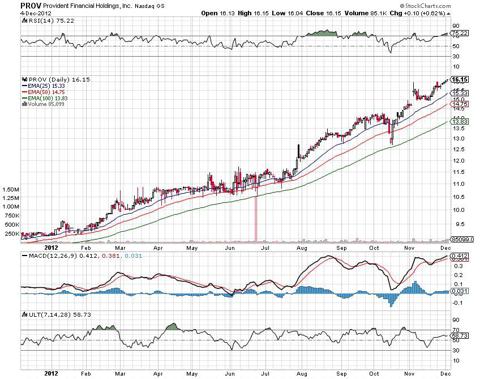 The MACD is above the signal line and diverging slightly and the Ultimate oscillator is in solid uptrend territory without being in overbought territory.
What's not so good?
Perhaps it's due to the fact that small businesses (the bank's primary customers) are most affected by the sluggish economy, but revenues at Provident have dropped 10% year over year. The management doesn't seem concerned since no major insider sales have been reported, so it's difficult to determine whether it's a temporary speed bump or a major organizational issue.
Another clear issue is that the dividend has shrunk in yield 27% compared to 5 years ago, which could just be due to tough times (or due to a larger fundamental flaw in the business model).
Even the technicals have a few issues to consider before investing. The RSI, for example, is in overbought territory which means we should see a retracement soon. This isn't so important in the long term, though it may mean that there could be a better entry point in the near future. Finally since this stock is not covered heavily, volume is low which means dumping it could be difficult if things head south.
To invest, or not to invest?
With the scare of the financial cliff coming up, it's hard to tell what the macro environment will be like come 2013. If we do enter another recession, it's possible that Provident would be hurt more than the major banks because of its reliance on small business. On the other hand, if we do go off the cliff it's possible that we could see this stock see a major sell off. If this happens, it would make the stock extremely cheap for a long-term investor who isn't afraid to buy during a recession.
The ideal thing to do would be to keep a close eye on the stock until after New Years and make a decision based on how it reacts to the cliff.
If you decide to invest in a stock, it's important to do your own research. Especially with small caps, it can be difficult to off-load a stock if the going gets tough which makes it a riskier investment than household names like Apple (NASDAQ:AAPL) and Google (NASDAQ:GOOG). This also means that small caps can lead to a larger pay off if major news breaks leading to more coverage of the stock. It's up to each individual investor to consider their appetite for risk and their expectations of returns.
Disclosure: I have no positions in any stocks mentioned, but may initiate a long position in PROV over the next 72 hours. I wrote this article myself, and it expresses my own opinions. I am not receiving compensation for it (other than from Seeking Alpha). I have no business relationship with any company whose stock is mentioned in this article.