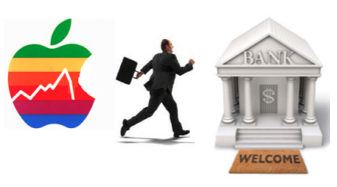 U.S. economic news was unremarkable overall. ADP Employment data disappointed missing for the sixth time in nine months (118K vs. 125K expected, and prior 158K). Productivity increased (2.9% vs. 2.8% expected, and prior 1.9%), but costs fell (-1.9% vs. expected -.9%, and prior -0.1%), meaning wages took a hit again. Factory Orders declined (0.8% vs. -0.1% expected, and prior 4.8%). ISM Non-Mfg Index (53.7 vs. 53 expected, and prior 54.2) but within the data, the employment number plunged to 50.3 from 54.9. It's this under the hood stuff the media and algos don't pay attention to.
In overseas markets, the focus was squarely on China, where there was "talk" of more "potential" infrastructure spending, along with easing rules allowing insurance companies to invest in banks. Stocks there rallied sharply (+2.9%), shifting the focus away from the fiscal cliff to more growth from China. Of significance down the road, India's congress passed a bill allowing foreign retailers to open stores in the country. Hello, Wal-Mart (NYSE:WMT).
Not that it mattered to U.S. stock bulls much Wednesday, but Spain was unable to sell the €4.5 billion in bonds, with only €4.25 billion placed. Also, the eurozone reported its ISM Non-Mfg Index was down for the 10th straight month as much of the region lingers in recession. No matter, stocks rose. Also, Greece was downgraded to CCC by S&P after it is now in "selective default." I guess this is bullish as well.
Gold (NYSEARCA:GLD) prices continued their decline, falling modestly. As you might remember from Monday's heavy selling, there was one large seller in Tokyo midday, which drove prices sharply lower. We learned today that Goldman Sachs has suggested to clients to sell gold. Could it be GS was that seller in Tokyo? What a shock, eh? Meanwhile, the dollar (NYSEARCA:UUP) rose, while commodities (NYSEARCA:DBC) overall were mostly flat. Growth in China and perhaps repair damage from Sandy affects demand for copper (NYSEARCA:JJC), and other base metals (NYSEARCA:DBB) benefited.
Overall, U.S. stocks were led by financials (NYSEARCA:XLF), banks (NYSEARCA:KBE), and insurers (NYSEARCA:KIE) as money continues to rotate from tech. Large banks as primary dealers love POMO and use proceeds for trading. It might be the Fed will put POMO on steroids if we go over the cliff. Tech (NYSEARCA:XLK) continues to suffer as heavyweight Apple (NASDAQ:AAPL) leads selling. Bonds (NYSEARCA:TLT) remained only slightly weaker on the day. Citigroup (NYSE:C) announced it would fire 11,000 workers and the stock rose.
Are financials then the safe place to be with the fiscal cliff? Good question as Deutsche Bank is being accused of hiding more than $12 billion in losses to avoid bailout. Wow!
Volume was higher, but breadth overall per the WSJ was mixed to flat.
(click image to enlarge)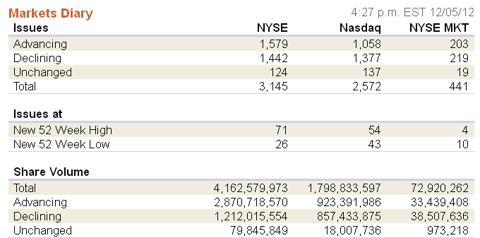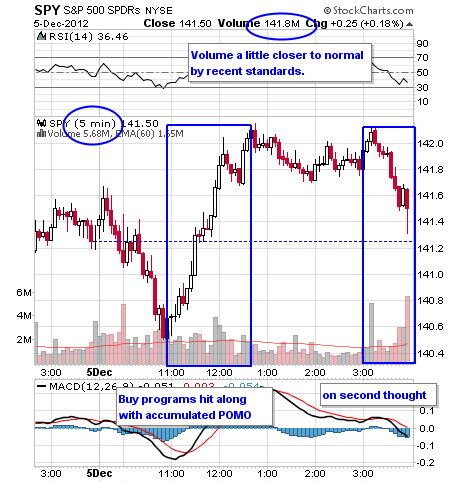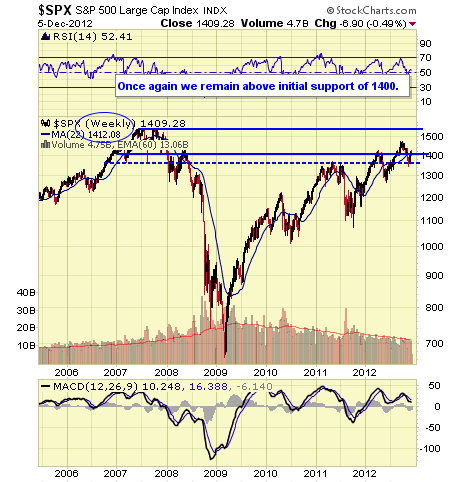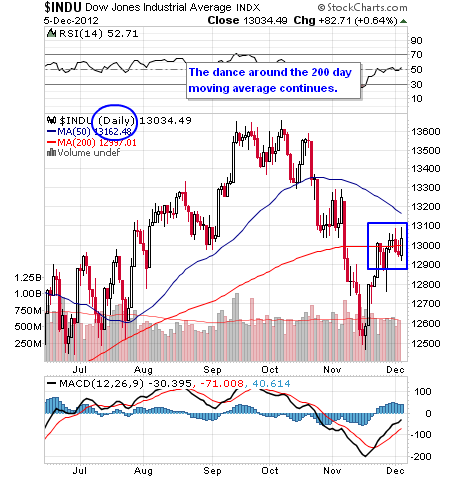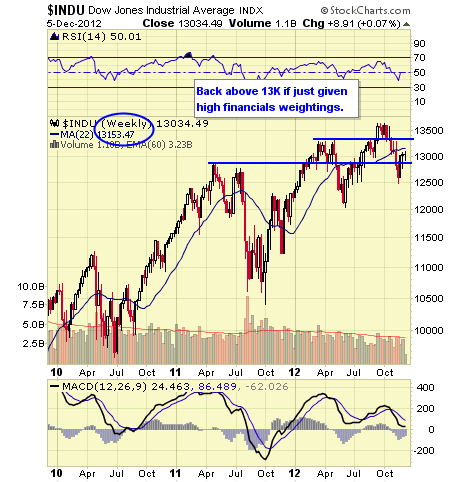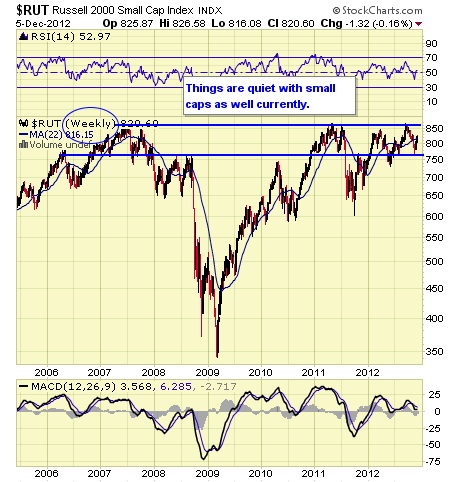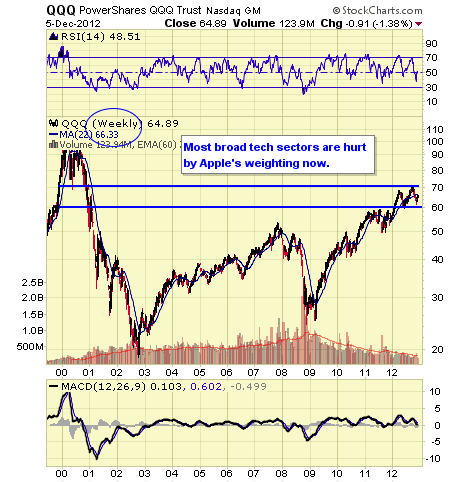 Continue to U.S. Sector, Stocks & Bond ETFs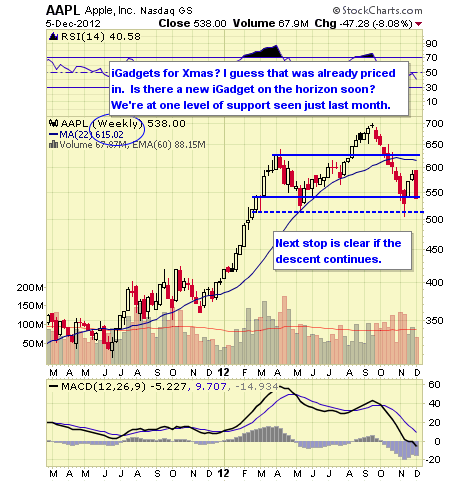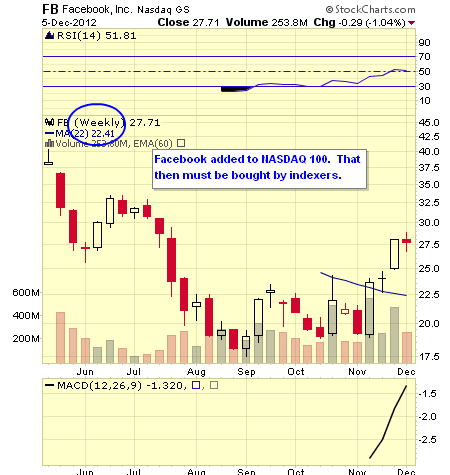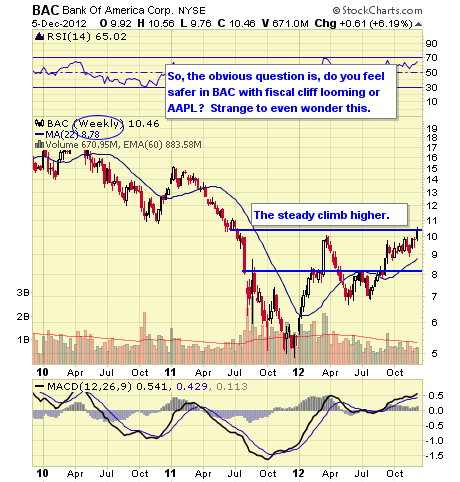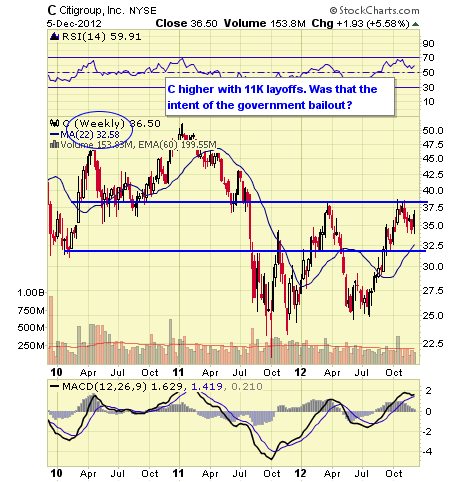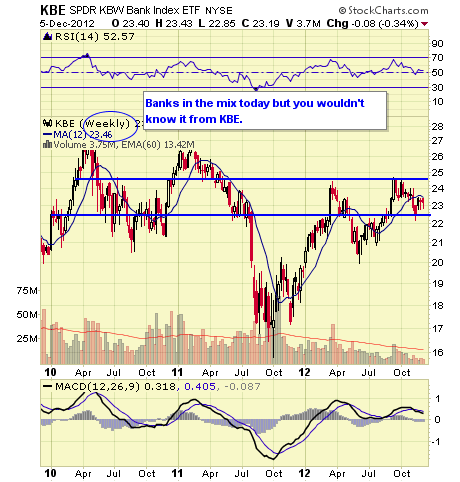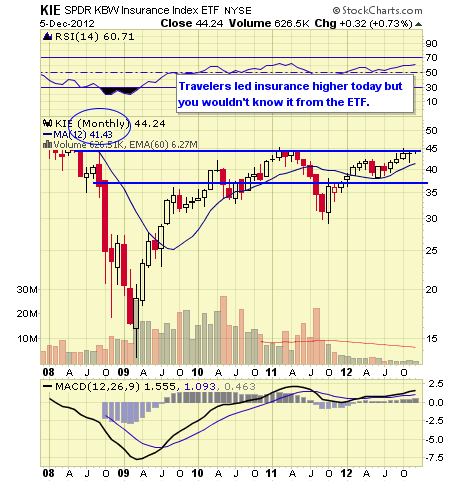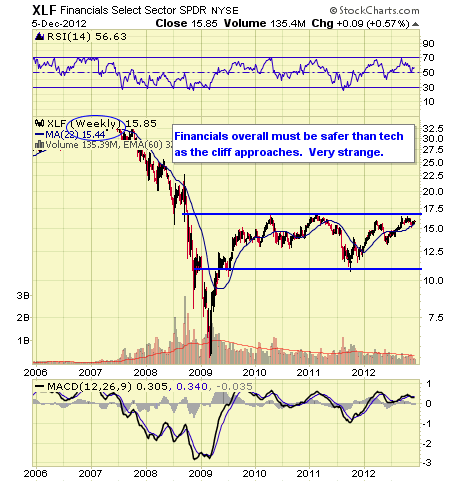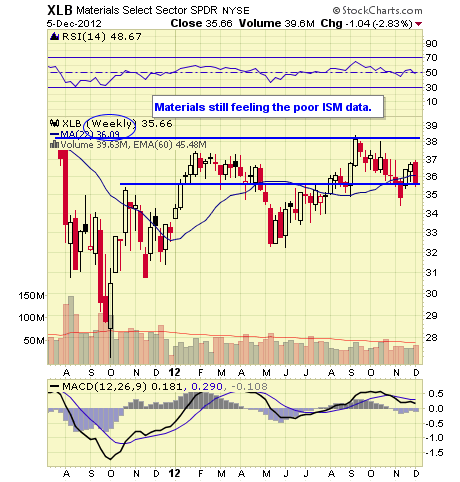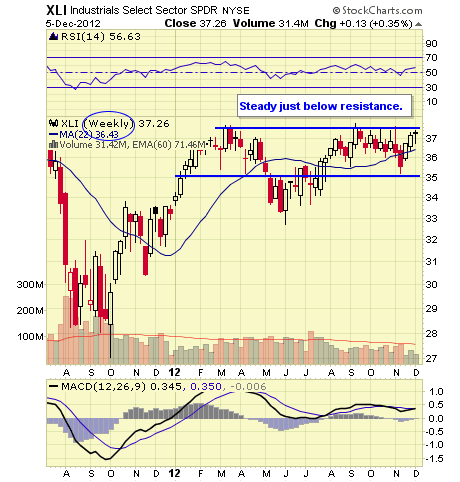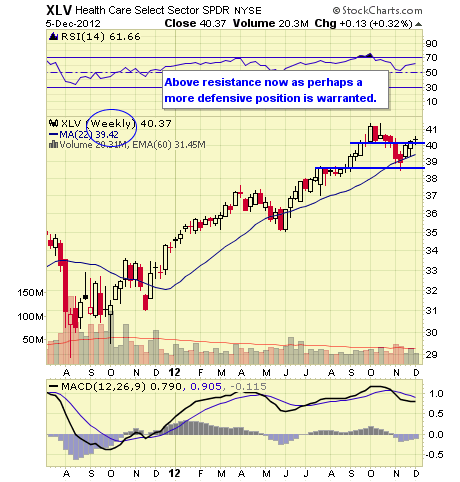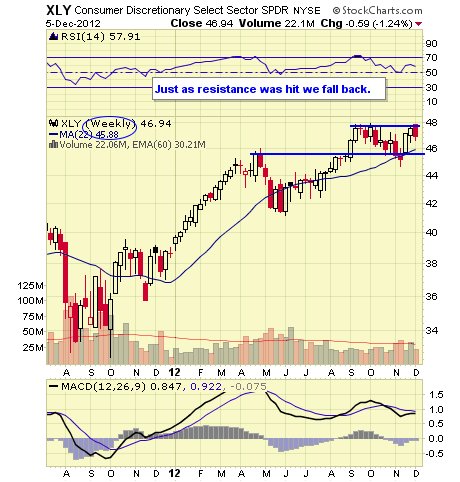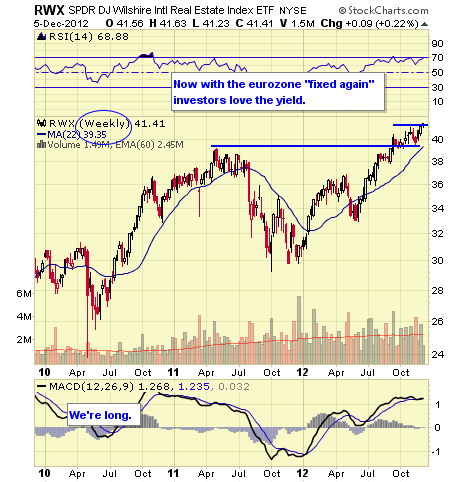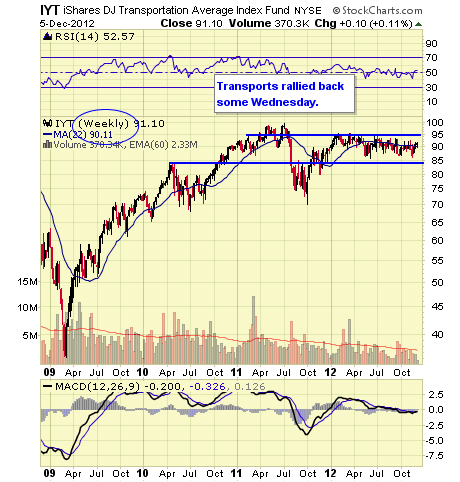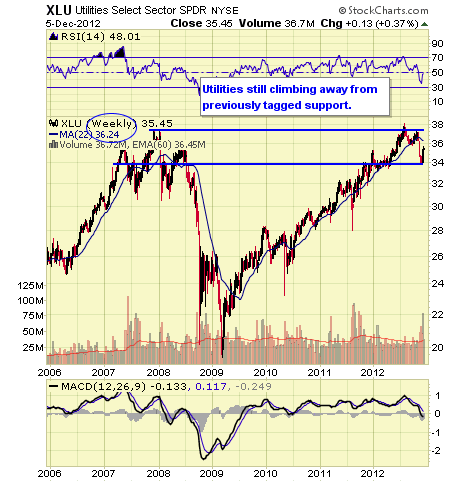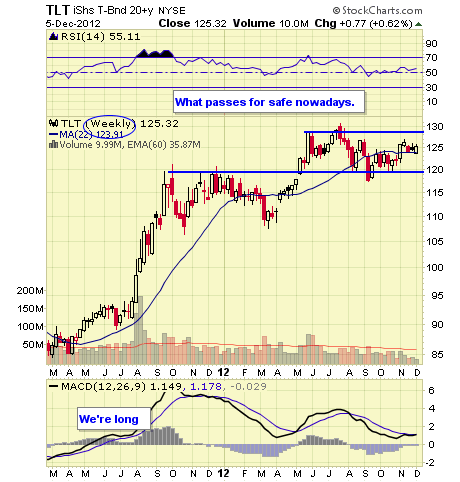 Continue to Currency & Commodity Market ETFs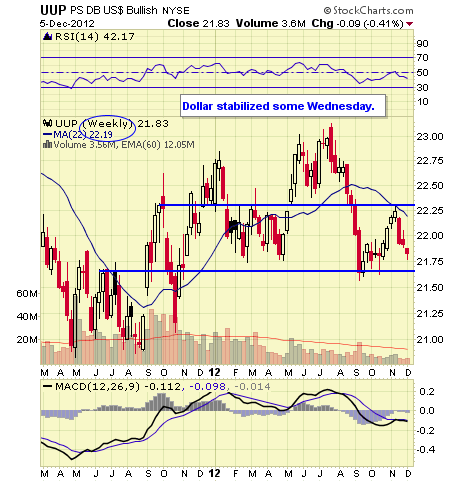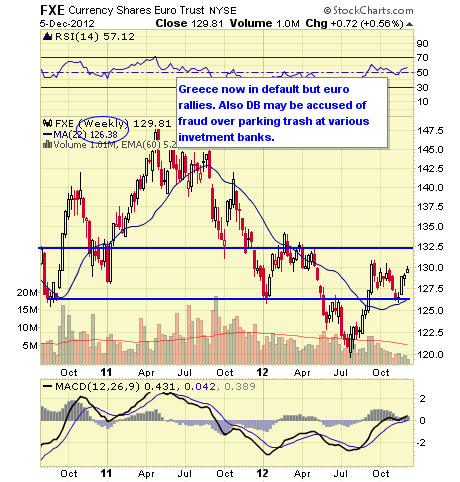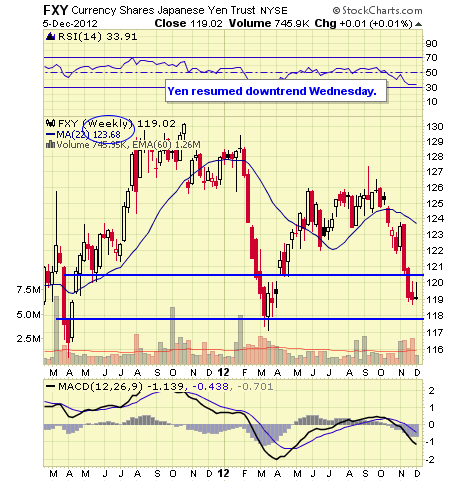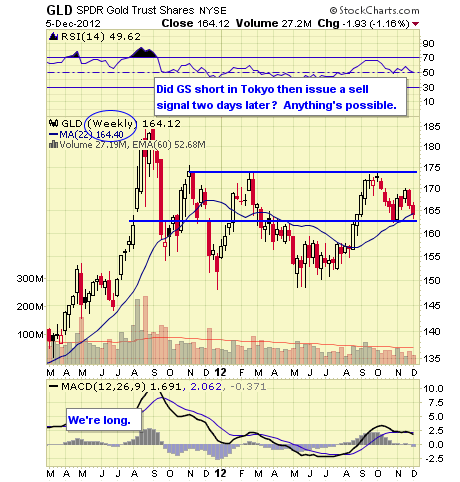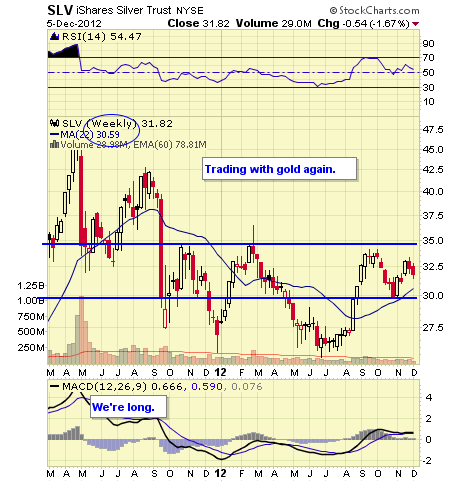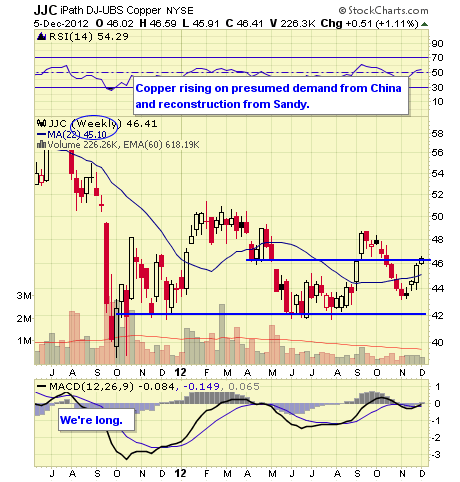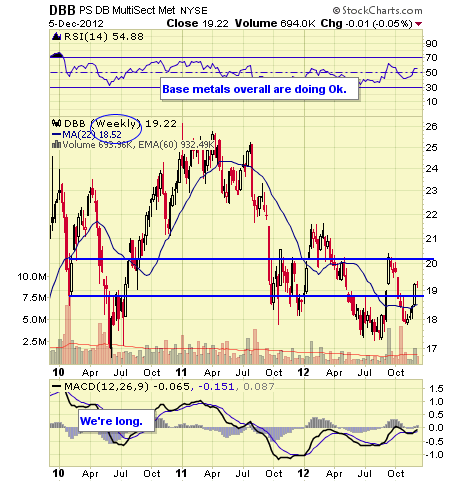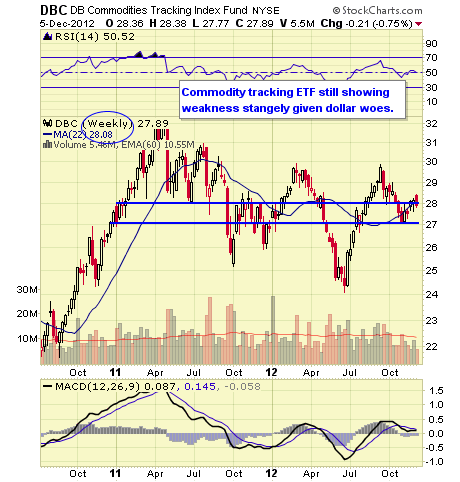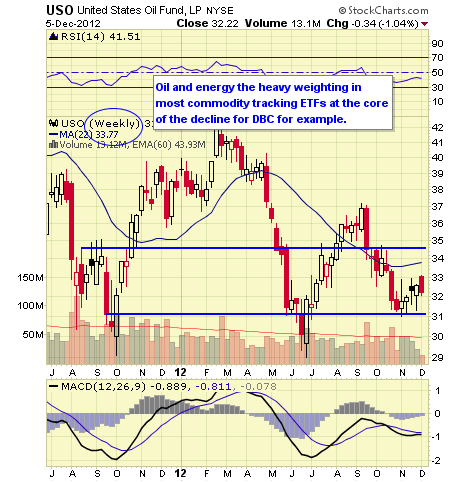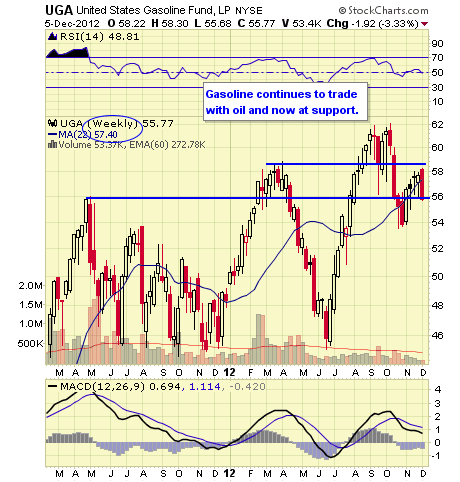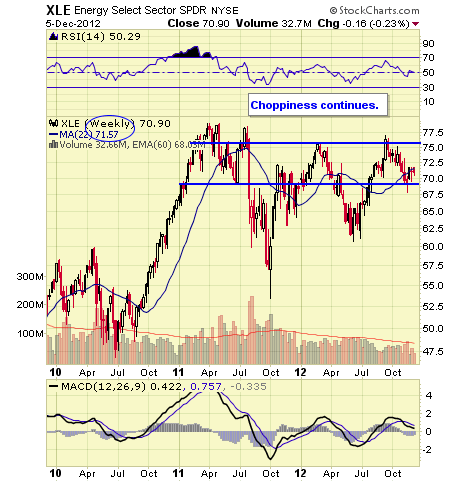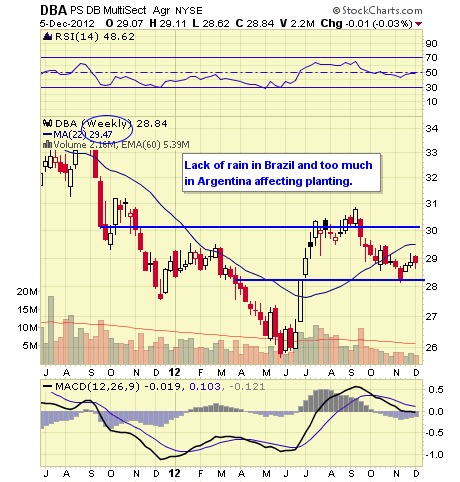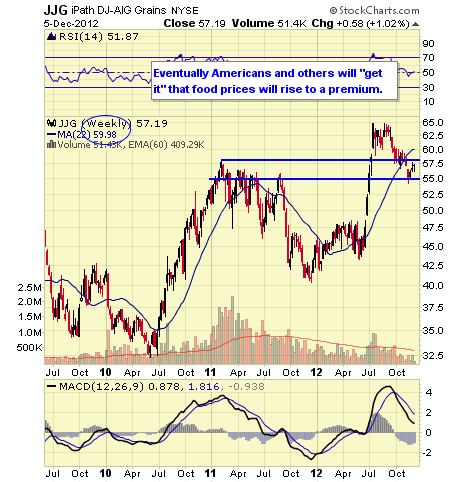 Continue to Overseas Sectors & ETFs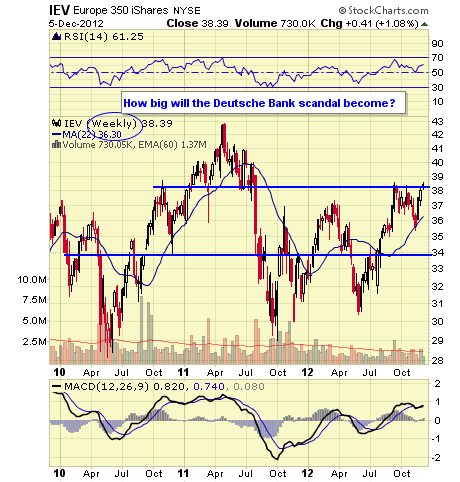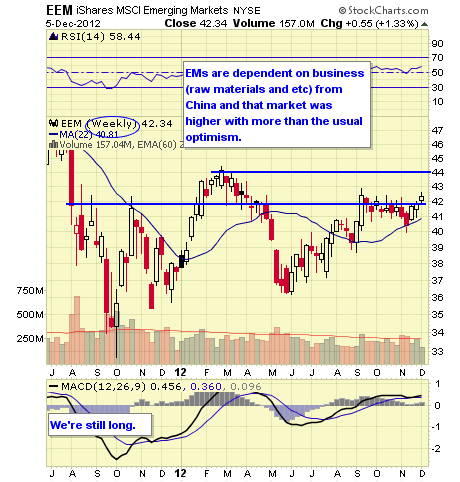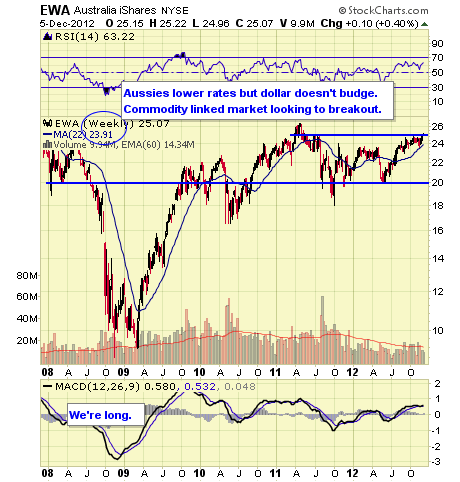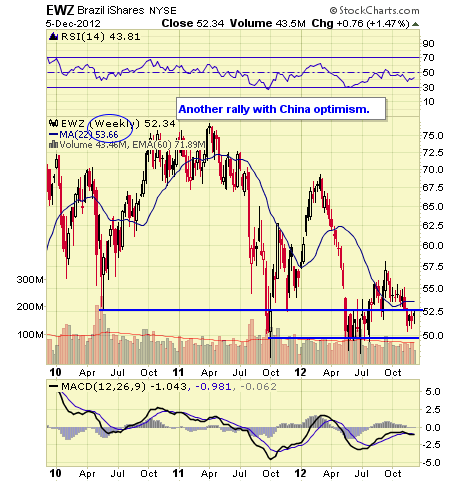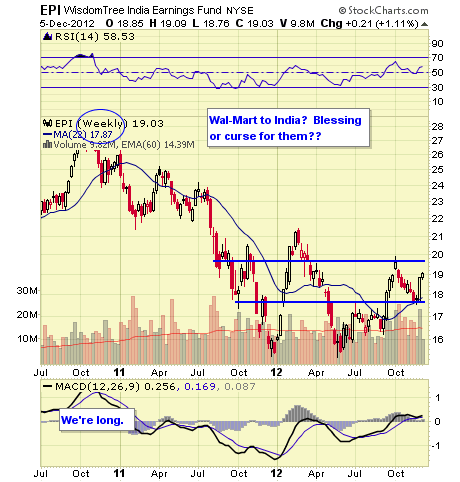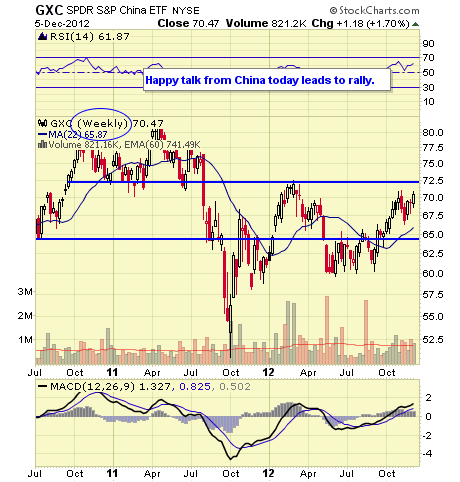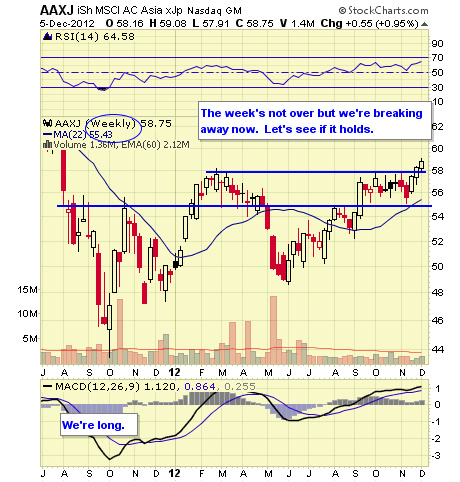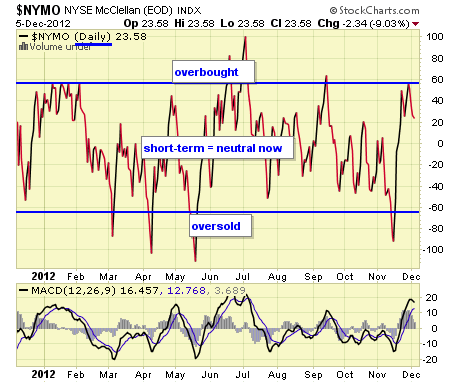 The NYMO is a market breadth indicator that is based on the difference between the number of advancing and declining issues on the NYSE. When readings are +60/-60, markets are extended short term.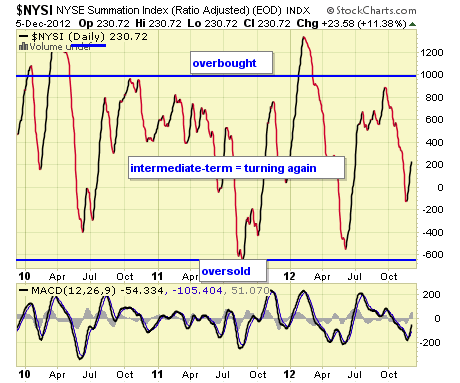 The McClellan Summation Index is a long-term version of the McClellan Oscillator. It is a market breadth indicator, and interpretation is similar to that of the McClellan Oscillator, except that it is more suited to major trends. I believe readings of +1000/-1000 reveal markets as much extended.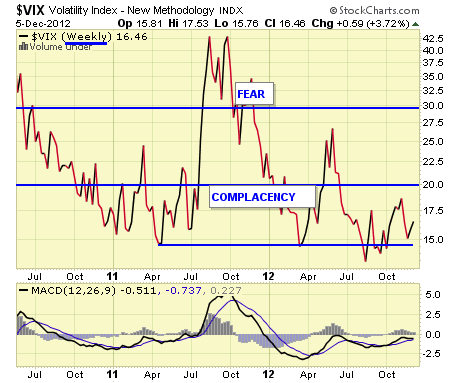 The VIX is a widely used measure of market risk, and is often referred to as the "investor fear gauge." Our own interpretation is highlighted in the chart above. The VIX measures the level of put option activity over a 30-day period. Greater buying of put options (protection) causes the index to rise.
Concluding Remarks
Wednesday was a very strange day as tech indexes and financials went their separate ways. After the close, S&P downgraded Greece to CCC and "selected default," and it's strange that the ECB will use their defaulted debt as collateral on loans. How will markets react? Perhaps with just a shrug as investors have done with other dreadful news. Then DB hiding $12 billion in bad assets at various investment firms was also late breaking. There is also the ongoing insider trading story reverberating with SAC, and now Wells Fargo.
Disclaimer: The ETF Digest maintains an active ETF trading portfolio and a wide selection of ETFs away from portfolios in an independent listing. Current "trading" positions in active portfolios, if any, are embedded within charts: Lazy & Hedged Lazy Portfolios maintain the follow positions: VT, MGV, BND, BSV, VGT, VWO, VNO, IAU, DJCI, DJP, VMBS, VIG, ILF, EWA, IEV, EWC, EWJ, EWG, & EWU.
The charts and comments are only the author's view of market activity and aren't recommendations to buy or sell any security. Market sectors and related ETFs are selected based on his opinion as to their importance in providing the viewer a comprehensive summary of market conditions for the featured period. Chart annotations aren't predictive of any future market action rather, they only demonstrate the author's opinion as to a range of possibilities going forward.
Disclosure: I have no positions in any stocks mentioned, and no plans to initiate any positions within the next 72 hours. I wrote this article myself, and it expresses my own opinions. I am not receiving compensation for it. I have no business relationship with any company whose stock is mentioned in this article.