This week is relatively slow earnings-wise, however, there are some interesting reports due out that are worth keeping an eye on. For example, three giant Canadian banks report earnings on Thursday. These include:
1.) Toronto-Dominion (aka "TD") Bank (NYSE:TD) - TD Bank is the second largest publicly traded financial institution in Canada, with assets of CAD$806 billion ($810 billion). TD has been criticized in the past for making too many acquisitions, so investors are always looking for signs that those acquisitions are producing results. To name a few, TD Bank acquired a controlling stake in TD Ameritrade many years ago (hence the name), Internet broker Waterhouse Group in 2006, Commerce Bancorp in 2008, South Financial Group in 2010, Chrysler Financial Corp in April 2011, and the credit card portfolio of MBNA Canada later that same year. TD Bank currently trades at 11.9 times 2012 earnings, and 10.5 times forward earnings. Standard and Poor's projects a 10% annual growth rate for the next three years. The company currently pays a 3.77% dividend, which it has increased at an average rate of 17% every year for the past 10 years.
(click images to enlarge)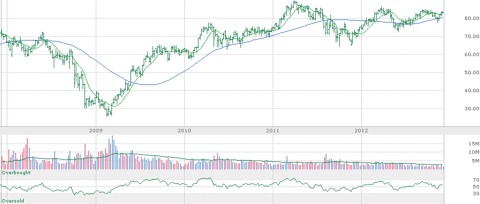 2.) National Bank of Canada (OTCPK:NTIOF) - A smaller bank than the other two discussed here, with assets of CAD $156.3 billion ($157.5 billion), this bank provides financial services to consumers and corporations in Canada and internationally. This company has a solid track record of raising its dividend, doing so by an outstanding 18% annually on average over the past decade, including during the financial crisis. The company currently trades at 13.2 times TTM earnings, and yields just over 4%. Any news of further dividend hikes will be well received by investors.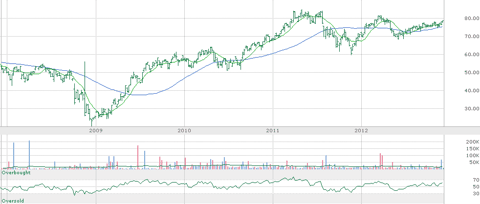 3.) Bank of Nova Scotia (NYSE:BNS) - The third largest bank headquartered in Canada, with assets of almost CAD$670 billion ($675.5 billion), Bank of Nova Scotia (also known as Scotiabank) serves approximately 19 million customers in 55 countries. Also an active acquirer -- though not as much as TD Bank -- the company recently announced the acquisition of the Canadian banking operations of ING Groep for $3.126 billion. This deal is subject to shareholder and regulatory approvals, and is set to close on December 31st, so keep your ears open for any update on that deal. Bank of Nova Scotia currently trades at the lowest multiples of the three, at 10.6 times 2012's earnings and 10.9 times forward earnings, with the lower forward earnings as a result of acquisition-related costs. The company currently pays a 4.16% dividend, and has increased it almost 19% annually for the past 10 years.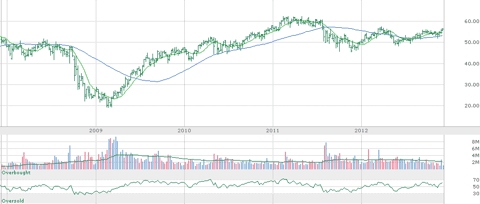 In conclusion, all three of these banks would make great investments. They were less exposed to the mortgage mess than U.S. banks, and their current share prices reflect that. Even the strongest U.S. banks have not measured up to their Canadian rivals by any means. Wells Fargo (NYSE:WFC) for example, is correctly regarded as one of the strongest U.S. banks (barring today's SEC charges of insider trading). Wells Fargo not only survived the crisis, but added to its market share with a list of cheap acquisitions, such as Wachovia in 2008. However, currently trading at $33, Wells Fargo has not been able to breach its pre-crash price levels of $38 or so. In addition, it has only increased its dividend an average of 4.5% annually, and paid out next to nothing during the financial crisis. In contrast, all of these Canadian banks not only increased their payout amounts, but have broken through their pre-crash levels and are continuing to make new all-time highs.
Investors should be paying attention to all three of these earnings reports and conference calls on Thursday to gauge which of these banks is the best investment going forward. American banks have not been able to compete with the performance of their Canadian rivals. (I could use an 18% raise every year like they give their shareholders, couldn't you?) Thursday's earnings announcements could present a clear winner (or winners) for investors to gain some Canadian bank exposure in their portfolios.
Disclosure: I have no positions in any stocks mentioned, and no plans to initiate any positions within the next 72 hours. I wrote this article myself, and it expresses my own opinions. I am not receiving compensation for it (other than from Seeking Alpha). I have no business relationship with any company whose stock is mentioned in this article.