On Wednesday, Freeport-McMoRan Copper & Gold's (NYSE:FCX) announcement that it is acquiring Plains Exploration & Production (NYSE:PXP) and McMoRan Exploration (NYSE:MMR) caused a massive 15.99% sell-off in the company's stock. With the acquisitions, Freeport-McMoRan will be expanding its business into oil & gas, a move that I believe could cause significant changes to the shareholder base over time.
If you polled a large number of equity investors seeking exposure to copper prices and asked them the first company they look to in order to get that exposure, I bet the overwhelming majority would have said "Freeport-McMoRan." I said "would have" because I think the recent acquisition of Plains Exploration and McMoRan Exploration could change the equation.
Take a look at the following chart of Freeport-McMoRan's stock and the iPath Copper Subindex Total Return ETN (NYSEARCA:JJC). Notice the incredibly tight directional correlation between the two from October 26, 2007 (when JJC began trading) through December 4, 2012 (the day before Freeport's announcement).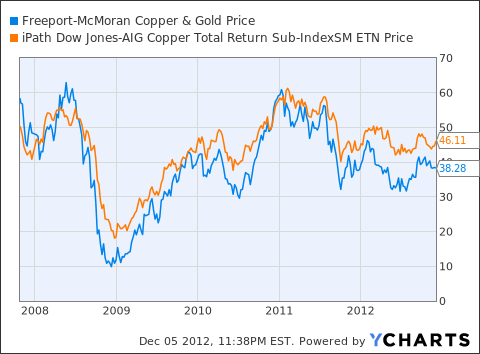 As the world's largest publicly traded copper producer, equity investors who want exposure to copper first look to Freeport-McMoRan. With a directional correlation like we see in the chart above, why wouldn't they? Yes, there may be other copper producers that will outperform Freeport. But when you are managing money, it is far easier to explain to clients that their copper exposure comes from the world's largest publicly traded copper producer rather than from a smaller copper producer. Unless, of course, the larger copper producer's business profile changes in such a way that it opens itself up to risks that could cause the correlation with physical copper prices to break down.
By expanding into oil & gas, I think Freeport-McMoRan has opened itself up to losing its airtight directional correlation with copper. In anticipation of that possibility, there will be investors who will reconsider whether Freeport can still provide the same type of copper correlations they expect it to. As slide 7 of Freeport-McMoRan's webcast to discuss the acquisitions showed, 26% of the combined company's 2013 estimated earnings will come from oil & gas compared with 0% in 2012. This may be incredibly attractive to some investors, but for people who own Freeport for the directional correlation to copper prices, 26% of operating earnings coming from oil & gas may be enough to change their opinions about owning the stock.
On December 5, 2012, the day Freeport-McMoRan announced the aforementioned planned acquisitions, its stock dropped 15.99%. Southern Copper (NYSE:SCCO), on the other hand, which calls itself "the mining company with the largest copper reserves in the world," was up 3.21% on December 5. By comparison, JJC, which tracks the price of copper futures, was up just 0.65%. Southern Copper, as illustrated in the chart below, also has a solid track record of directional correlation with the price of copper. Equity investors looking for that type of correlation with copper could turn to Southern Copper as a substitute for Freeport-McMoRan. In fact, that is likely the reason for Southern Copper's strong outperformance on December 5 relative to copper and the broader-market indices.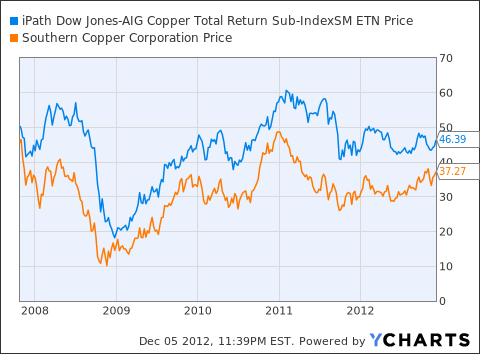 Over the longer-term, Freeport-McMoRan Copper & Gold's acquisitions of Plains Exploration & Production and McMoRan Exploration could end up to be quite a positive for the stock. I am not passing judgment on that possibility. Instead, I am attempting to make investors aware of the fact that sometimes stocks are owned for very specific reasons, to meet narrowly defined needs in a portfolio. Freeport-McMoRan, in my opinion, was such a stock prior to its recent acquisitions announcement.
Based on conversations I've had with investors, investor presentations I've attended, and things I've read and heard in the financial media over the years, my interpretation of Freeport-McMoRan's role in portfolios is that it is largely there as the copper exposure. If the company diversifies its business too much into other opportunities (such as oil & gas), investors who own FCX purely as a copper play will begin to consider whether a different stock can better serve their needs. I cannot say for certain whether or for how long this will put extra selling pressure on the stock. But I can say that with these acquisitions, Freeport-McMoRan should be looked at differently in terms of the role it will play in an investment portfolio. This is true both for institutional investors and everyday investors alike.
Disclosure: I have no positions in any stocks mentioned, and no plans to initiate any positions within the next 72 hours. I wrote this article myself, and it expresses my own opinions. I am not receiving compensation for it (other than from Seeking Alpha). I have no business relationship with any company whose stock is mentioned in this article.
Additional disclosure: I am long Phelps Dodge's CUSIP 717265AM4