The Amazon.com post-earnings trade ended down for this final quarter of the year. It was a rare miss that included some important moves in the stock. The chart below shows the highlights: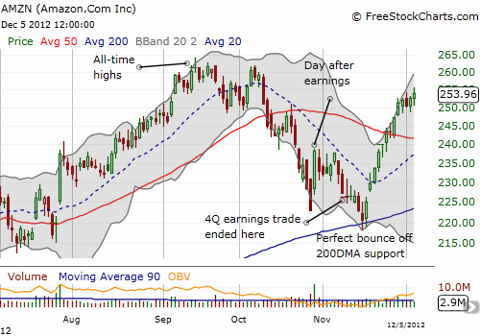 Amazon.com fades 4Q earnings only to bounce back strong after testing support at the 200DMA
Source: FreeStockCharts.com
As a reminder, the Amazon.com (NASDAQ:AMZN) post-earnings trade consists of buying the open and holding the stock for at least two weeks. The position gets stopped out by a close below the lows of the first post-earnings trading day. Once again, AMZN traded down significantly in the after-hours trading following the earnings release. At one point it had dropped almost 9%, closing in on $200. It bounced right back that same evening and erased most of its losses by the end of trading. It was another display of stubbornness that made me wonder whether the post-earnings strategy needs to include a condition for buying after hours dips.
Anyway, as the chart above shows, buying the open delivered a good gain on its own by the close. The 10-point move translated into a 4.4% gain. I decided to hold for the entire two-week duration of the post-earnings strategy. At the end of that period, the stock coincidentally triggered the stop-out rule, ending the post-earnings trade with a rare 5.1% loss. Having been in the green for the first week, seeing the 200-day moving average (DMA) looming as potential support below, and, most importantly, noting that the general stock market was approaching oversold conditions, I decided to continue stubbornly holding my position.
Fortunately, AMZN produced a picture-perfect bounce off that support. Since then, the stock has traded up on all but two days even as the general market is net flat over the last 8 trading days. I sold my position as the stock neared the 50DMA: not wanting to lose my profits for a second time, I decided it was best to close out ahead of what I thought could be firm resistance.
Amazon's resilience continues to confound me, and, I am guessing, continues to frustrate bears. However, as TheStreet.com columnist Rocco Pendola notes in "Short Amazon: Do You Have the Guts?," there are actually few shorts open on AMZN. Shares short are currently just 2.3% of the float. This short interest is down 25% from the last peak of short interest in mid-May. The open interest put/call ratio is well off extremes seen over the past two years. Implied volatility is just about as low as it has been over the past two years as well. In other words, very few people are betting on a decline in AMZN even as the stock nears another all-time high.
As Pendola suggests, it is as if even the (remaining) shorts are bullish on the stock: "I bet plenty of those short shares are held by big money folks who are net long Amazon."
I remain cautious as ever on AMZN, and I choose to hold it only under tight, quantified rules for short bursts of time. This way, I am expecting to greatly limit downside risk whenever AMZN's sky high valuation suddenly matters to the market while retaining sufficient opportunity for large upside.
Be careful out there!
Disclosure: I have no positions in any stocks mentioned, but may initiate a long position in AMZN over the next 72 hours. I wrote this article myself, and it expresses my own opinions. I am not receiving compensation for it (other than from Seeking Alpha). I have no business relationship with any company whose stock is mentioned in this article.