Waste Management (NYSE:WM) provides collection, transfer, recycling, and disposal services to residential, commercial, industrial, and municipal customers in the US. The company also owns, develops, and operates waste-to-energy and landfill gas-to-energy facilities to provide energy to people across many cities. Founded in 1987 and based in Texas, the company is the largest waste management company in North America.
This article will present you with a few reasons why I find Waste Management such a compelling buy at the moment. But first, here is a snapshot of Waste Management's key numbers:
| | |
| --- | --- |
| Price (04.12.2012) | $32.63 |
| Market Cap | 15.14B |
| Income (Trailing 12-mths) | 859.00M (P/E: 17.64) |
| Sales (Trailing 12-mths) | 13.62B (P/S: 1.11) |
| Book Value Per Share (BVPS) | $13.55 (P/B: 2.41) |
| Long Term Debt/Equity Ratio | 1.46 |
| EPS Growth Next 5 Years (est.) | 7.32% |
| Dividend | $1.42 (4.35%) |
| Payout Ratio | 75.55% |
| Current Ratio | 0.83 |
1. Creating Shareholder Value
-High & Consistently Growing Dividend
First and foremost, Waste Management pays a high and consistently growing dividend. At the moment, the company pays $1.42 yearly, which equates to a 4.35% yield based on the stock's closing price on 04.12.2012. This dividend yield is much higher than most stocks in the Dow Jones and the S&P 500, whose dividends average around 2% at the moment. This dividend has also been consistently growing since they started paying dividends regularly in 2004, from $0.75 per year in then to a high $1.42 today. This ensures that the company is committed to returning value to its shareholders through dividends. The table below shows Waste Management's dividend payments since 1998, when it initiated a dividend.
| | |
| --- | --- |
| Year | Dividend ($) |
| 1998-2003 | Irregular dividend; 0.01-0.02 yearly |
| 2004 | 0.75 |
| 2005 | 0.80 |
| 2006 | 0.88 |
| 2007 | 0.96 |
| 2008 | 1.08 |
| 2009 | 1.16 |
| 2010 | 1.26 |
| 2011 | 1.36 |
| 2012 | 1.42 |
Dividend information sourced from here
-Buying Back Shares
Besides creating shareholder value through paying high dividends, the company has also been buying back shares over the past 10 years. (Although it must be noted that the company recently issued some shares instead of buying them back.) The company's total shares outstanding have decreased from 594.6M in 2003 to its current number a 463.90M, which is a 2.46% decrease year over year. Shareholders do not own the whole company, therefore, share buybacks bode well for shareholders as they are able to own a bigger part of the company without increasing the number of shares they own. The table shows a table of Waste Management's shares outstanding number over the past 10 years.
| | |
| --- | --- |
| Year | Shares outstanding (Millions) |
| 2002 | 594.60 |
| 2003 | 576.12 |
| 2004 | 570.21 |
| 2005 | 552.25 |
| 2006 | 533.68 |
| 2007 | 500.12 |
| 2008 | 490.74 |
| 2009 | 486.12 |
| 2010 | 475.05 |
| 2011 | 460.53 |
| Latest Qr. | 463.90 |
2. Heavy Waste Creation From Growing US Population
The large US population creates a lot of waste from its heavy consumption at the moment - enough to let companies like Waste Management thrive. Even so, this level of consumption is estimated to grow even further in the future, as the US population grows larger in the future. The US has a population of about 315M at the moment and this number is estimated to grow to 438M by 2050, as illustrated in the chart below. In addition, when cyclicals get affected during recessions, Waste Management will receive almost no impact, as people do not stop producing waste even when there is an economic downturn.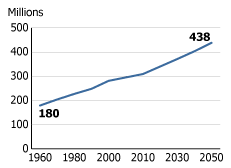 From www.prb.org
3. Considerably Larger Than Competitors & With A Wide "Moat"
Waste Management is the leader in its industry, earning $13.62B in revenue over the past 12 months. Its second largest competitor is Republic Services (NYSE:RSG), which had earned only $8.12B over the past 12 months. Its other competitors, Stericycle (NASDAQ:SRCL), Waste Connection (NYSE:WCN), Clean Harbors (NYSE:CLH) and Covanta (NYSE:CVA), have considerably less revenue as compared to their two largest counterparts, accumulating less than $7.5B in revenue combined over the past 12 months. The rest of the waste management market is divided into thousands of other small companies. Additionally, the fact that Waste Management operates the most landfills in the country (being the largest company) gives it a long-term competitive advantage over the smaller companies, or a "moat", as some would call it.
Due to the opposition of citizens' living near a potential landfill location, it is extremely difficult for a new entrant/a smaller company to build even close to how many landfill locations WM has. This moat also ensures that the company has a considerable amount of pricing power to maintain its profits.
4. Actions Done To Cut Costs
-CNG fuelled trucks
The company announced recently that it would convert its entire fleet of vehicles to using natural gas instead of diesel. This conversion will have a few long term advantages, which includes the most important of it all from an investor's perspective: cost saving. The company saves a whooping $3 for every gallon of diesel's equivalent of CNG (Compressed Natural Gas). More advantages include the reduction of its carbon emissions - the company can do its part to slow global warming, an important environmental issue that governments all around the world are concerned about; and cutting down noise - CNG fuelled trucks are considerably quieter than diesel fuelled trucks.
-Bioreactor Landfills
The company has also started creating bioreactor landfills, a waste treatment landfill technology that accelerates the decomposition of organic wastes, and as a result, recovers about 15 to 35 percent of landfill space as the waste decomposes and is converted to gas. This extends the useful life of landfills, reducing the need to site new facilities. This saves costs of creating another landfill - which also involves finding a suitable location, spending time, etc. Currently, there are already a few such projects in progress.
Information about bioreactor landfills from here (WM's website)
For more information, take a look at this pdf file (WM's brochure)
5. Average Analyst Rating: Between Hold And Sell
The average analyst rating is 3.30, which translates into "between hold and sell". At a first glance, this might seem like a negative point, but it is actually positive point to me. The stock's low analyst ratings leaves a lot of space for analyst upgrades if it does well in short term events like quarterly earnings reports or other such reports.
Key Risks And Flaws
Regardless of how many qualities a company has, it is bound to have some flaws. Here, I list some of Waste Management's risks and flaws.
1. Low Current Ratio
Firstly, the company's current ratio is at a low 0.83, which could be potentially dangerous for the company. The formula for the current ratio is current assets divided by current liabilities. A current ratio below 1 (like Waste Management has) means that the company has more current liabilities than assets, and therefore could have difficulties paying off short-term obligations. With the company's current ratio far below my comfort zone of above 0.9, this is a huge flaw to me.
Current Assets
Current Liabilities
$2.659B
$3.187B
Current Ratio: 0.83 (here is the link to the company's balance sheet)
2. Huge Amount Of Debt
Secondly, the company has a huge amount of debt, with the number standing at $9.17B based on the company's Q3 2012 balance sheet. This debt number towers above its total equity figure(Total Assets-Total Liabilities) of $6.29B and makes its $398M in cash seem like a meager amount. In addition, its debt/equity ratio of 1.46 is far above my personal limit of 0.5, and shows that the company might be relying on debt to expand itself. The debt/equity ratio shows the proportion of equity and debt the company is using to finance its assets, and the higher the ratio, the more debt, rather than equity, is financing the company. A high level of debt compared with equity can result in volatile earnings and large interest expenses.
Conclusion
Waste Management, trading in the neighborhood of 17X earnings and with relatively slower growth as compared to others, may not sound like your perfect stock. But other qualities, including its wide moat and its high dividends, make the stock a suitable dividend pick for me, as a person looking for continued income growth in my portfolio over the long term. Although it has also some severe flaws (in my opinion), I believe that its many qualities make up for these flaws and make it a good dividend pick for the long term.
All information was sourced form Finviz, MSN Money, Stockcharts.com and Yahoo! Finance. All prices and figures are based on the 4 December 2012 closing price.
Additional Disclosure: Waste Management is included in my dividend portfolio which is still in the process of being constructed. Therefore, I will initiate a WM position in the near future, but it may not be within the next 72 hours. To find out more about my dividend portfolio, click here.
Disclosure: I have no positions in any stocks mentioned, and no plans to initiate any positions within the next 72 hours. I wrote this article myself, and it expresses my own opinions. I am not receiving compensation for it (other than from Seeking Alpha). I have no business relationship with any company whose stock is mentioned in this article.