With the 2012 U.S. Presidential elections passed, investors may be moving on from the broadcast and media sector that capitalized on this event. By doing so, they may be overlooking Entravision Communications (EVC or the Company) and missing out on a company with significant upside still to come. The Company reported some good news recently in the form of debt reduction and a one-time dividend, but its current share price and valuation suggest there's still significant room for upside. Before reading further, prospective investors should note the data presented in Table I, highlighting EVC's basic valuation and capitalization metrics.
TABLE I: EVC SUMMARY STATISTICS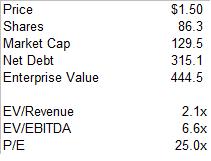 COMPANY DESCRIPTION
EVC is a diversified Spanish-language TV/radio company across the U.S. and portions of Mexico. The Company owns/operates 53 TV stations located primarily in CA, CO, CT, FL, MA, NV, NM, TX, and DC. With the purchase of Univision Communications in 2007 by a PE consortium, EVC is the largest independent public media company focused principally on the U.S. Hispanic audience. Its radio operations represent one of the largest groups of primarily Spanish-language radio stations in the U.S., with 49 radio stations in the top 50 U.S. Hispanic markets consisting of 38 FM/11 AM stations in AZ, CA, CO, FL, NV, NM, TX covering 42% of U.S. Hispanic population.
EXHIBIT I: EVC OPERATIONS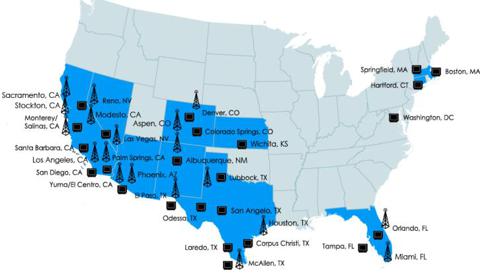 EVC is the largest affiliate group of both the top-ranked Univision television network and Univision's TeleFutura network. Univision's primary network is the most watched television network (English- or Spanish-language) among U.S. Hispanic households and is also the #1 or #2 broadcaster (depending on the week) when competing against national broadcasters such as CBS, NBC, and ABC in key demographic segments such as Adults 18-34.
THE BULL CASE
Demographics and Strategically Located Assets: The U.S. Hispanic population is one of the fastest growing segments and now the largest minority group in the U.S., representing 50MM people in the U.S. or about 17% of the total U.S. population. The Hispanic population is also growing at seven times the rate of the non-Hispanic population and accounted for $806B+ of total consumer expenditures in 2010, representing a 21% increase from 2005.
From EVC's 10-K:
"...the average U.S. Hispanic household spends 7% more per year than the average U.S. non-Hispanic household on food at home, 80% more on children's clothing, 48% more on footwear, 29% more on laundry and household cleaning products and 23% more on mobile telephones. We expect Hispanics to continue to account for a disproportionate share of growth in spending nationwide in many important consumer categories as the U.S. Hispanic population and its disposable income continue to grow."
These long-term trends are attractive and EVC is well positioned to capitalize on these trends. Exhibit II clearly illustrates that the Company has enviable locations with respect to its assets as it is located in many of the fastest-growing and most densely populated Hispanic markets.
EXHIBIT II: EVC MARKETS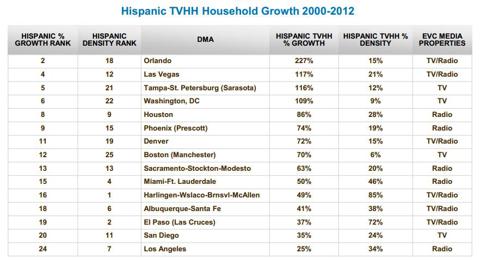 Long-Term Affiliate Agreement: EVC is the largest affiliate of Univision television and its TeleFutura networks. Univision happens to be the most watched television network (English or Spanish language) in U.S. Hispanic households and is often in the top three amongst all television broadcasters for key demographics such as Adults 18-34 irrespective of language. This is a value to EVC in itself, but what makes things even more attractive is that the affiliation agreement does not expire until 2021. This is a long period of time that provides a well defined window for EVC to capitalize on the demographic tailwind stemming from Hispanic population growth. Further, once 2021 arrives, Univision can extend the agreement at two year terms.
Univision has a track record of releasing compelling content whereby other participants simply can't compete in terms of securing ratings. Other Hispanic-targeted networks include Azteca America, ESPN Deportes, Estrella TV, Fox Deportes, Galavision, Gol TV, LATV, Mega TV, Mun2, NuvoTV, and recently launched MundoFox. However, the top two participants are Univision and Telemundo, and EVC just happens to be directly tied to Univision, which consistently releases programming ranked above Telemundo.
Lower Relative Business Volatility: With the 2012 U.S. Presidential election passed, a number of mainstream television and radio broadcasters will probably or have already used the strong cash flows from the election to improve their balance sheets to deal with a likely slower 2013 given the lack of the Summer Olympics (at least for NBC affiliates) and political spending. While congressional election years such as 2014 should result in strong political ad spending, traditional broadcasters have generally geared up for presidential races every four years.
In contrast, EVC tends to have a more stable business because it benefits from the U.S. Presidential election but is also a FIFA World Cup broadcaster. The next World Cup will be in 2014 so the Company's operations should benefit from a combination of political races and the World Cup. The Company is also benefiting from the rising demographic trends previously mentioned whereby each "comparable" year seems to outperform the prior "comparable" year. Comparable in this sense means comparing two off-political years or two on-political years. Chart I below can illustrate whereby 2011 revenue, although down from 2010, was a bit higher than 2009. The Company's 2012 revenues should be substantially higher than 2010 and analysts estimate 2013 will be better than 2011. This is probably due to the increasing share of advertising dollars that are allocated to capture the growing Hispanic population.
CHART I: HISTORICAL EVC SALES (USD MM)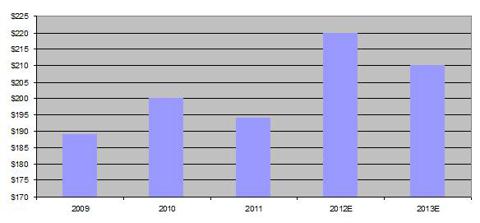 Traditional television and radio broadcasters are likely not experiencing a similar sales pattern exhibited in Chart I. It is more likely that off-political years do not show comparable growth and without the benefit of the World Cup, most broadcasters are likely to experience greater operational volatility compared to EVC.
Deleveraging: EVC has been focused on reducing its debt load. The Company has about $315MM in net debt as of Q3 2012 and recently announced plans to pay down $40MM of its expensive 8.75% notes as well as issue a special one-time $0.12 dividend to shareholders. Between its Q4 2012 cash flow, cash on the books, and dividend funding, I expect the Company's net debt to be about $300MM at year end, of which $324MM per EVC will be tied to its 8.75% Notes. I expect that despite being an off-political year, 2013 will have a few positives relative to the last off-political year which could result in stronger than expected cash flow and further deleveraging. Reduced, high cost interest expense would result in higher net income and cash flow and could also warrant a higher valuation multiple.
Valuation: EVC is valued at 6.6x LTM EBITDA and about 5.9x EV/2012E EBITDA. I would argue that EVC should have a higher relative valuation. While there are not many public comparables, Grupo Televisa, SAB (NYSE:TV) and Spanish Broadcasting System (NASDAQ:SBSA) suggest that EVC should command a higher valuation. TV is a dominant participant in the Mexican market but as a result, its overall growth via demographic changes are limited relative to EVC. SBSA is a radio broadcaster, yet its LTM EBITDA multiple is virtually the same as EVC's. Keep in mind that both SBSA's debt profile and overall asset base are much worse than EVC's, so on a purely relative value basis, EVC should command a larger premium to SBSA. EVC's strong affiliation with Univision, asset location, asset mix, and various underlying demographic trends could also suggest that it deserves a valuation significantly higher than SBSA.
EXHIBIT III: EVC COMPS

Since 2010, the Company has been paying down debt and improving its cash flow, yet the valuation multiple has contracted. The overall business has not changed dramatically to warrant this devaluation. Broadcast television has demonstrated significant strength and resilience as retransmission fees have continued to increase and political ad revenues were at a record level. As shown in Exhibit IV, EVC is trading at a very low valuation relative to its historical levels.
What's odd is that 2010 was a political year and World Cup year while 2011 was not, yet the valuation was relatively constant against performance. This means that while EBITDA and revenue were down in 2011 relative to 2010, the market assessed a similar valuation. If the multiple contraction EVC has experienced reverses even slightly and can get to a 7.0x EV/EBITDA level, the stock would be worth $2.50/share. If it reaches the EV/EBITDA valuation it maintained in prior years, shares could be worth closer to the high $3s.
EXHIBIT IV: EVC HISTORICAL VALUATION

Note: 2010A and 2011A Share Price is the average annual share price while 2012E is the current share price
2013: Investors may be concerned with 2013 as most years following U.S. Presidential elections yield a sharp drop in operational performance with broadcasters. While I think the market is expecting a drop, there are a number of reasons to be relatively optimistic for 2013 when it comes to EVC. The first reason I think 2013 could be better than expected is because 2012, despite record political revenues, had some missed opportunities for the Company.
Exhibit I clearly illustrated that Texas is a critical market for EVC. Unfortunately for EVC, Texas pushed its Republican Primary from March to April and by then, a good portion of the challengers, including Texas Governor Rick Perry, had withdrawn. If there were more participants involved in the state primary, it's possible EVC's overall political revenues would have been even higher as Texas would have experienced significant political ad spending from challengers hoping to secure the state's nomination. What this means is that while 2012 will still be a banner year for the Company, the potential drop off from 2012 to 2013 may not be as steep because the Company left some money on the table.
Another potential positive is that EVC investors will recall that 2011 was plagued with difficult performance in the auto category. Ad dollars in the critical auto segment were under extreme pressure throughout 2011 leading to low revenue and operating income performance. In contrast, 2013 is expected to continue the resurgence in auto sales.
There is also one additional wildcard that could be a positive for EVC in 2013, which is the Affordable Care Act (ACA). The Company presented at Bank of America Merrill Lynch's 2012 Leveraged Finance Conference in Boca Raton, FL on December 3, 2012 and mentioned that the newly formed American Health Benefit Exchanges will be tasked with educating each state's residents on the ACA. EVC could be in a position to benefit as 30% of the 47MM uninsured adults in the U.S. are Hispanic so the exchanges could deploy ad dollars into various media outlets such as EVC.
Perfect Activist Target: While the above points can allow EVC to work as a passive investment, the Company is also ripe for a sharp activist to help deliver value at a faster pace. While I am happy to see the Company delever and pay the dividend, the problem is that management is generally slow and takes a "wait and see" approach. The discussion regarding redeeming more debt has been ongoing in prior conference calls so it has seemed that EVC participants have to somewhat goad management into these rational moves. There has also been some level of management turnover in recent years.
However, I think an activist could generate the most value by splitting up the TV and Radio segments. The TV segment accounts for 66% of total revenues but about 80% of operating profit. Integrated media companies can work when they leverage the operating structure, but in EVC's case it seems that there are no operational synergies as the TV and Radio segment each use similar amounts of SG&A. The Company should seek out a way to better manage those separate SG&A expenses or if the two operating units really are this disparate, allow a strategic buyer to acquire the radio assets. A strategic buyer would be able to gain significant value through acquiring the radio division based on its ability to bring over the radio assets with minimal cost. This means EVC shareholders could experience a significant upward revision in share price.
The presentation below illustrates how EVC shareholders could benefit from selling the Radio segment. Exhibit V first presents the historical performance of each operating segment. The main area of focus is the segment SG&A, which as can be seen eats away at a large portion of the Radio segment's profitability. A strategic buyer could potentially do away with most of those expenses.
Exhibit VI explains how a Sum of the Parts Valuation would work. I assume the normalized (between political, non-political, World Cup, etc.) annual EBITDA for the radio segment would be about $14MM. I assume the same for the Annual Run-Rate SG&A which is $16.5MM but estimate a strategic buyer would only need 10% of those total costs when merging EVC's Radio segment into the parent. As a result, the pro forma EBITDA for the Radio segment for an acquirer would actually be double what the segment EBITDA produces for EVC shareholders. I assume a 7.0x EBITDA valuation which is consistent with radio participants such as Cumulus Media (NASDAQ:CMLS), Salem Communications (NASDAQ:SALM), Saga Communications (NYSEMKT:SGA), SBSA, Entercom Communications (NYSE:ETM), Emmis Communications (NASDAQ:EMMS), and Radio One (ROIAK). In fact, a 7.0x valuation is likely a bit low for an acquirer given these publicly traded names are generally valued at 7.5+x.
EXHIBIT V: EVC SEGMENT RESULTS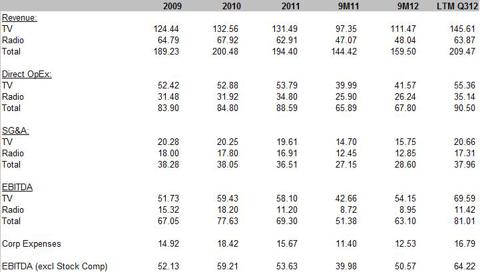 EXHIBIT VI: SUM OF THE PARTS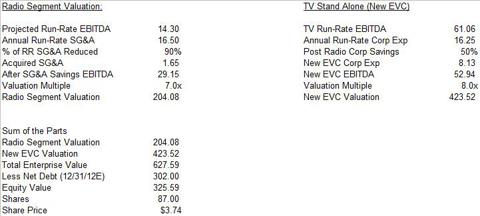 I conduct the same exercise for the "New EVC" which would be a standalone TV operator. I establish a normalized TV segment EBITDA of $61M and then assume half of the $16MM in corporate expenses would be gone following a sale of the Radio segment. This leaves the New EVC EBITDA at $53MM which I value at 8.0x EBITDA. When combining the value of the Radio segment in a sale, the New EVC, and netting out the expected debt at year-end, the Company's shares would be worth about $3.75. Clearly, there needs to be more investigation, but given that these two segments generate no operational synergies, I believe that there could be value in splitting the business.
BEAR CASE
Debt: EVC will have about $300MM of net debt at the end of 2012, which would equate to 4.0x Net Debt/EBITDA based on my year-end estimates or 4.9x my 2013 EBITDA estimates. This is not a big deal given there are no near-term maturities, as the Company's debt matures in 2017.
Management: EVC's management team is not as bad as what I saw when investing in Media General (MEG) but is at best mediocre. The management team has turned over of late and one of the bigger challenges I find with management is that it often takes a long "wait and see" approach with respect to corporate finance decisions. Unfortunately, management also controls 81% of EVC's voting power via its Class B shares.
Univision: Univision owns 10% of EVC via Class U shares. The shares give Univision the right to block any merger or business combination which could make things such as the activist effort I previously described more difficult.
SUMMARY
Most investments I make tend to have a number of negatives to be aware of but EVC actually does not. There are a number of positives ahead of the Company, some near-term and EVC-specific such as a potentially stronger than expected 2013 and continued deleveraging, and some more thematic such as the Hispanic demographic tailwind. The market has compressed the multiple for the Company, but I would expect continued improvements to its balance sheet and better than expected performance next year due to some yet to be fully understood ad spending benefits from the ACA could drive the stock much higher than its current share price.
Disclosure: I am long EVC. I wrote this article myself, and it expresses my own opinions. I am not receiving compensation for it (other than from Seeking Alpha). I have no business relationship with any company whose stock is mentioned in this article.