Baidu.com, Inc. (NASDAQ:BIDU), the leading Chinese-language Internet search provider, has seen its shares decline 32.64% since Aug. 17, 2012, with the closing price of $133.98. Investors are concerned, as BIDU has been experiencing increased competition in a slowing market. With the recent $1.5 billion note offering, BIDU still needs to find a clear path to maintain its dominance in the PC search market while moving into the mobile industry.
Rising QIHU vs. Dominating BIDU
Qihoo 360 Technologies (NYSE:QIHU) launched its own search engine, So.com, on Aug. 16, 2012. In little less than 4 months, So.com had gained between 8% and 10% of the market share. QIHU's search engine also surpassed Google (NASDAQ:GOOG) to place second in China only 5 days after launch. While BIDU still held 58.3% market share in mid-September, and was still dominating the PC search market, BIDU was hit with the increasing concerns from QIHU. However, a report from iResearch indicates that QIHU's gains came largely at Google's expense. According to iResearch,
"QIHU had directed traffic to its search engine by setting its search engine as the default search of its navigation page and browser, thus triggering rapid growth of its market share. Google, which relies on QIHU navigation and browser for external traffic, has suffered a serious blow from QIHU. Unlike Google, Baidu's reliance on the traffic from QIHU is relatively low, though its traffic has also been affected to some extent."
Another report from China Internet Watch showed the supporting data where BIDU had gained 14% growth for the "total visits" from September to October, while QIHU's search engine and sogou.com had gained 5% and 7%, respectively, and googl.cn had lost 12%. For market share, BIDU gained 3.0% while QIHU lost 0.3% and sogou.com lost 0.1%, as seen in the table below.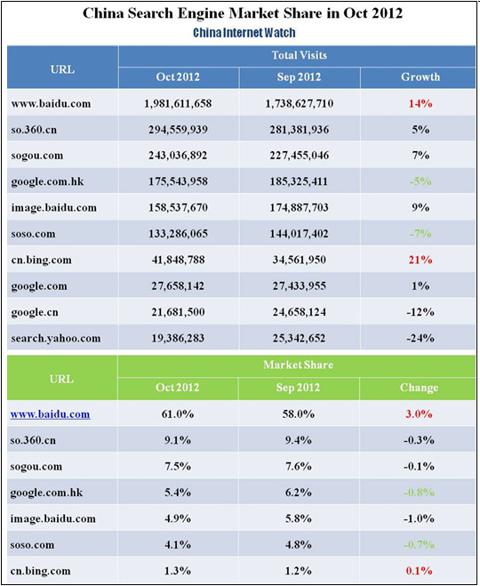 Source: China Internet Watch
Decelerating Growth for the China PC Search Market
The growth of China search engine market was decelerating even though the market hit the record revenue of 7.8 billion yuan, as seen from the chart below.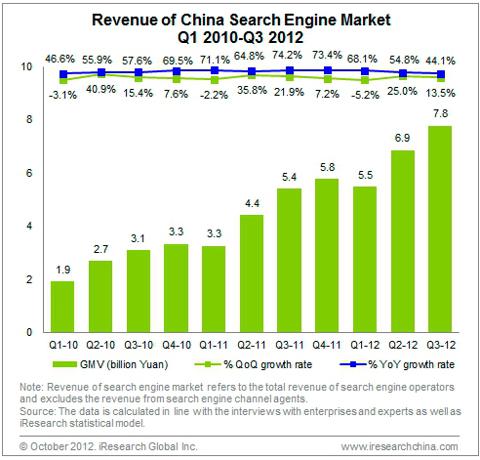 Source: iResearch Global Inc.
iResearch also expects the traffic from PC search to slip gradually due to the diversion of traffic to mobile search, and expects the monetization of mobile search will not be improved significantly in a short period of time. iResearch estimates that the Y-o-Y growth rate of the search market in Q4 will be between 36% and 41%.
Long way to go for the Mobile Search Market
BIDU had filed its proposal with the Securities and Exchange Commission to raise funds via sales of bonds, which will be used to pay down debt of $350 million and also to make acquisitions. BIDU announced its intention to buy Providence Equity Partner's 40 percent stake in iQiyi, an online video service. However, Citi's Muzhi Li addressed the underlying weakness for BIDU:
"Search is no longer the gateway of mobile Internet, but apps is. Our survey showed that 1) deeper penetration of mobile devices reduces the usage of PC; 2) mobile search is replaceable by apps; and 3) paid search is the least accepted ad format in mobile, according to our survey. These findings explain why advertisers are unwilling to buy mobile search ads."
Li further stated:
"In 2013, we estimate at least 1/3 of Baidu's search traffic would come from mobile. On the mobile side, revenue pressures would come from 1) reducing CPC to improve advertisers' ROI, 2) low mobile CTR and 3) low keyword coverage on mobile. Baidu has to balance mobile's negative incremental revenue impacts with growth from PC. However, on the desktop side, 1) upward CPC trend (21 percent YTD) is hard to maintain in 2013 as competition from Qihoo and Sogou emerge, 2) limited upside of improving click-through-rate, CTR, to compensate the loss of traffic to competitors and increasing mobile search traffic, 3) expand customer base among SMEs. We forecast 2013E revenues to grow at 30 percent, vs. the consensus of 36 percent."
With the above concerns, BIDU is expanding its mobile manufacturing capacity to tap China's huge demand for smartphones. BIDU is following Google's Android strategy by entering a multi-million-dollar JV with Docomo under the joint venture name Baidu Yi Xi, and also plans to develop its own forked Android OS for mobile devices. By the end of this year, Baidu is aiming to have its new browser installed in 80 percent of Android Smartphones sold in China. It has also invested $1.6 billion in a new cloud-computing center. The mobile market offers BIDU a great opportunity to expand into; however, there are also concerns, such as the lack of a clear revenue model and increased competition, including Apple's (NASDAQ:AAPL) SIRI, which could bypass the mobile search entirely.
Fundamental Overview and Technical Analysis
With the data gathered from Morningstar, BIDU's key stats will be compared to its competitors in the Internet content & information industry, including Google Inc. and Sohu.com Inc. (NASDAQ:SOHU). BIDU achieved stronger revenue growth of 65.5 and EPS growth (3 year average) of 84.6, as compared to the industry average of 9.8 and 31.8. BIDU also attained higher operating margins of 51.4%, ttm, and net margin of 47.5%, ttm, as compared to the averages of 27.5% and 19.3%, respectively. BIDU also generates stronger ROE or 53.5, as compared to the average of 13.3, and has a healthy debt-to-equity of 0.1, as compared to the average of 1.2. BIDU is currently slightly under-valued with P/E of 20.3, as compared to the average of 23.5.
BIDU closed at $90.24 with a 5.9% loss on Dec. 4, 2012. Volume of 12.5M shares was 2.4x the 30-day average volume of 5.20M. BIDU has traded in the range of $89.16-$154.15 in the past 52 weeks, with a beta of 1.80. The MACD (12, 26, 9) was showing bullish signs. However, MACD differences continued to converge in the past two trading days and could soon change to a bearish sign if BIDU continues to slide. The momentum indicator, RSI (14), is showing increasing selling momentum at 31.92. BIDU is currently trading below its 200-day MV of $120.94 and 50-day MV of $105.98. As seen from the chart below, the next resistance will be $88.55, the S1 pivot point, followed by $80.78, the S2 pivot point.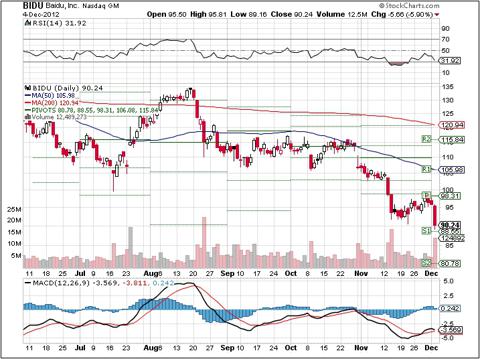 Source: StockCharts.com
Conclusion and Options Play
While BIDU still maintains its leadership position in the PC search market, it is facing increased competitions from QIHU's So.com and Sogou.com in the PC search market. While BIDU is aggressively stepping into the mobile market, it has yet to find a clear revenue model, and still faces various existing and new challenges in this growing frontier. Value investors will wait for further discounts, while growth investors are not able to fend off the concerns for BIDU's increasing competition yet. In the near-term, technically, the selling pressure will continue. For long-term investors, more patience is required to find a better entry price. For more aggressive bullish options traders/investors, a credit short put spread may be considered when BIDU finds a convincing technical support to gain potential upside with the limited downside.
Disclosure: I have no positions in any stocks mentioned, and no plans to initiate any positions within the next 72 hours. I wrote this article myself, and it expresses my own opinions. I am not receiving compensation for it (other than from Seeking Alpha). I have no business relationship with any company whose stock is mentioned in this article.