Intel (NASDAQ:INTC) received three buy ratings recently. The research firms are:
Jefferson Research
Ford Equity Research
evaDimensions
The super chip maker continues to rate highly among analysts mostly due to low valuation.
Jefferson Research
The highly respected firm noted:
INTEL CORP is showing strong Earnings Quality and Cash Flow Quality, and Valuation suggests a lower amount of price risk, but Operating Efficiency and Balance Sheet Quality are both weak. When combined, INTC deserves a BUY rating.
They divide their analysis into five areas:
Earnings Quality
Cash Flow Quality
Operating Efficiency
Balance Sheet
Valuation
Q1 of this year showed all in the strongest category, except for #3 which was strong. (Valuation was labeled "Lowest Risk"). In Q2 2012 Operating Efficiency moved to "Weak" and in Q3 #4 joined in.
Still, the firm found that overall state of the stock rated a buy, citing:
The Balance Sheet rating declined due to weakening liquidity. Though this dimension and all of the others were either down or unchanged at best, it was not sufficient to lower the overall rating.
Ford Equity
We project that Intel will outperform the market over the next 6 to 12 months. This projection is based on our analysis of three key factors that influence common stock performance: earnings strength, relative valuation, and recent price movement.
Again, they rated very highly Relative Price Movement and Relative valuation, but noted lower Earnings Strength.
Analysis
Intel is facing some challenging times. Although it recently reported better than expected earnings, it faces some serious challenges. The stock has taken a beating this year, dropping from a high of $29.27 in May. Today it is trading just under $20.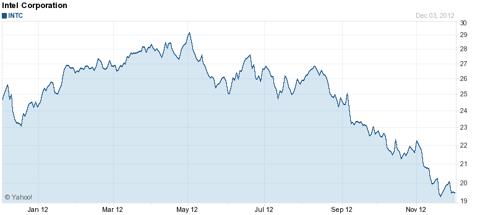 [chart: Yahoo.com]
The biggest challenge is the shrinking PC market. Sales of the traditional PC based on some flavor of Microsoft's (NASDAQ:MSFT) Windows operating system has been contracting under the double pressures of a lagging global economy, and the popularity of tablet computers - led by Apple's (NASDAQ:AAPL) iconic iPad. The latter category has surged, taking vast sales from the PC market. In fact, Apple recently reported that last quarter it sold more iPads than any PC OEM has sold of its entire line of PCs.
The overwhelming majority of tablet computers are driven by ARM (NASDAQ:ARMH) based processors, none of which are manufactured by Intel. Intel has responded with its own Atom line of processors, but it remains to be seen how well these will do in the market place.
Opportunities
On the other hand, Intel has a great deal of talent. Their Atom processors could catch on in both the smartphone and tablet space. Currently have the Xolo phone out in India that has received favorable reviews. While it remains to be seen whether or not Microsoft's Surface Pro will take off, it uses Intel's core i5 processor.
Another rumored opportunity is that Apple will switch production of its A-series processors to Intel. This would be a huge benefit for Intel, although Apple is known for driving a very hard bargain.
Conclusion
Intel is rated Buy by these three firms based largely on current valuation. It is a strong company which is definitely a permanent part of the high tech landscape. But the strength of its future depends in part on how well it can meet the mobile market challenge.
=====
Related Article: Ultrabooks or Ultra-Flops? Just One of Intel's Problems.
Disclosure: I am long AAPL. I wrote this article myself, and it expresses my own opinions. I am not receiving compensation for it (other than from Seeking Alpha). I have no business relationship with any company whose stock is mentioned in this article.