One of the keys necessary to solving the latest economic crisis is stopping the decline of home prices. The home is a source of wealth for the majority of Americans. While these home prices keep dropping, the majority of Americans are spending a lot less due to uncertainty or inability to have access to credit. The whole economy is being poisoned.
The first signs of the problem began in early 2006. The supply of houses remained within statistical norms. It was the demand for houses which fell. Actually, the buyers were there but they just could not get loans as the banks tightened lending practices as foreclosures began to become more and more common.
The solution to solving the declining housing prices should be easy – just create a lending mechanism so that the buyers can start buying again. There should be a lot of potential demand out there because they have not been buying for several years. This is exactly what the National Association of Realtors (NAR) proposed in their press release last week. According to NAR President Richard F. Gaylord:
The U.S. Treasury and Congress need to work together to ensure that the American people benefit from the economic recovery plan. The Treasury Department has gotten off track by focusing too much attention and stimulus money on Wall Street and banks that are in turn using the money for mergers and acquisitions. The administration needs to get back to the original intent of the plan – stabilizing the mortgage and housing markets – to help families avoid foreclosure.
The NAR simply wants lower mortgage rates, loosening of loan limits, and some mechanism to force banks to loan money to buyers. They want to create stimulus to the demand side of the housing issue.
Catch 22
How is a banker supposed to loan money if the asset placed for collateral is decreasing in price? It is not inconceivable that a loan with a 20% down could be underwater in a few years if housing prices continue to decline. You must stop the housing market values from declining. This will help free up the credit market so that loans can be written without the risk of housing valuations falling.
Here it gets interesting. The problem is no longer just a shortage of demand (caused by credit unavailability and falling home prices), but because the housing crisis actually began in 2006, we actually have too many houses, too much supply. Every month you hear the unsold existing home inventory report by the NAR. You might even have realized that unsold inventories have grown only by one million homes – only a 50% increase from 2005 levels. This would seem to be an easy backlog to wipe out once the economy picks up.
The Dirty Little Secret
If you are a real estate investor or broker/agent, you know this secret. The unsold existing home inventory which was about a 9 months supply in September 2008 is only the tip of the iceberg. The real inventory is twice that amount, and may be more.
Beginning in 2006, the quantity of home sales fell. Did the need to sell homes somehow evaporate? No, if the sale was discretionary the seller either did not list the property or was talked out of listing the property by the real estate agent until the market gets healthy. Some examples of discretionary sellers are:
Estate sales
Recent retiree wanting to relocate
Second home owners who need to liquidate
Owner relocation but could not sell house so he rented it out.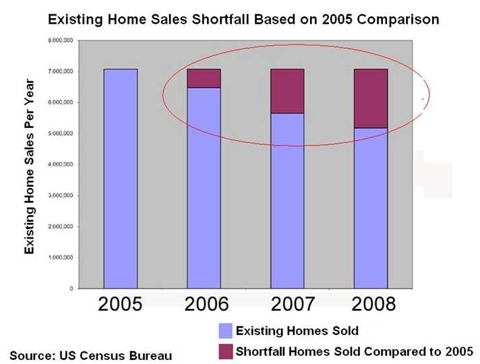 And the problem may be greater than shown on these graphs as you really should not count short sales (foreclosured existing home sales) as a house sold. This overstates the existing home sales when comparing data to other periods. The real backlog is most likely over 10% of all homes in America and growing daily.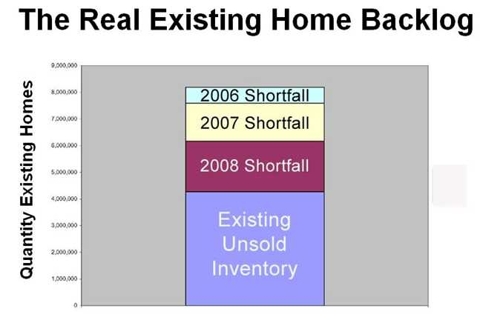 And How Will You Stimulate Demand?
It has been demonstrated to the first time buyer that housing prices may not keep going up. Why tie up capital in a house when you can rent and use the capital for another investment? And if prices keep falling – what first time buyer wants to jump into that quicksand? You simply cannot make an economic argument today that anyone should purchase a house when renting is cheaper. The usual benefit of asset appreciation has evaporated.
Another element currently out of the market and not likely to return is the short term property investor who buys low (normally fixer uppers), and the resells high. Many of them were given "short haircuts" when the housing markets reversed suddenly, and their equity required to continue investing evaporated.
And all the people being foreclosed will not be able to reenter the market even if they wanted to. What lender wants this type of customer?
There is no ready solution to the decline in housing prices
We have too much supply unless we are willing to tear houses down. We have very little demand unless we can offer all buyers a massive incentive (like providing a 20%.down payment tax free) – and then you will create another bubble. And to make matters worse, we have entered a recession, creating uncertainty about any major financial decisions – such as buying a house.
My solution is to do nothing because I have become convinced nothing will work. The problem is too big for a band aid solution. The quicker the housing market finds its natural bottom, the quicker the overall economy can begin recovering.
Disclosures: I am a real estate investor, and I believe it is best for me for the housing market to find its bottom quickly. I am not willing to pay taxes for solutions which do not work. I know the government will want to appear to have done something to solve this problem – but they should resist the showmanship.