In August, we took one of our periodic looks at the Value of Phillips 66 (NYSE:PSX). And if you did what I did, which is go long on this stock at about the time I wrote that article, you have something to brag about at the office holiday party this year: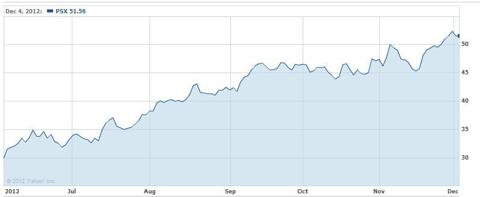 When something like this happens, namely a 25-plus percent price improvement plus a couple of dividend payments over the last six months, there is always a dilemma: Is there a continued upside, or do you want to cash it out?
So, the project of the day is to try to figure out what to do from here. The project is especially important if you went long on Conoco Phillips Corporation a year ago, and received your PSX shares as part of the spinoff that happened last spring. If you did that, you are roughly equally delighted, making roughly 24% on your investment per the calculation below:
Shares
Price
Portfolio Value
COP 12-1-2011
1000
68.55
$ 68,550
Post Spin
Shares
Price
Portfolio Value
COP Shares
1000
$ 57
$ 56,840
Phillips 66 Shares
500
$ 52
$ 25,780
$ 82,620
Dividends
Dividend/Share
COP
1000
$ 1.98
$ 1,980
PSX
500
$ 0.45
$ 225
$ 2,205
Current Value
$ 84,825
Rate of Return
24%
So, what is the "current" value of Phillips 66?
In the August article, we did a calculation to try to evaluate the company on the basis of its refining capacity, and came up with a value of around $12,500 per BPD capacity, which was in the realm of reasonableness compared to a couple of refinery transactions that took place at that time.
Here is the calculation as it looks today:
| | |
| --- | --- |
| | PSX |
| Market Capitalization | $32,270,000,000 |
| Debt | $8,000,000,000 |
| Total | $40,270,000,000 |
| Adjustment for Chemicals | 0.25 |
| Net | $ 30,202,500,000 |
| Throughput (BPD) | 2,200,000 |
| Value $/unit throughput | $ 13,728.41 |
Repeating the calculation we did for Marathon Petroleum Corporation (NYSE:MPC), which also had an excellent six months, we get the following:
| | |
| --- | --- |
| | MPC |
| Market Capitalization | $ 20,000,000,000 |
| Debt | $ 3,350,000,000 |
| Total | $ 23,350,000,000 |
| Throughput (BPD) | 1,193,000 |
| Value $/unit throughput | $ 19,572.51 |
So the good news is, PSX is still proportionately undervalued, as a function of the value of its capacity, compared to its peer MPC.
PSX paid two dividends since its spinoff last summer, a 20 cent per share dividend in August, and a 25 cent per share that we grateful shareholders collected on December 3rd.
Here is a calculation of the relative dividend yield of the stock today compared to what it was a couple of months ago:
| | | |
| --- | --- | --- |
| | August | Current |
| Price | $ 41.00 | $ 51.50 |
| Quarterly Div | $ 0.20 | $ 0.25 |
| Annualized Div | $ 0.80 | $ 1.00 |
| Div Yield | 1.95% | 1.94% |
This is important information. It says that the dividend yield of PSX right now is equal to what it was in August before the dividend increase.
The company bought back $111M of its own stock during the third quarter as well, and at an average buyback price of $45 this amounts to a roughly 2.5 million share buyback, which was valued in the marketplace at zero.
The next question: Is this nice increasing dividend sustainable? The most recent quarterly report is linked here, and the August quarterly report is linked here. We knew a year ago, when the original announcement was made, that PSX would be a cash generating machine, and inspection of the cash position of these two reports confirms this to be the case. Despite the share buyback, and despite the dividend, the company had a $1.3B increase in cash position the third quarter alone. The management has stated its ongoing intention to do "disciplined capital allocations including debt reduction and additional distributions" and appears to have the cash to follow through.
So on the basis of all of this, it would be hard to walk away from PSX at this point. None of the value of the share buyback is priced into the stock, and we are now in the fourth quarter, which traditionally is the low point in refinery industry profitability. The current WTI/RBOB crack spread this morning is $24 per barrel, historically unprecedented for the time of year when demand is lowest, and as long as this situation continues, there is no compelling reason to exit.
As usual, there are risks. As we were saying the other day, the energy industry can turn upside down, in the middle of the night, on the basis of the actions of some underpaid security guard in some Middle Eastern nation, as it did in January of 2011, so perils are everywhere. We have an additional issue with potential economic weakening, based on some rather mediocre news out of the nation's manufacturing sector. There are always unknowns.
As we are so fond of saying, the world is full of chaos, and there are no guarantees on anything, but I believe I will sit on my PSX for now, and hope for an even better bragging opportunity during barbecue season next spring.
Disclosure: I am long PSX. I wrote this article myself, and it expresses my own opinions. I am not receiving compensation for it (other than from Seeking Alpha). I have no business relationship with any company whose stock is mentioned in this article.
Additional disclosure: I also went long TSO at about the same time, and am doing well on that investment also.