Robotic Surgery first debuted in the early 2000's and has grown to a $1 billion industry today. Titan Medical (OTCQB:TITXF) estimates the market for robotic surgery equipment will increase to roughly $4.2 billion in five years. The industry is currently dominated by one major company, Intuitive Surgical (NASDAQ:ISRG), whose da Vinci System is making a major impact in the healthcare field. Although it has been over a decade since the first surgery was performed using a robot, I don't believe investors are late to this trade.
If you haven't heard of Intuitive Surgical prior to reading this article, I would urge you to visit the company's website and learn in greater detail about what they do. Conventional surgery requires the surgeon and his team of up to a dozen people to stand around the patient using hand held long shafted instruments that cannot bend or rotate. The surgeon must look away from the patient to a 2D video monitor to see an image of the target anatomy. With the da Vinci System, the surgeon sits at an ergonomically designed console and uses patented EndoWrist instrumentation. A 3D monitor is directly in front of the surgeon and his team can be reduced to just four people. Major benefits of this robotic surgery include: shorter hospital stays, less blood loss, faster recovery, smaller incisions (less scarring), and lowered costs to both the patient and hospital.
As of Sept. 30, 2012, there were just under 2,500 da Vinci Systems in 1,936 hospitals worldwide. The company derives revenue from three basic sources, sales of the da Vinci System, instruments and accessories for the System, and ongoing System service. Sales are still largely driven domestically, however the growth opportunity in international markets remains promising in my view.
Corporate Growth
The company performed its first surgery using a da Vinci System in 2000 and sales have taken off since then. Management is estimating 2012 revenue growth of 21%-23% year over year, and if they are able to meet this target, three year revenue will have grown at a CAGR of roughly 26%. The chart below shows quarterly revenue and revenue per diluted share growth over the past few years.
Click to enlarge images.

Source: Intuitive Surgical SEC Filings.
Earnings growth has followed a similar pattern, growing from $28 million in Q1 of 2009 to $183 million in Q3 of 2012. Although some rapidly growing healthcare companies in the past have exhibited questionable account practices, the company has fairly simplistic financial statements and there is a lack of evidence suggesting these numbers are being "propped up." The chart below shows quarterly net income (blue line right hand scale) and earnings per diluted share (orange line left hand scale) over the past few years.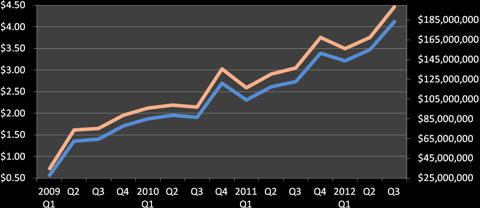 Source: Intuitive Surgical SEC Filings.
Corporate Health
I believe Intuitive Surgical has an equally impressive balance sheet. As of the recent quarter end cash and short term investments stood at $1.14 billion. Long-term investments were $1.559 billion. The company has no debt outstanding. This impressive cash pile on the balance sheet came from the company's ability to generate cash from operating activities. The table below lists cash flow from operations, capital expenditures, and free cash flow for the past few years.
| | | | | |
| --- | --- | --- | --- | --- |
| | 2009 | 2010 | 2011 | 2012 (9 months) |
| Cash Flow From Operations | $392,200,000 | $545,800,000 | $677,600,000 | $597,000,000 |
| CapEx | -$53,400,000 | -$96,000,000 | -$82,900,000 | -$53,100,000 |
| Free Cash Flow | $338,800,000 | $449,800,000 | $594,700,000 | $543,900,000 |
Source: Intuitive Surgical SEC Filings.
Profit margins have benefited greatly from the recent surge in growth. Gross profit margins remain above 70%, operating profit margins have climbed from 36% in 2009 to above 40%, and net profit margins have expanded from 22% in 2009 to just under 30%. The chart below shows quarterly fluctuations in gross profit margins (blue line right-hand scale), operating profit margins (red line left-hand scale), and net profit margins (green line left-hand scale). Although choppy from quarter to quarter given the timing of certain expenses (stock options, taxes, etc.), the general trend is up and to the right. Not many companies can claim net profit margins above 30%, and it appears Intuitive Surgical is going to push this number higher.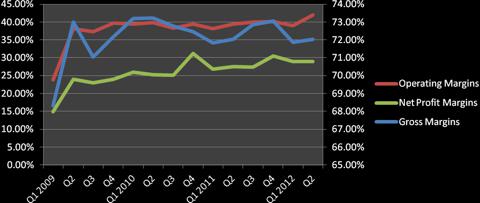 Source: Intuitive Surgical SEC Filings.
My Thoughts on the Future
Intuitive Surgical has one quarter remaining before they report full year 2012 profits. Management has already estimated revenue growth of 21%-23% (as reflected in the table below). My estimates for the remainder of 2012 are based on estimates given by management through recent earnings announcements and conference calls. The big question to consider is what 2013 will look like. I factor the following points into my estimates:
Expected revenue growth of just under 20% (based on comparable year sales growth in machines, accessories, and service contracts).
The medical device tax is scheduled to become effective on Jan. 1, 2013. Management has estimated the tax to equate to roughly 1.1% of our net consolidated revenue. This will be recorded as a cost of sales, and thus a lower gross profit for the full year.
Slight increase in operating profit margin, due to the company's ability to grow "selling, general, and administrative expenses" at a decreasing rate. I estimate operating margins to be not as robust given the medical tax expense mentioned above which will directly affect cost of revenue.
Tax rate of 30%, the middle of management's estimate given last quarter.
I estimate the current share repurchase program will likely result in no change in the diluted share count.
2011

2012

2013

Full Year

Common

Size

YOY Growth

Full Year Estimate

Common

Size

YOY Growth

Full Year Estimate

Common

Size

YOY Growth

Revenue

$1,757,300,000

100.00%

24.37%

$2,144,000,000

100.00%

22.01%

$2,572,000,000

100.00%

19.96%

Cost of Revenue

$483,500,000

27.51%

26.24%

$598,000,000

27.89%

23.68%

$759,000,000

29.51%

26.92%

Gross Profit

$1,273,800,000

72.49%

23.67%

$1,546,000,000

72.11%

21.37%

$1,813,000,000

70.49%

17.27%

Selling, General and Admin Exp

$438,800,000

24.97%

22.30%

$504,000,000

23.51%

14.86%

$570,000,000

22.16%

13.10%

Research and Development

$140,200,000

7.98%

20.86%

$180,000,000

8.40%

28.39%

$205,000,000

7.97%

13.89%

Operating Income

$694,800,000

39.54%

25.14%

$862,000,000

40.21%

24.06%

$1,038,000,000

40.36%

20.42%

Interest and other income (expense)

$14,900,000

0.85%

-12.87%

$16,500,000

0.77%

10.74%

$18,000,000

0.70%

9.09%

Pretax Income

$709,700,000

40.39%

24.01%

$878,500,000

40.97%

23.78%

$1,056,000,000

41.06%

20.20%

Provision for income taxes

$214,600,000

12.21%

12.65%

$254,700,000

11.88%

18.69%

$316,800,000

12.32%

24.38%

Net Income

$495,100,000

28.17%

29.68%

$623,800,000

29.10%

25.99%

$739,200,000

28.74%

18.50%

Basic Shares Outstanding

39,200,000

39,900,000

39,900,000

Basic EPS

$12.63

$15.63

$18.53

Diluted Shares Outstanding

40,200,000

41,100,000

41,100,000

Diluted EPS

$12.32

$15.18

$17.99
Source: Intuitive Surgical SEC Filings, Intuitive Surgical Management Guidance, and my estimates based upon historical data and future expectations. Estimates given above are no guarantee of future results, please evaluate the company in greater detail before making investment decisions.
Valuation
Assuming Intuitive Surgical earns just under $18 per diluted share in 2013, the 18.5% EPS growth rate would likely continue to demand a high price/earnings multiple. The chart below shows ISRG's quarterly trailing 12 months P/E ratio. As you can see, we trade toward the higher end of this historical range.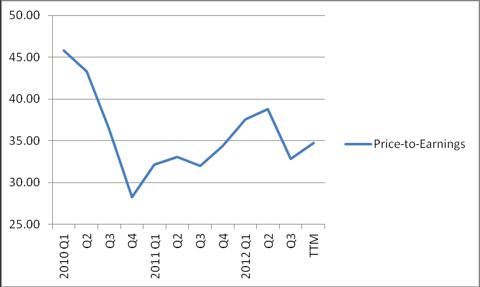 Source: Intuitive Surgical stock price and TTM Earnings.
Any upside surprises in sales, especially out of the Europe region could elevate this stock to higher price multiples. Additionally, a robust share repurchase program or initiation of a dividend may entice more investors to purchase shares. Assuming the following scenarios we would likely arrive at:
2013 EPS $17.99 X 35x Price earnings ratio = $629.65 share price (roughly 17% gain from current levels)
2013 EPS $17.99 X 32x Price earnings ratio = $575.68 share price (roughly 7% gain from current levels)
Please note that these are presented for illustrative purposes only and are no guarantee of actual investing results.
Conclusion
Given the scenarios mentioned above, it appears shares are fairly valued unless unexpected positive announcements come out of the company in 2012. Investors are concerned about what consequences Obamacare and the fiscal cliff will bring to corporate America, and Intuitive Surgical is unfortunately subject to both. If further clarity is given in either of these areas, and sales continue to remain robust, it is likely investors will continue bidding up this stock.
Those looking to initiate a position in ISRG may want to scale into small positions on pullbacks rather than purchase large blocks at current price levels. Consider your investment goals and objectives before initiating a position in Intuitive Surgical and please remember that the value of investments in equity securities, like Intuitive Surgical, will fluctuate in response to general economic conditions and to changes in the prospects of particular companies and/or sectors in the economy. If you see a fit in your portfolio, I think being a long-term shareholder has the potential to provide attractive returns. In my opinion, the growth story of this company remains intact.
Note: All data reported and graphed is pulled directly from Intuitive Surgical's SEC Filings and press releases.
Disclosure: I have no positions in any stocks mentioned, and no plans to initiate any positions within the next 72 hours. I wrote this article myself, and it expresses my own opinions. I am not receiving compensation for it (other than from Seeking Alpha). I have no business relationship with any company whose stock is mentioned in this article.
Disclaimer: This does not constitute a recommendation to buy or sell this or any security.