With the long-awaited restatement of its financials and resolution of tax issues expected to be completed shortly, Weatherford International (NYSE:WFT) is looking to put one of the gloomiest chapters in its history behind it. And while the company faces challenges going forward, there's evidence it could be closer than one might suspect to finding its natural place in the world.
An amalgam of acquired companies that provides everything from contract-drilling services to downhole completion tools, Weatherford has always possessed potential. Even its competitors acknowledge this.
Yet, this potential has continually been arrested by an ongoing string of issues that, in whac-a-mole fashion, never seem to stop popping up.
Disappointing results from much-touted integrated service contracts in Mexico a few years back come to mind as one example. Then, as in other cases, management's thirst for growth led it astray. Today's financial issues are the current distraction.
Management has signaled that changes are coming, both to its strategy and its culture. We hope this means growth-for-growth-sake will no longer carry the day. The logical corollary would be that greater discipline will be applied within the company.
The upshot to both, if successfully executed, would be a more focused supplier with the potential to participate in today's two big growth trends - shale-oil and gas and deepwater development.
If so, we see the company emphasizing a more limited set of products and services, those in which it possesses a competitive advantage. Certain customers want bundled packages? Fine. But bundling shouldn't be a strategy in and of itself.
Fortunately, Everything's Relative
Historically, Weatherford's quality and performance have lacked the kind of consistency buyers look for. But with stumbles by Halliburton (NYSE:HAL) and the continued depressed ratings for Baker Hughes (NYSE:BHI), Weatherford's customer marks over the last few years have improved relative to its integrated peers.
Our ratings suggest Weatherford has remained steady in most areas and attributes over the last two years, with slight improvement in overall customer satisfaction.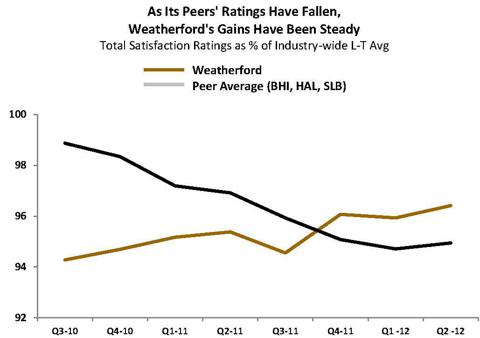 In terms of the product and service lines in which it's best positioned to compete going forward, a mix of drilling and completion products and services stand out, including sand control, fishing tools and tubular installation services. Logging-while-drilling and directional drilling are also bright spots. Given its market-share, artificial lift should be a continued focus for the company.
The other step will be to fix the company's culture. There's a saying in today's oilfield that "everyone's ex-Weatherford." It's another way of saying employee turnover is a problem. Fix turnover, premised on having customer-focused people in the right spots, and it will go a long way toward fixing the culture. Customers will notice.
The Opportunity at Hand
From our standpoint, a return to Weatherford's roots seems appropriate.
We note that the company's performance with North American customers in the land-well market has been relatively strong. This is the case for both its equipment and service segments. Suppliers that demonstrate strong performance for customers in domestic shales will, in our opinion, be invited by these same customers if and when they move to shale plays internationally.
It would be nice if Weatherford could compete successfully in the Gulf of Mexico as well, but it will have to raise its game.
To be sure, the process will have its bumps. But by expecting more of itself, and delivering more to customers, Weatherford has an opportunity to emerge a new and better company.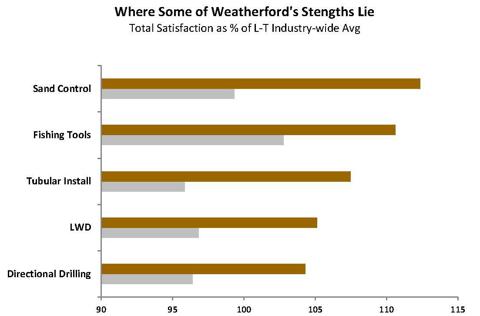 Disclosure: I have no positions in any stocks mentioned, and no plans to initiate any positions within the next 72 hours.
Business relationship disclosure: My firm, EnergyPoint Research, does and/or seeks to provide for-fee data subscriptions to oil and gas industry participants and stakeholders, including companies covered in its posts, reports and articles.