As those who read my piece "Running Off The Cliff" know, the changes made to the 421a tax abatement program resulted in a perverse rush by developers to begin construction on new condo projects in New York City in the face of a declining Wall Street economy. It's an amazing testament to the distortion of behavior that subsidy programs can have. The chart from that piece was so striking I am reprinting it here (but slightly gussied up).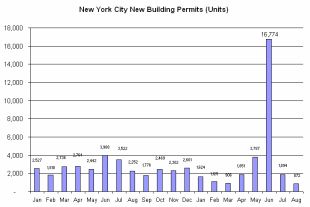 Note that building permits for single family homes and 2-4 family homes peaked in 2006, lagging the US overall - as New York typically does - but falling off precipitously and quite rationally since. However, as a result of so many developers trying to "get into the ground" to secure their 421a tax abatements, the number of permits for buildings with more than 6 units continued to rise in 2008 (with YTD numbers through August actually ahead of full year 2007 numbers), despite market signals that it probably wasn't a great time to reach for new heights in condo building. I thank Christine for her recent piece "New Dev Buyers: "What Are You Going to Give Me?" about condo developers finally getting down and dirty with deals.
As I mentioned in my prior piece, in order to retain their tax-advantaged status, these buildings must be built without "undue delay" and I noted that city planning specified that "We would deem completion within 36 months from commencement as a guideline for construction being completed without undue delay."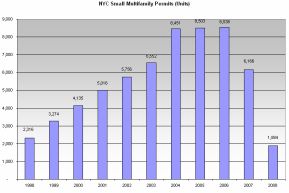 So despite the struggles of projects in later phases of development, we can expect delivery of several thousand condo units starting around December of next year - 18 months would be a typical construction period for a project that's not too elaborate - with deliveries being completed before June 2011. Of course, developers will be out marketing these projects well before they are completed, causing further competition for those units in buildings now being completed that continue to linger on the market.
Now, perhaps, the unkindest cut for developers has come. According to a recent Real Deal article, lenders are becoming wary of making mortgage loans to those buying condominiums in buildings where fewer than 51% of the units have already been sold.
"There are certain buildings that some lenders just won't lend to, period," said Allan Trub, a senior vice president at GuardHill Financial. "There are a lot of buildings with very low presale numbers, far below the numbers that lenders typically require. It's become much more challenging to get them approved."
These lenders aren't dumb, they do not want to lend money on an asset that is potentially going to face not only severe competition from competing properties, but potentially competition from duplicate units in the same building. The marks to market could come fast and furious. Additionally, buyers of units in condominium projects that fail face significant problems, the likes of which have not been seen since the early 90s.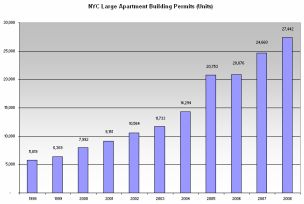 Craig Delsack, a Manhattan-based real estate lawyer, spoke with me about some of the issues. He opined that in a tough market "the sponsor may do bulk sales of units to another entity. That entity will be on the hook for common charges for that block of units. If they then have trouble selling the units common charges could go unpaid". He noted that "the condo association could foreclose on the units which are not paying common charges, but it's a drawn out and expensive process and could lead to assessments on current owners to cover the common charges and legal expenses."
For a lender to owners in a busted condo building this can be a risk in and of itself. Some buyers may be so upset with conditions that they walk away from their units and loans. Another alternative is for the condo sponsor to rent out unsold units. This can result in the building having a very different demographic than some buyers may have expected and, let's face it, renters don't care as much about the upkeep of a building as owners. Accordingly, Delsack suggests, "banks are going to look at units owned and occupied by owners, not investors or even foreigners who use the unit as a pied à terre, before they commit to lending to buyers in new developments. One way to avoid these issues is not to buy a condo in a new development."
There will likely be bargains aplenty for those inclined to take the plunge in a new condo development, particularly if you have the wherewithal to pay cash. Being the buyer who puts the development over the 50% mark may warrant an even greater discount. But be careful out there, there is no doubt we will see some busted deals, where sponsors go bankrupt and common charges go unpaid as a result of the current climate. Here come the Zombie Condos....don't get eaten alive!
Banks who have been active in NYC construction lending in recent years include, but are not limited to Brooklyn Federal Bancorp (NASDAQ:BFSB), Blackrock Municipal Income Trust (NYSE:BNY), Toronto-Dominion Bank (NYSE:TD), M&T Bank Corp (NYSE:MTB), Sovereign Bancorp (SOV), Popular (NASDAQ:BPOP), Dime COmmunity Bancshares (NASDAQ:DCOM), and WaMu, which is now part of JP Morgan (NYSE:JPM). Current exposure to condominium construction loans is not quantifiable.
Disclosure: The author of this article has no positions in these securities.