Exelon Corp (NYSE:EXC) might have to cut its dividend if power prices do not improve. The dividend cut would allow EXC to maintain the strength in its balance sheet. The company's management announced a $2 billion reduction in capital spending by 2015 (10th paragraph in the conference call transcript). We believe that the concerns related to the dividend cut are already priced in - the stock is down by more than 15% since the earnings release.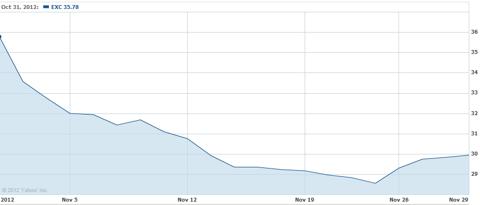 As the company has already announced CAPEX and O&M spending cuts, it leaves the company with only two options in order to maintain the strength in its balance sheet: issue equity or reduce dividends. The stock is trading at cheap valuations, as compared to the broad market and its competitors. We believe that a dividend cut on the part of the company is highly likely.
Currently, the stock offers a dividend yield of 7.1%. We believe that EXC has the ability to maintain a dividend yield of 4.5%-5%, in line with that of its competitors. A 25%-35% dividend cut is currently being expected.
| | | | |
| --- | --- | --- | --- |
| | EXC | Ameren Corporation(NYSE:AEE) | PPL Corporation(NYSE:PPL) |
| Dividend Yield | 7.1% | 5.5% | 5% |
Source: Yahoo Finance
Exelon has a BBB rating by Standard & Poor's. The company's top priority is maintaining its investment grade rating. Therefore, if power prices do not improve, we believe the company will slash its quarterly dividends.
Free cash flows have been declining continuously for the last four years, as displayed by the graph below.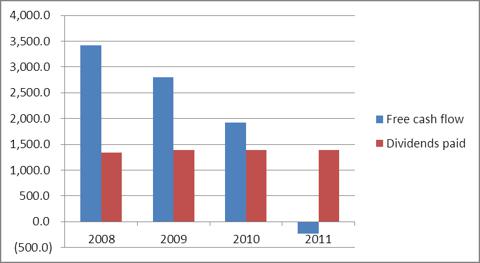 Source: Qineqt's calculations
In addition to the recent dividend concerns, the company has also been struggling to maintain its margins. The company's EBITDA and net margins for the last four years are shown in the graph below.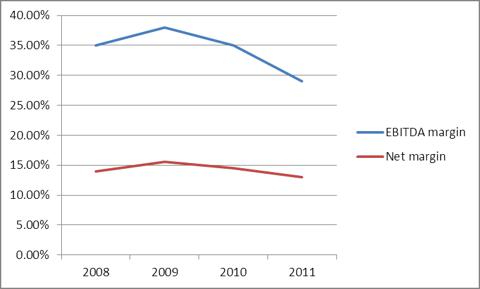 Source: Qineqt's calculations
3Q 2012:
The company is engaged in the generation of energy, and in energy distribution through its subsidiaries in the United States. In its third-quarter performance report, EXC reported operating revenue of $6.56 billion for the quarter, up 25% YOY. Looking at the company's bottom line, operating earnings per share for the quarter were $0.77, down from $1.12 in 3Q 2011. However, the company was able to beat the earnings consensus by 5 cents per share. Also, earnings were above the guidance of $0.65 - $0.75 per share. A drop in earnings for the quarter, as compared to earnings for 3Q 2011, was mainly due to lower energy margins and higher operating and maintenance costs, which were up 50% YOY.
Looking at segment-wise performance, the operating revenue for the generation segment was up by more than 40% in the quarter. However, its operating profit margin dropped from 26% in 3Q 2011 to 5% in the recent third quarter. The drop was due to higher operating and maintenance costs for the segment. The ComEd and PECO segments experienced declines in their operating revenues of 16% and 14%, respectively. However, for the recent third quarter, operating margins improved for both segments, by 200 basis points and 600 basis points, respectively. The operating costs of the company were up due to higher power and fuel costs and greater operating and maintenance expenditure.
Exelon merged with Constellation Energy earlier this year. The company is expected to enjoy synergies from the merger going forward. The merger will also help Exelon expand its margins and diversify, both in the region as well as with regards to the technology front. O&M synergies are expected to reach $500 million by 2014.
Guidance:
The company increased its full-year earnings guidance for 2012 to $2.75 - $2.95 per share, as compared to the previous guidance of $2.55 - $2.85 per share. The company is struggling to maintain its credit rating. Operating cash flow for the company in 2012 is expected to be $5.8 billion, and it is likely that the company will issue new debt of $1.7 billion.
Debt:
Exelon has a debt to equity of 90% compared to its competitors' average of 120%. The company also has strong interest coverage of 6x. However, there are some concerns regarding the company being able to retain its current investment grade rating. The chart below shows the debt maturity profile of Exelon.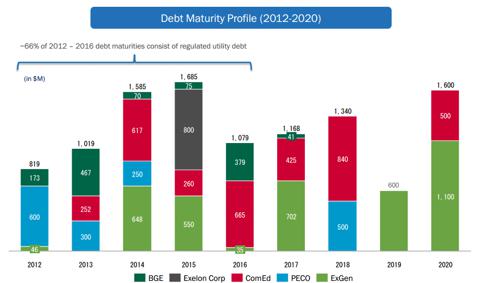 Source: exeloncorp.com
Hedging activities
In order to avoid market risk and protect its balance sheet, Exelon hedges commodity risk for power generation. The proportion of hedged expected power generation for 2013 is 88% - 91%; for 2014 and 2015, it is 56%-59% and 21%-24%, respectively.
Valuations:
Exelon is currently trading at a forward P/E of 12x, which is slightly lower than the average forward P/E of its competitors. However, we believe the lower forward P/E is justified due to the dividend sustainability concerns related to the company. It has a price to book of 1.1x and a price to sales of 1.2x.
| | | | | |
| --- | --- | --- | --- | --- |
| | EXC | Ameren Corporation | Northeast Utilities(NU) | PPL Corporation |
| P/E forward | 12x | 15x | 15x | 12x |
| P/B | 1.1x | 0.9x | 1.3x | 1.5x |
| P/S | 1.2x | 1x | 2.1x | 1.3x |
| D/E | 90% | 88% | 100% | 175% |
Source: Yahoo Finance
Disclosure: I have no positions in any stocks mentioned, and no plans to initiate any positions within the next 72 hours.
Business relationship disclosure: The article has been written by Qineqt's Utilities and Staples Analyst. Qineqt is not receiving compensation for it (other than from Seeking Alpha). Qineqt has no business relationship with any company whose stock is mentioned in this article.