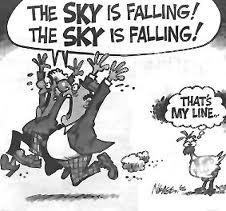 Has anyone else noticed Chicken Little running around this week? If you are a fellow Apple Inc. (NASDAQ:AAPL) investor, you probably know what we are talking about.
After rallying over 12% from a recent trough of around $525.00, the stock gave almost all of that back over the past few days. It has definitely been a volatile month for Apple shares, but we certainly don't believe that "the sky is falling".
"Chicken Little" Investors Don't Make Money
Acorns fall on investors' heads everyday. However, good investors are pragmatic enough to know that a fallen acorn is not a sign that the world is coming to an end. Investor skepticism is high right now with the looming fiscal cliff and its more important than ever to be practical with your thought.
Apple investors specifically have been dealing with a slew of negative factors recently and it has led to declining investor confidence. iPhone sales are no longer growing at a million percent a year and the stock is staring a "death cross" directly in the eye. Help! Help! The sky is falling!
Do yourself a favor and turn off your iPhone and iPad. Take a deep breath. Relax. We promise you that the sun will rise tomorrow. Also, take a minute to remind yourself that great fortunes have been made in the most uncertain times. The 1987 crash, the Y2K bug, the subprime meltdown/credit crisis…all ended up being great buying opportunities for stocks!
Apple is Maturing And That Is A Good Thing
We've said it before, but it is worth repeating...Apple is maturing as a company. The company has grown earnings at a compound annual rate of 64% over the past 5 years. It's unrealistic to think that Apple (or any company for that matter) could keep that up that pace forever. What's wrong with 15%-20% growth for the next 5 years?
Apple will continue to come out with innovative products and expand globally in the future (that is a given), but investors need to manage their expectations about the stock. The stock will most likely not be at $1,000 per share by the end of next year like some people think, but realistically, it should be in the mid $700s.
Yes, growth is slowing as their products saturate the market, but Apple is still a great long-term investment. The post Steve Jobs management team has already proven that they are willing to return some cash to shareholders and we foresee some nice dividend hikes over the next few years as the company continues to mature.
We believe that the stock is now more reasonably priced for future growth expectations.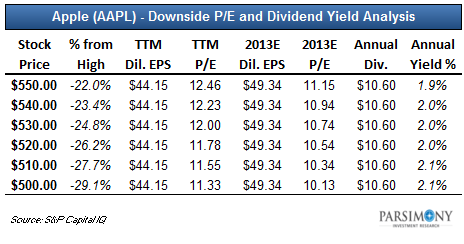 The stock is down over 20% from its recent peak and it is currently trading under 11.0x 2013E earnings (see table above).
In addition, based on trailing earnings, Apple is also currently trading at a discount to technology bellwethers like Google (NASDAQ:GOOG), Microsoft (NASDAQ:MSFT), and International Business Machines (NYSE:IBM), which have trailing P/E ratios of 21.7x, 14.5x, and 13.6x, respectively.
Conclusion
Any time a stock has a parabolic run (like Apple has had over the past few years), there comes a point where investors need to reset their future expectations. We are at that crossroad with Apple. The stock is still up over 30% for the year and short-term investors are more worried about harvesting their gains by year-end than they are about the future prospects for the Company. As shares continue to change hands in the coming months, there will likely be more volatility, but this is a good thing for the stock longer term. We believe that Apple's investor base going forward will be largely long-term, income-focused investors, who are much less fickle. This is a great thing for long-term investors and we believe that now is the time to add to your Apple position.
Disclosure: I am long AAPL. I wrote this article myself, and it expresses my own opinions. I am not receiving compensation for it (other than from Seeking Alpha). I have no business relationship with any company whose stock is mentioned in this article.