Stock picking isn't always an option for some investors. Some simply may not have time to manage their holdings properly or the capital necessary to be appropriately diversified. Another possibility that might be common even for savvy investors is it may not be an option in the first place.
Companies that offer a 401-k savings plan utilize brokerages to supply the management of their employee contributions. In addition to administering the contributions and other services, they usually offer an array of mutual funds and index funds. Unfortunately, Fidelity, which is my company's brokerage, does not offer individual stock investing and has limited fund choices in my opinion. I was troubled by the limited freedom in my investment options, until I found what seemed like decent choice: The Fidelity Contrafund Fund (FCNTX).
The fund is up roughly 15% YTD while sporting an $84 B market cap. As I examined the fund's holdings some quality names were top holdings: Apple (NASDAQ:AAPL), Google Inc. (NASDAQ:GOOG), Wells Fargo & Co (NYSE:WFC), Coca Cola (NYSE:KO), Amazon.com Inc. (NASDAQ:AMZN), Berkshire Hathaway Inc. (NYSE:BRK.A), McDonald's Corp. (NYSE:MCD), The Walt Disney Co. (NYSE:DIS) etc.
Then I noticed a stock that seemed like it didn't belong next to these bellwethers - Noble Energy (NYSE:NBL). I asked myself...if only 5% of this heavily weighted tech fund is in energy, why would NBL be the top energy pick, while sitting next to best of breed champions like KO, WFC, APPL, AMZN, BRK to boot? This rather "noble" holding of the fund's underweight energy sector led me to answer this question for myself.
A Noble Holding:
For starters, NBL is diversified exploration company based globally and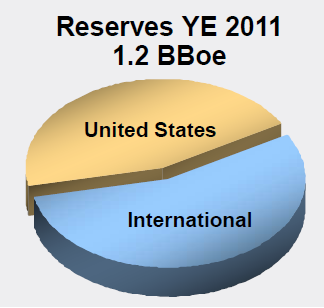 in the US, with 47% of reserves based in the US as of 2011 year end. The company has experienced robust growth over the past 5 years by discovering 2.3 BBOE in reserves, or 29x annual production levels spanning 5 regions: Dj Basin, Marcellus Basin, Deepwater Gulf, West Africa, and the Eastern Mediterranean. At year end 2011, NBL had 1.2 BBOE in several continents. This diverse set of assets are a definite strength, but NBL's real appeal is its growth in revenues:
Consistent Growing Revenues:
Since 2009, its clear NBL has grown revenues. For Q1-Q3 2009 to same period 2012, revenues have experienced a robust 25.69% CAGR.

Although investigating a company's past is useful, it cannot always predict the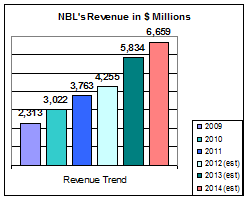 future. However, this positive revenue trend looks like it will continue through 2014. Revenues are expected to grow as much as 56% from 2012 through 2014, an impressive increase in my opinion. Some analysts predict $6,659 M, totaling a CAGR for the 5 year period from 2009 through 2014 to a stunning 23.55%.
While steadily growing revenues due to increased volumes are a clear strength - can NBL harness these revenues and create a profit for shareholders? The answer is yes.
Growing Earnings and the P/E Multiple:
Analysts consensus predict EPS is expected to grow to an estimated $6.40 in 2013 and $8.50 in 2014, with some analyst estimates surpassing $10/share through 2014. On a percentage basis, these numbers equal 52% in 2013 and then another 32% in 2014. At $96/share, NBL trades at 15x 2013 $6.40 EPS estimates and 11.29x 2014 $8.50 EPS estimates. NBL's stock currently trades at 45x ttm EPS, which implies only some of the expected growth is being appreciated by the market. If NBL does achieve the 52% growth projections next year, the 1 year PEG ratio is around .86x, implying there is still some value in the shares at current prices.
Hedging: Upside is Possible
In my research, I did notice commodity prices are a big variable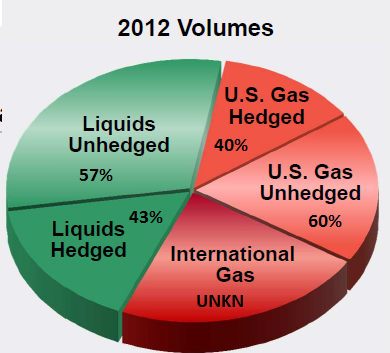 to earnings going forward. I was a bit surprised to see somewhat limited hedging in terms of overall volume compared to some well known producers such as Linn Energy LLC (LINE) for example, which is popular for its 100% of planned volume hedging program. For 2013*, NBL has 49% of planned oil production hedged and 38% of US gas production hedged. In the October 2012 presentation, I was surprised management failed to disclose total hedging figures for total volume. For some reason, they failed to detail hedging for international gas volumes. Therefore, since the less than half of NBL's planned volumes for 2013 is unhedged or unknown, revenue projections are far from a guarantee.
On a positive note, of the volume that is actually hedged, management has locked in superb pricing for existing oil and gas in 2013. For oil, a floor price of $96.31 seems solid, and for gas a floor price of $4.36 is also appealing, especially since these prices are higher than 2012's floor pricing. What I like about these hedges is the potential for upside. With oil pricing capped at $118 and $5.45 for gas, if commodity prices increase due to inflation or increased demand, there is plenty of upside potential here.
Summary: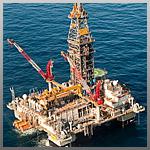 After doing some digging into NBL, perhaps I was wrong about the Contra Fund's choice for its energy play. At first, NBL looked out matched next to well-branded companies like KO, WFC, BRK, GOOG, AAPL and DIS, but it turns out NBL is in fact a quality company. It is a fast growing diversified explorer with a global set of assets which is expected to deliver promising volumes going forward. Although NBL should be investigated further by an individual stock picker before buying (via technicals), NBL's balance sheet and growth prospects are sound. With limited debt, growing cash flows, growing revenues and a steady stream of reserve discovery, NBL seems like a solid energy company.
Sources: Oct '12 Presentation, 2011 Annual Report
Disclosure: I am long KO, AAPL. I wrote this article myself, and it expresses my own opinions. I am not receiving compensation for it (other than from Seeking Alpha). I have no business relationship with any company whose stock is mentioned in this article.
Additional disclosure: I am long several Fidelity equity funds via 401-k