Cheniere Energy Partners (NYSEMKT:CQP) is the MLP associated with Cheniere Energy, Inc. (NYSEMKT:LNG). In addition to housing the conglomerate's Sabine Pass Liquefied Natural Gas (LNG) import terminal, CQP is also home to Sabine Pass Liquefaction. Once this $10 billion, 18 million ton per year liquefaction facility is completed in 2017, it will be the first facility in the U.S. licensed to freely export LNG to any country of its choosing.
This is certainly a very advantageous position. However, we believe three factors cause CQP to be currently overvalued: (1) CQP's valuation relative to current operations is extremely high, (2) CQP's capital structure includes three dilutive equity securities, which will absorb much of the cash flow expected to be generated by the liquefaction facility, and (3) CQP's liquefaction facility will not become fully operational and cash generating for 4-5 years.
Current Valuation
With a fully diluted enterprise value of over $7 billion, and with reported LTM EBITDA of less than $200 million, CQP's current 40x EV/LTM EBITDA multiple clearly includes a substantial embedded option on the potential of CQP's Sabine Pass liquefaction facility.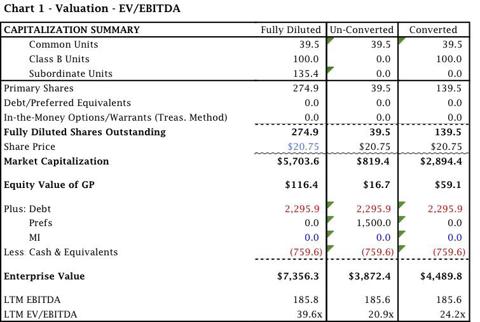 Even after adjusting CQP's share count to exclude CQP's subordinate units in the EV calculation, and to account for the convertibility of the company's Class B units, CQP is still valued at 20-24x LTM EBITDA[1]; significantly cheaper than the company's fully diluted valuation, but still a premium to its peers, and hardly a bargain.
Dilution of CQP Common Units
With the dramatic difference between the CQP's fully diluted and undiluted valuations, it is important to understand the dilutive effects of the company's various equity securities. It is also important to understand their potential impacts on CQP's valuation.
Below is an explanation of each of CQP's dilutive equity securities: Subordinate Units, Class B Units, and its general partner's incentive distribution rights. Depending on the scenario, dilution from these three securities could have a dramatic impact on the company's ability to increase its per unit distributions to CQP, the main value driver for CQP units.
Subordinate Units. Holders of Subordinate Units currently do not receive a distribution. However, Subordinate Units are convertible into common units until once the common units have received the initial distribution of $0.425 per unit per quarter, plus any arrearages. This subordination period is designed to increase the probability there will be sufficient cash available to pay the initial quarterly distribution on the common units.

When the subordination period expires, each Subordinate Unit will convert into one common unit, and these common units will participate pro rata with the other common units in the company's distributions.
As of Q3:2012, CQP had 135.4 million Subordinate Units and 39.5 million common units. Once these Subordinate Units convert into common units, the company will have to increase its distributable cash flow (DCF) by an additional 350% just to pay the initial quarterly distribution to the newly converted common units.

Class B Units. To finance the construction of its liquefaction facility, CQP and Blackstone entered into unit purchase agreements under which Blackstone agreed to purchase $1.5 billion of newly issued Cheniere Partners Class B Units, and where CQP's parent company, LNG, also agreed to purchase $500 million of newly issued Class B Units.

The Class B Units are subject to conversion, mandatorily or at the option of their holders, into a variable number of common units.
On a quarterly basis, the conversion value of the Class B Units will increase at a compounded rate of 3.5% per quarter, while the conversion price remains fixed at $15/Class B Unit. - In other words, every quarter the Class B units are outstanding and unconverted, their holders will be entitled to convert their Class B Units into 3.5% more common units. Over the course of a year, each Class B unit will be worth almost 15% more common units.

As of Q3:2012, the Company had 100 million Class B Units and 39.5 million common units. Assuming the Class B Units have yet to accrete, the company will have to increase its DCF by an additional 250% just to pay the initial quarterly distribution once the Class B Units are converted into common units.
Also of note, the day before CQP announced Blackstone's investment on February 27, 2012, CQP units closed at $20.90, close to the current unit price and a 39% premium to Blackstone's $15 conversion price.

In the event of a liquidation, the holders of Class B Units will have a preference over the holders of the common and subordinated units.

General Partner (GP) Incentive Distribution Right (IDRs). CQP's GP is entitled to at least 2% of all distributions made by CQP. Additionally, CQP's GP holds IDRs, which allow the GP to receive a higher percentage of quarterly distributions after minimum distribution levels to CQP have been achieved, and as additional target levels are met. These higher percentages range from 15% up to 50%.
The cash flows from CQP's current operations are insufficient to trigger dilution by any of the above securities. However, once the liquefaction facility is fully operational, its cash flow will dramatically increase and be sufficient to cover the minimum quarterly distributions for all of CQP's equity units on an as converted basis. As a result, it would be irrational for the holders of the Subordinate Units and the Class B units to not convert into common units, diluting existing common unit holders. Though there are only 39.5 million CQP common units currently outstanding, we estimate that there will be 485.9 million CQP common units outstanding after conversion in 2017. This dilution will require DCF to increase by 12.3x just to cover the minimum quarterly distribution to the newly converted common units, and before distributions to CQP common units can be increased.
Below in Chart 2 is an estimate of how CQP's run rate DCF may be distributed to the company's various stake holders as well as an estimate of what CQP's quarterly distribution could be. We us this estimated distribution and current market distribution yields to estimate a future unit price for CQP.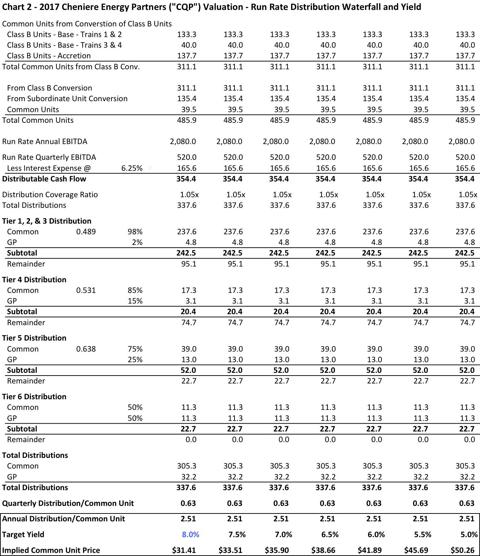 The IDR waterfall estimates CQP common units could receive a distribution of $0.63 per unit once the liquefaction facility is complete. Using current MLP dividend yields of 7%-8%, we estimate CQP units should be worth $31-$36 per unit.
Timing of Liquefaction Facility
Given the 4-5 years it will take to finish building all four trains of the liquefaction facility, we believe it is helpful to look at potential returns in terms of IRRs. This will help to understand if an investment today will produce reasonable returns.
Using data (specifically EBITDA and project costs) provided by the company in its Analyst Day presentation and a range of range of future EV/EBITDA multiples, Chart 3 calculates IRRs for an investment in CQP. Note:
This analysis only taking into account the company's contracted business with BG, Gas Natural, KOGAS, and GAIL
This analysis also assumes all of the capital for the liquefaction facility is invested at once, rather than in two stages
For simplicity of calculation, CQP's GP and IDR economics are ratably converted into an equivalent number of common units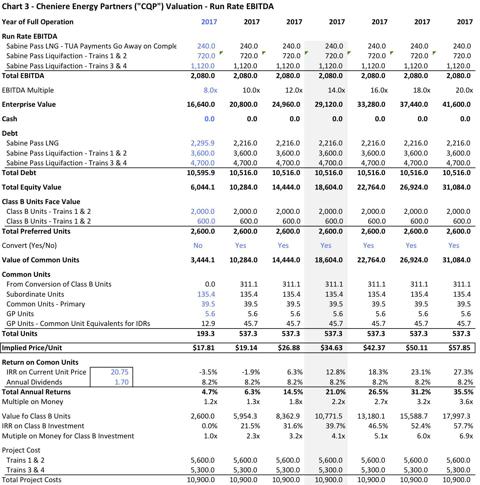 Acceptable Return?
Using a 14x EV/EBITDA multiple to value CQP once the liquefaction facility is completed in 2016/17, our model implies CQP common units should be worth ~$34-35/unit. One might argue that a 14x multiple is too low for a project such as this, but 14x is the average market multiple for many of CQP's MLP peers. Further, $34-$35 is within the range calculated by our dividend yield analysis from above.
Using a $35 target price, we calculate an investment in CQP today should yield an IRR of slightly more than 20% - which includes an 8% current yield and slightly more than 60% upside in CQP's unit price over the course of the 4-5 year holding period. Though a 20% IRR certainly seems like an attractive return for a 4-5 year investment, three factors lead us to believe this may be insufficient:
Uncertainty of Timing. Given the scale of $10 Billion construction projects such as this, it would not be surprising to experience some kind of delay along the way. A delay of one year could adversely affect the IRR of the project by 3%-5%.

The longer the Class B units are outstanding, the more common units they will convert into. As we can see from the chart above, the accretion of the Class B Units is worth 44% (137.7/311.1) of the total as converted units. Put another way, after 4+ years of construction, the Class B Units' effective conversion price will be almost half what it was initially;
Because the majority of the liquefaction facility's cash flows are contractually obligated, effectively the same no matter when the facility starts operating, time value of money tells us the IRR on an investment in CQP will diminish the longer it takes the project to begin generating cash.

Uncertain Capital Structure for Trains 3 & 4. Though CQP has raised the capital needed to construct Trains 1 & 2, it has yet to raise the capital for Trains 3 & 4. Management expects Trains 3 & 4 will cost $5.3 Billion. Unlike Trains 1 & 2, management believes minimal equity will be needed to fund their construction. To that end, our returns are calculated based on $600 million of additional equity (in the form of additional Class B Units) and $4.7 Billion of additional debt. In this scenario, the equity component will be just 11% of Trains 3 & 4's construction cost, versus 36% equity for Trains 1 & 2.

If CQP's lenders require more equity for Trains 3 & 4, this additional equity could be very dilutive to the returns. An increased equity requirement to 22% could lower IRRs by 3%-5% relative to the base case, and an increase in equity component to 33% could lower IRRs by 6%-8% relative to the base case. We do not believe a 13%-15% IRR would be an acceptable return for an investment of this type.

Minimal Upside Without More Capital. Because the great majority of the liquefaction facility's cash flows are fee based, CQP will not be able to generate significant incremental cash flow without building additional capacity. This will require additional capital. Given the reception CQP has received for its first four trains, management has started to contemplate adding a fifth train. Though this expansion would certainly be accretive (and synergistic) to the facility as a whole, a fifth liquefaction train could cost $2.5+ billion. Further, given the change in regulatory climate, approval to export LNG to non-free trade countries is not certain at this time. That said, it seems likely that a fifth train could generate as much as $500 million of annual EBITDA. It is also possible Train 5 could be built with less equity than Trains 3 & 4.
Given the variability outlined above, we feel like a CQP unit price of $20.75, which would imply an 8.2% current yield and a 21% IRR through 2016, is too high to produce an acceptable return for an investment such as this. We feel an $18 unit price (14% downside, but still 35x EV/LTM EBITDA), which would imply a 26% IRR and a 9.4% current yield, might be a fair price for CQP, and that a $16 unit price (23% downside but still 32x EV/LTM EBITDA), which implies a 30.5% IRR and a current yield of 10.3% would put CQP into the range of being a bargain. Though getting paid an 8% current yield to hold CQP units is certainly not unattractive, there are other MLPs with comparable yields, but with shorter pathways to value creation.
1 Please note that the EBITDA in this analysis does NOT include the $250+ million of intercompany payments, which CQP receives under CQP's Terminal Use Agreement (TUA) with Cheniere Energy, Inc.. This payment has been excluded because LNG's operating cash flows are dependent on its distributions from CQP.
Disclosure: I have no positions in any stocks mentioned, and no plans to initiate any positions within the next 72 hours. I wrote this article myself, and it expresses my own opinions. I am not receiving compensation for it (other than from Seeking Alpha). I have no business relationship with any company whose stock is mentioned in this article.