By David Sterman
Investors have been wisely diversifying their portfolios to provide exposure to more than just U.S. stocks. Whether it's emerging markets, real estate or gold bullion, a broad-based approach provides for a better night's sleep.
Yet it's fair to ask: Do commodities also have a place in your portfolio? After all, they seem to rise and fall with alacrity, and investors often only notice them after they've made sharp gains or plunges. Truth is, we have no crystal ball that tells us how this group will fare in 2013. We can look at the supply and demand backdrop for various commodities, but much hinges on the health of global economies.
Yet if you look beyond 2013, then you can be assured that each commodity will have its day in the sun. The key to is to buy various commodities (or the stocks that represent them) when they are out of favor, but you must also be nimble enough to sell them when they have posted major gains.
Here's what we do know: There are a number of dominant commodity producers currently sporting impressive dividend yields. And such high yields can support an underlying stock price if the going gets tough.
Here are 10 commodity-focused stocks with currently impressive dividend yields.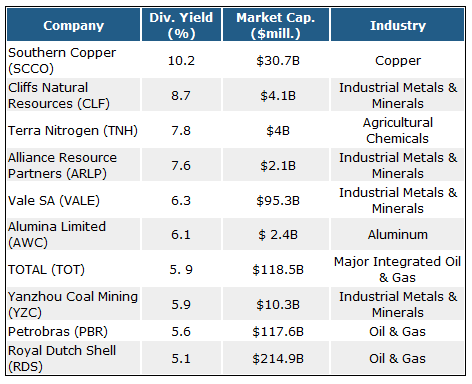 Southern Copper: Too Good To Be True?
Whenever you see a stock with a double-digit yield, as is the case with copper, iron and zinc miner Southern Copper (NYSE:SCCO), it's important to see whether investors sense a dividend cut coming. Well, unlike many yield-oriented firms, this company's management isn't wedded to the notion of year-after-year rising payouts.
In 2009, Southern Copper's dividend fell as low as 44 cents a share before rising to an all-time high of $2.43 a share in 2011. Going back during the past six years, the average payout has been $1.73 a share. Looking ahead, management has plans to sharply boost output -- especially of copper -- beginning in 2014. If you're willing to assume that copper prices stay at or above current levels on average, then the rising output should fuel a rising payout. Let's call it an average dividend of $2 a share in coming years. That works out to be a 5.5% dividend yield -- which is solid, though not as impressive as the current yield of 10% may imply.
One of the intriguing aspects of super high yielders is trying to identify what effect a future dividend cut may have on the stock. In mid-November, I took a look at NuStar Energy (NYSE:NS) and noted that if the dividend wasn't going to be as sharply cut as some had feared, then shares might post a quick rebound.
Sure enough, shares have rebounded more than 10%, "driven by a relief rally related to an allaying of concerns around the sustainability of NS' current distribution," noted analysts at Merrill Lynch. In effect, investors have captured a solid dividend yield and some quick capital appreciation.
Cliff Natural Resources: How Much Of A Cut?
The same investigation should be done for Cliff Natural Resources (NYSE:CLF). The iron ore and coal miner has hiked its dividend from 25 cents a share in 2009 to $2.50 a share this year, though the current 8.7% yield implies a looming dividend cut.
Yet on a recent call with analysts, management noted plans to throttle back capital spending rather than cut the dividend. In effect, investors will be paid to wait with its juicy yield in 2013, and can then hope to see share price upside in 2014, as iron ore and/or coal prices firm.
Risks to Consider: A sharply weaker global economy in 2013 would negatively affect commodity prices -- and these firms' payouts.
The best way to play these super high yielders is to take the long view. The high yields suggest that near-term business conditions remain tough, but if history is any guide, then these stocks will zoom back into favor when the commodity cycle turns. By then of course, the resulting upward move in the share prices means you'll no longer be able to lock in such attractive yields.
Disclosure: I have no positions in any stocks mentioned, and no plans to initiate any positions within the next 72 hours. I wrote this article myself, and it expresses my own opinions. I am not receiving compensation for it. I have no business relationship with any company whose stock is mentioned in this article.