Generally, when looking for stocks, investors have the choice between a high yield and the potential for significant growth in the share price. Every so often a stock comes along with both of these, and one shining example is Energy Transfer Partners LP (NYSE:ETP). ETP is a limited partnership engaged in the gathering, processing, and transportation of natural gas and natural gas liquids. The company operates through five major segments.
The Midstream segment (22.3% of earnings) makes its money from natural gas volumes that are gathered, transported, purchased, and sold through the company's pipeline systems and processed at its facilities. This includes the 7,400-mile Southeast Texas System, among others.
The NGL Transportation and Services segment (5.1% of earnings) includes a 45-mile natural gas liquids (NGL) pipeline and a 50% interest in the 85-mile Liberty pipeline. The segment also consists of several other joint ventures on NGL pipelines.
The Intrastate Transportation and Storage segment (38.3% of earnings) consists of intrastate transportation pipelines as well as three natural gas storage facilities. The segment's earnings are mostly a result of fees charged to transport natural gas through the company's pipelines.
The Interstate Transportation segment (21.4% of earnings) is made up of 880 miles of interstate natural gas pipeline and several joint ventures.
Finally, the Retail Propane segment (12.8% of earnings) was the 3rd largest retail propane seller in the U.S., by gallons sold. In 2011, the segment served more than one million customers in 40 states. However, the company closed on the sale of its propane business on January 12, 2012.
Performance
(click to enlarge)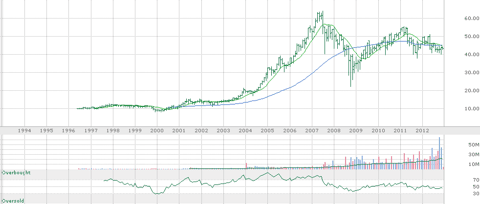 Since going public in 1996, the company has done very well for shareholders. Since June of that year to the present time, the share price has climbed from $10.12 to its current level of $43.30. This is an average annual gain of over 9.5%. Furthermore, the quarterly dividend yield has increased from $0.177 to $0.894 over the same time period, a 10.7% annual increase on average. The dividend has stayed constant over the past few years as the following chart illustrates, mainly due to the company's need to fund new projects, such as the company's recent acquisition of Sunoco. This should create an added presence of ETP in the crude oil business, in addition to its current ventures. In fact, analysts at Standard & Poor's forecast an annual dividend amount of $3.695 per share in 2013, up from $3.575 currently.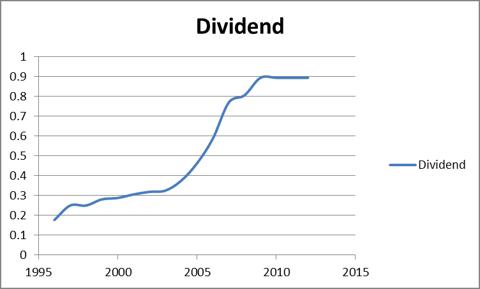 Valuation
ETP trades at only 8.41 times TTM earnings, a huge discount relative to its historical valuation, and to its peers. Its price/sales, price/book, and price to earnings growth are all well below industry averages also, at 2.25x, 1.58x, and 1.00x, respectively. Bear in mind that this low valuation also comes with a net profit margin of 28.88%, far above the industry average of 15.13%. Earnings are projected to fall to $1.99 per share in 2013, and to grow rapidly thereafter. In fact, the same analysts cited before project a 30% annual growth rate for the next three years. Amongst all of the analysts covering the company, the average one year price target is just over $50 or a 15.5% upside from current levels.
Growth Prospects
So, where will all of this growth come from? The Midstream segment should benefit nicely from the increasing demand for natural gas liquids that is projected to continue. Natural gas liquid transportation volumes are projected to grow 10% annually, which should benefit the NGL Transportation and Services segment. Also, the acquisition of Sunoco should help the partnership gain valuable market share, as Sunoco not only had an excellent crude oil business, but was a major player in the natural gas liquids business as well.
Conclusion
No yield of 8.28% comes without a few risks. There are circumstances beyond anyone's control that can lead to lower propane and natural gas demand, such as a mild winter. However, in this case the reward tremendously outweighs the risk. A yield over 8 percent, 30% sustained growth projected, and no shortage of energy demand in the U.S. is a winning combination.
Disclosure: I have no positions in any stocks mentioned, and no plans to initiate any positions within the next 72 hours. I wrote this article myself, and it expresses my own opinions. I am not receiving compensation for it (other than from Seeking Alpha). I have no business relationship with any company whose stock is mentioned in this article.