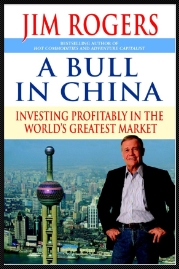 I am a big fan of Jim Rogers and his previous book, Hot Commodities, is a must-read in my estimation.  This more recent effort, however, falls short of the mark set by the aforementioned book.
A Bull In China is a reinforcement of the bullish China position that Rogers has espoused for over a decade now.  On Bloomberg or CNBC, viewers often see his brief  "1 billion Chinese coming into the middle class" blurb.  With this book, Rogers covers various economic areas in more detail.  Topics include energy, agriculture, infrastructure, tourism, hospitality, healthcare, real estate and education among others.  The author does a nice job of sprinkling in empirical data to support his bullishness in certain areas  (for instance, South Korea, Taiwan and Japan consume 7x, 11x and 16x more dairy consumption than China, respectively). Rogers also helpfully points out possible problem areas, like real estate where a small apartment in Beijing goes for US$110,000 while the average annual salary is US$6,000.
Despite the helpful surveys and neat facts, figures and histories, I felt like a kid eating cotton candy and wanting more.  Having already accepted the likelihood of strong Chinese economic growth for much of the 21st century, now may be a good time to think about buying into China as their markets have dived along with everyone else's.  A Bull In China may nominally add some more background to the China thesis but the reader is left to his or her own devices in terms of researching actual investments.
In the end, readers may be better served saving some time and skipping to the end, where Rogers states that the currency may be the safest way to play the China story.
RATING: 6 of 10
Highlights
Clear, concise writing style makes for quick reading.
Good introduction for those unfamiliar with the China story.
Despite Rogers' tendency for fast quips during media appearances, on paper he tends to provide more facts and figures to support his arguments.
Provides a wide survey of different industries with a short listing of stocks for each industry.
Weak Points
While providing some background information on specific areas for investment, the short listing of stocks and lack of suggestions basically leaves the reader little closer to implementing a China investing strategy than before reading the book.
Non-essential.
Ed. note: The book was originally published in 2007 and is being reissued in paperback on Dec. 30, 2008.