VIX - Market Sentiment:
Thursday S&P futures were mostly flat after trading in a very tight 9 handle range in the pre-market. Futures did move down initially, with the market touching 1406 level before recovering 6 handles back towards the 1412 mark. One story moving markets today was Deutsche Bank (NYSE:DB), which was accused of hiding $12B in losses. For those who follow my trades on Twitter, know I did short DB yesterday following the put buying activity. I did take some of the trade off today after the news release, but am letting the rest ride for now. In other news, HSBC (HBC) may pay $1.8B to settle allegations of illicit dealings. Stocks moving nicely higher included Cisco (NASDAQ:CSCO), Netflix (NASDAQ:NFLX), and Walter Energy (NYSE:WLT). Stocks struggling included Facebook (NASDAQ:FB), Nokia (NYSE:NOK), and Hewlett Packard (NYSE:HPQ). A check on the NYMO oscillator shows it continues to move back to a more neutral state. The NYMO closed yesterday with a reading of 23.39, and should pull back further after today's close.
The spot CBOE Volatility Index (VIX) began to rise again today, moving from 16.30 to 16.80 in the first hour of trading. Volatility ETF (NYSEARCA:VXX), 2x ETF (NASDAQ:TVIX), and alternative 2x ETF (NYSEARCA:UVXY) saw gains today after VIX futures recovered as call buyers stepped in. Most notable was the February as 16/17/19 strike puts were sold and the 22 calls were bought in blocks. The February 19 strike puts were mostly sold and the 22 strike calls were bought, so I would expect open interest to reflect this tomorrow.
(click images to enlarge)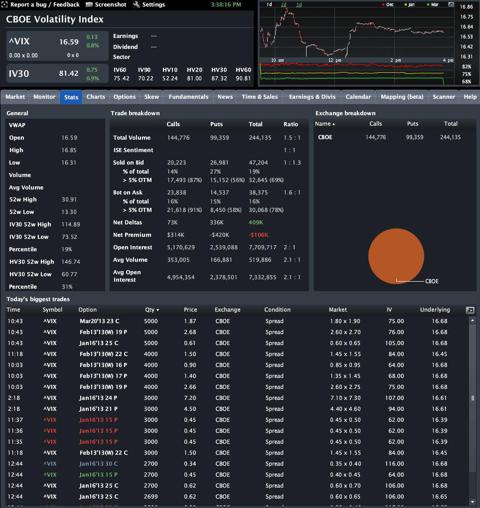 Statistics and Screenshot Provided By LiveVol
VIX futures are below.
Yesterday
· December VIX futures 16.10
· January VIX futures 17.48
· February VIX futures 18.43
Today
· December VIX futures 16.53
· January VIX futures 17.83
· February VIX futures 18.88
Options Paper:
Volume continued to be on the light side, trading just 12.1M contracts heading into the final 20 minutes of trading. The big news today was the large reversal in Apple (NASDAQ:AAPL), as it traded in a crazy range today, down below the 520 level before moving back and going above 550 in a very short period of time. AAPL has entered into the dreaded "Death Cross," which is where the falling 50 dma crosses the rising 200 dma. This is a sell signal for most trading computer systems and combined with the yea-rend tax selling pressure, could allow AAPL to retest lower. I mentioned in Friday's sonar report (here) that AAPL could retest the 571 in a heartbeat, but did not expect 9 days of gains to be erased so quickly. I did close the long calls I bought yesterday for a decent gain, but I will look for a further breakout or breakdown before re-entering the trade.
ASML Holdings (NASDAQ:ASML) has been on the sonar report in the past couple of weeks, mentioned for OTM put activity. The stock has been chopping sideways the last five trading sessions, but one bear stepped up hot and heavy today. The trader today bought the 62.5 strike puts some 6K times, and sold the 60 strike puts for a net debit of 1.00. This trade will allow the trader to profit 150% gain in the next 16 days if ASML moves lower prior to December expiration. This 600K trade accounted for almost 81% of all options activity today, with puts outnumbering calls 96:1. Options activity was more than 7x average daily volume. I have a note to look at the open interest tomorrow to verify this was indeed an opening position and not just a put roll. If it is a new spread, I will look to short ASML on any pop if the trade is confirmed.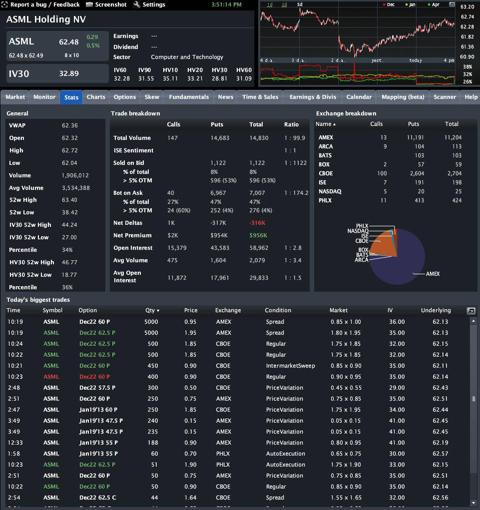 Statistics and Screenshot Provided By LiveVol
Popular ETFs and equity names with bullish/bearish paper:
Bullish Option Flows - ISE and % OTM calls bought on offer
Marathon (NYSE:MPC) 88%
Comcast (NASDAQ:CMCSA) 3.8K calls bought
Juniper (NYSE:JNPR) 9.7K as stock looks to breakout
Ford Motor (NYSE:F) 47%
Riverbed (NASDAQ:RVBD) 2.6K OTM calls bought
Silver ETF (NYSEARCA:SLV) 40K OTM calls bought
Nokia 48K of the 109K OTM calls bought
Bearish Option Flows - ISE and % OTM puts bought on offer
ArvinMeritor (NYSE:MTOR) 95% of the 2,148 puts bought
Tivo (NASDAQ:TIVO) 82% - stock continues to rip
Honeywell (NYSE:HON) 74%
Prudential (NYSE:PRU) 71%
Baxter International (NYSE:BAX) 66%
Chesapeake (NYSE:CHK) 9.9K OTM puts bought
Tellabs (NASDAQ:TLAB) 6.3K
Oracle (NYSE:ORCL) 8.1K OTM puts bought
Disclosure: I am long AGNC, AGQ, APC, KERX, MNST, MTGE, and I am short DB, FXE, LYV, RIMM, SPY.
Trades today: Closed AAPL long, bought AGQ calls, trimmed DB puts.
I wrote this article myself, and it expresses my own opinions. I am not receiving compensation for it (other than from Seeking Alpha). I have no business relationship with any company whose stock is mentioned in this article.
Disclaimer: The opinions in this document are for informational and educational purposes only and should not be construed as a recommendation to buy or sell the stocks mentioned or to solicit transactions or clients. Past performance of the companies discussed may not continue and the companies may not achieve the earnings growth as predicted. The information in this document is believed to be accurate, but under no circumstances should a person act upon the information contained within. I do not recommend that anyone act upon any investment information without first consulting an investment professional as to the suitability of such investments for his or her specific situation.