Like many retired individuals, much of my income is fixed. That is, it comes from company retirement plans, which are essentially lifetime annuities, the forward payments set at the time I retired. A large part of my retirement income comes from Social Security. This has the feature of an annual Cost of Living Adjustment, a COLA, which to some degree ameliorates inflation. That is, except the part of inflation attributable to food and fuel. If you eat, drive a car or heat your home... sorry.
The third component of my retirement income is an increasing annual amount of money I receive from my Dividend Growth Portfolio. This consists of dividend-paying stocks, which increase their dividend each year, usually at a rate that exceeds total real inflation.
It is important to periodically review this important component of retirement income. This article will show you an innovative way of looking at your investment risks, which may lead you to make some enhancements to your portfolio.
Risk and your Portfolio
I like to define risk as anything that increases the possibility of "not having the money you need when you need it." Others define risk in many different ways; for me the ultimate measuring device is the wallet in my back pocket.
Some modern portfolio theory, which I admit I do not completely understand, defines risk as having to do with the variability of a stock's price. I reject that, as it matters little to me if a stock goes up or down 10% or 20% as long as it keeps paying me an increasing amount of income.
So where is the risk in the portfolio of the retired investor? It is in the stocks that are not paying you enough money. Where is the risk for the younger investor? It is in stocks that are not growing their dividend fast enough to provide an adequate nest egg at retirement time.
Identifying Risks
The risks in your portfolio may not be the same as the ones in mine. That is, we could both own the same stocks and those stocks could have a different risk for me than for you. How can that be? Are not some stocks inherently riskier than others?
Yes, some stocks are inherently riskier than others. A risk of that kind might be the risk of failing and going out of business. We might determine that expectation by looking at the financial statements. If a company has a very high amount of debt compared with its equity, it increases its risk. If a company has a very small amount of cash on hand compared with the bills it has coming due, it increases its risk. If a company is making less profit on sales each quarter, and sales are decreasing, those are good indications that the company is at risk.
Is 3M Company (NYSE:MMM) a "risky" company? I think the consensus on that question would be a strong "No." By the kinds of financial measures we spoke of above, it comes out looking very good. Common sense tells us that there is a strong demand for Scotch tape, Post It Notes and Scotch Guard, as well as the hundreds of industrial items they produce. How about Abbott Labs (NYSE:ABT)? Another sound company.
Let us look at a portfolio of stocks, set their inherent risks aside, and focus on the different risks they may hold for you, and for me. I am over 65, retired and my health is fair. Perhaps you are 45, have a good job, good health and bright expectations for a long future.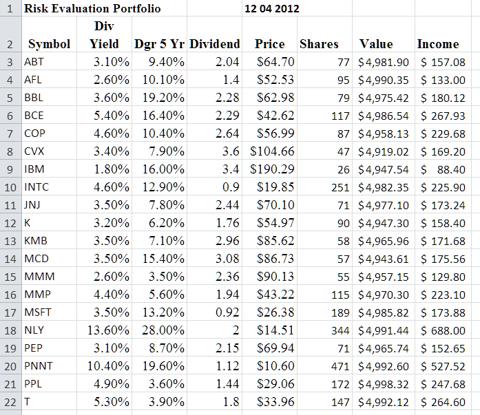 Above is a hypothetical dividend growth portfolio. Let me draw your attention to the first three columns. The first column is simply the stock's ticker symbol; MCD represents McDonald's. The second column is the Dividend Yield; you may calculate it by dividing the annual Dividend by the current Price. The third column is the Average Annual 5-year Dividend Growth. If McDonald's (NYSE:MCD) increases its Dividend next year by its average percentage, that would mean an increase of $0.47 to $3.55.
Retired, the most important number to me is the cash income that flows into my back pocket. In the case of MCD that is $175/year. Look now at PPL, a utility. The income on the same investment is $247/year, and the yield calculates to 4.9% (Div/Price = Yield). So for me, PPL is the sensible choice.
However, if you are 20 years younger than I am, in the long run you will be much further ahead with McDonald's. Actually, even if we both reinvest our dividends, and mine are larger than yours are, after eight years, you will go ahead of me. In fact, after 20 years, your compound return is 588.0% and mine on the utility would be only 241.8%.
If I may reiterate, "risk is not having enough money when you need it." Then for me MCD is a risky stock, because the income I receive is inadequate at $175/year compared with the $247/year I could receive from PPL. However, for you PPL carries more risk, because you will have much less money when you are 65, 20 years from now.
Therefore, a key measurement in the portfolio of a younger dividend growth investor is always going to be dividend growth rate. If you are planning not only for the date you retire but perhaps for 20 years after that, then the difference is much greater, because the breakeven point in dividend return comes after only eight years. Please see the calculator and chart below from wealthtrace.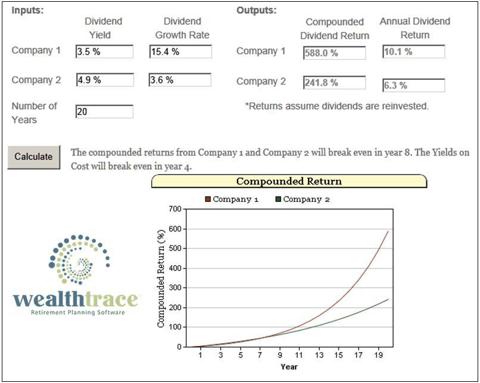 While I used different tools and illustrations to show the power of compounding and growing dividends, you may see illustrations along a similar line in Five Years to Retirement? What is Your Plan? and Part II of that article.
Risk to Avoid - Not Having Enough Money When You Need It
My risk is not the same as your risk. It is not likely we will have the same portfolios.
We may, in our screening process wish to eliminate certain risks that are attributable to the stock, that is, the underlying company it represents. These could include a high debt level, an excessive payout, or a current ratio that would not support paying the bills. In the below illustration, created with Excel, I have added two typical portfolio rules: the stocks must have a yield of at least 3% and not over 8%; the Dividend Growth Rate must be over 4%.
Higher risks are at the top of the scales and tinted red. You, of course, can set your limits wherever you wish. That is one of the great advantages of owning individual stocks; you can tailor a portfolio to address your needs while avoiding your risks.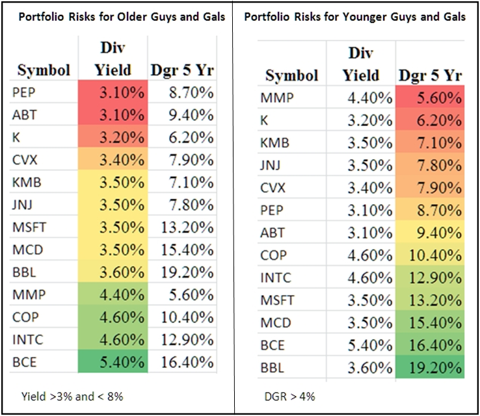 These tables show the high risks at the top. If I, the retired investor on the left side, have too much tied up in Pepsico (NYSE:PEP), Abbott Labs and Kellogg (NYSE:K), or even lower-yielding stocks, I am putting myself at risk. I am not going to have enough income when I need it; the time I need it is now.
On the right side of the above chart, the higher risks for the younger investor are those stocks that will not grow enough to provide enough money 20 to 40 years from now. That is, when you need it, during your retirement. Magellan Midstream Partners (NYSE:MMP), Kellogg and Kimberly Clark (NYSE:KMB) represent these.
In my opinion, all of the above are good stocks. Some would say they are all appropriate for any dividend growth portfolio because our portfolio rules have screened out the extremes. I do not disagree. I hold all of the stocks in the above tables, with more weight on the ones with the higher dividends.
This look at my portfolio, simply sorting a spreadsheet by these two important variables, helped me to do that; it helped me lower my risk and improve my portfolio.
While Excel provides a good way to illustrate my points, there are other ways to sort and view your portfolio. You may keep a copy of your portfolio at many sites online that allow you to sort by any field available. These include FinViz, F.A.S.T. Graphs, Seeking Alpha and Morningstar.
Handle your portfolio with care, scrutinizing it from every angle. Lower any risks you can that would increase the possibility of not having the money you need when you need it. Good luck! Enjoy spending your hard-earned and well invested money.
Disclosure: I am long ABT, PEP, PG, CVX, JNJ, KMB, MCD, MSFT, BBL, AZN, TU, RY, BNS, MMP, INTC, BMO, PPL, COP, EPD, RDS.B, T, BCE, WBK, LNCO, BPL, PNNT, NLY, AGNC. I wrote this article myself, and it expresses my own opinions. I am not receiving compensation for it (other than from Seeking Alpha). I have no business relationship with any company whose stock is mentioned in this article.