Third quarter data now available tells an interesting story about the challenges and responses of Canada's Junior exploration and production companies this year. We've aggregated the data for all companies in a group (see below) of 49 Junior exploration and production companies to give an overview of performance in the third quarter and compared some key metrics with previous quarters to reveal some of the key trends.
Long- and short-term debt for the Canadian Juniors has doubled since early 2011 and edged up a little more in the third quarter.
(click images to enlarge)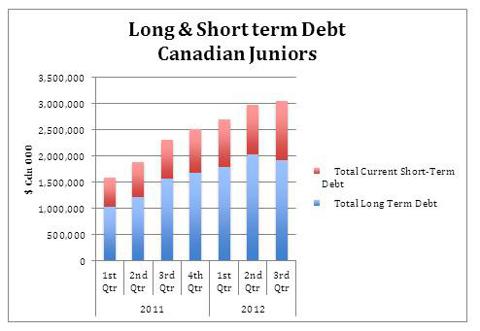 Total amount of money available under credit facilities to the group of Canadian Juniors fell slightly in the third quarter and, with drawdowns increasing modestly, the total amount undrawn was squeezed compared with the third quarter.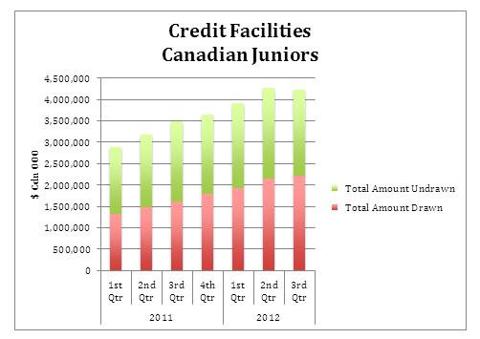 With share prices for many of the Juniors hitting new lows, one of the traditional key source of new finance -- issuance of shares -- has dried up. The graph below shows the precipitous drop in share issues in recent quarters.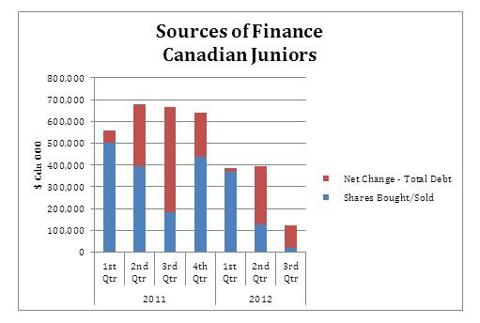 But the Juniors have done well to sustain operating cash flow in the third quarter.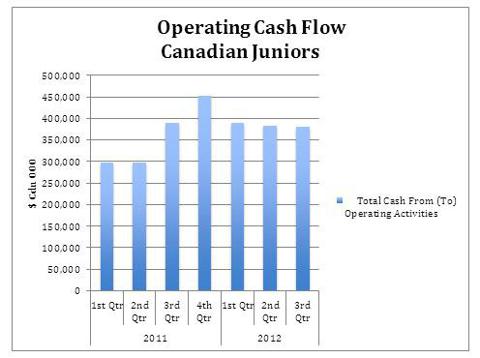 And that has largely been due to the companies sustaining production volumes as well as shifting to more liquids in the mix. See last week's article on this subject.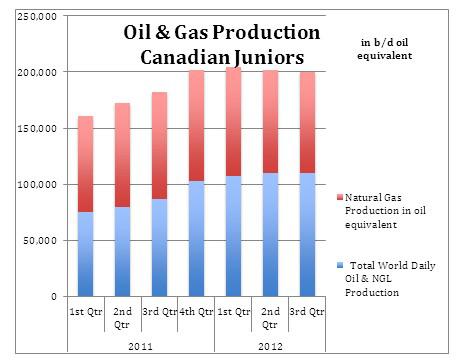 Capital spending on exploration and evaluation has been cut back compared with earlier quarters though, leading to speculation as to whether leaner drilling programs will undermine reserve additions by end year. Those reserve reports are critical because lending programs -- and the ability of companies to grow -- will depend on them.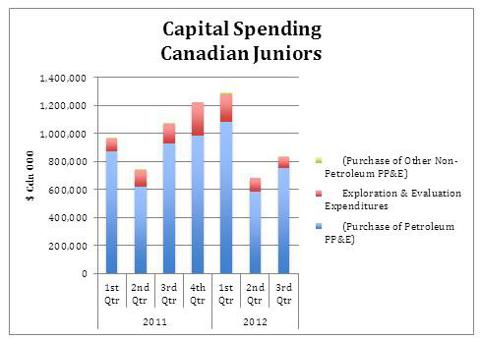 Forecast Vs. Reality
The Canadian Juniors weren't supposed to have it this bad. At the beginning of this year, financial analysts (and most of the industry, too) weren't expecting gas prices to be as low as they turned out. The table below, taken from Canoils' Forecast data from FactSet, shows the differences between consensus forecasts at the beginning of 2012 and now.
Difference In Consensus Price Forecasts For 2012 - Early Vs. Late 2012
| | | | |
| --- | --- | --- | --- |
| | Consensus Forecast Jan 2012 | Consensus Forecast Nov 2012 | Difference |
| WTI $/bbl | $92.50 | $95.00 | +$2.50 |
| Brent $/bbl | $102.00 | $111.03 | +$9.03 |
| Henry Hub $/mmbtu | $4.35 | $2.74 | -$1.61 |
| AECO Cdn $/mmbtu | $3.84 | $2.29 | -$1.55 |
Canoils estimates that lower-than-expected gas prices wiped an estimated $250 million off Juniors' cash flow compared with what financial markets were expecting early in the year. This was partially offset by around $100 million of uplift from higher-than-expected liquids prices (also helped by the Juniors' move to increase their liquids weighting), but this still left a $150 million hole in expected cash flow. This was primarily filled by a cuts in capital spending compared with the levels originally budgeted for in early 2012. This solved some of the immediate cash flow worries, but could threaten reserves growth upon which the future health of this sector depends.
All data in this story is taken from the Canoils database and is available to Canoils clients.

Companies in the Canadian Juniors group produce between 1,000 and 10,000 b/d oil equivalent and include Anderson Energy Ltd., Arcan Resources Ltd, Arsenal Energy Inc., Artek Exploration Ltd., BlackPearl Resources Inc., Bonterra Energy Corp., Cequence Energy Ltd., Charger Energy Corp., Chinook Energy Inc., Corridor Resources Inc., Crocotta Energy Inc., DeeThree Exploration Ltd., Delphi Energy Corp., Equal Energy Ltd., Exall Energy Corporation, Freehold Royalties Ltd., Hyperion Exploration Corp., Insignia Energy Ltd., Longview Oil Corp., Marquee Energy Ltd., Novus Energy Inc., Painted Pony Petroleum Ltd., Palliser Oil & Gas Corporation, Pinecrest Energy Inc., Renegade Petroleum Ltd., RMP Energy Inc., Rock Energy Inc., Second Wave Petroleum Inc., Sonde Resources Corp., Southern Pacific Resource Corp., Spartan Oil Corp., Storm Resources Ltd., Strategic Oil & Gas Ltd. ,Sure Energy Inc, Surge Energy Inc., Tamarack Valley Energy Ltd. ,Terra Energy Corp., TriOil Resources Ltd., Vero Energy Inc., Waldron Energy Corporation, Yangarra Resources Ltd., Yoho Resources Inc. Zargon Oil & Gas Ltd.
Disclosure: I have no positions in any stocks mentioned, and no plans to initiate any positions within the next 72 hours. I wrote this article myself, and it expresses my own opinions. I am not receiving compensation for it. I have no business relationship with any company whose stock is mentioned in this article.