Back in 2007, Gramercy Capital Corp. (GKK) was a high flying REIT. More precisely, the New York-based mortgage REIT originated and acquired whole loans, subordinate interests in whole loans, mezzanine loans and preferred equity interests in companies owning U.S. commercial real estate. The company was then a major player in the commercial real estate collateralized debt obligation (CRE CDO) market until the credit slowdown sapped interest in these high-risk vehicles.
During that same market peak, Gramercy acquired a triple-net REIT by the name of American Financial Realty Trust (AFR) for roughly $1.1 billion. The deal was meant to consolidate two niche REITs with individual exposure to both the debt and equity markets.
Analysts largely endorsed the deal suggesting that Gramercy would be able to diversify its business by acquiring more than 1,300 well-leased commercial properties - mostly leased to banks. Also, it was conceived that Gramercy would also eliminate a weaker-performing equity REIT while also stabilizing the riskier mortgage REIT platform.
American Financial was a primary landlord to several of the nation's largest banks, among them Bank of America (BOA) and Wachovia (now Wells Fargo). Gramercy had planned to structure the deal to flip roughly one-third of the bank portfolio, pay American Financial stock, and assume around $2.3 billion in debt.
So as the deal closed, it was structured in a way such that Gramercy could transform a real estate finance company into a multifaceted operating company.
Timing Means Everything
In 2009, the marriage between Gramercy and American Financial began to unravel, primarily due to the combined company's significant leverage as well as the growing distressed loans originated by Gramercy's legacy lending organization. After adding significant leverage to the failing multifaceted platform, lenders (Citigroup, Goldman Sachs, SL Green Realty, and LBS Debt Holdings) started closing in.
Gramercy, previously a financing unit run by executives from SL Green (NYSE:SLG), was the largest shareholder, followed by Citigroup and Goldman Sachs. All of the investors ended up losing and had it not been for the "hard net lease assets" owned by American Financial, Gramercy would have likely evaporated into thin air (since the toxic paper originated by the CDOs was virtually worthless).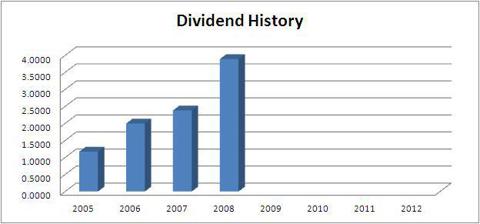 A New Day for Gramercy
On an August 9th conference call, Gramercy's new CEO, Gordon DuGan said "Gramercy Capital Corp. 2.0" would focus on using moderate leverage to create recurring, durable cash flows from net leased real estate, according to the transcript. Net leased real estate is the equity ownership of real estate that has a long-term lease with a corporation, with the tenant paying the majority of the operating costs, taxes, insurance and maintenance. DuGan said he has worked in the net lease business for 24 years, and his team also has experience in the sector.
Gramercy, who at one time focused on two extremely different core business lines: high-risk commercial real estate lending and low-risk net-lease real estate, is now focused on investments in the most risk-averse triple-net sector.
When DuGan joined the company earlier this year, the company underwent a strategic overview of its operations, which resulted in the decision to dispose of the lending operations to focus on net lease. As DuGan explained (in an interview on REIT.com):
The issue at Gramercy was they did both lines of business with high leverage. And high leverage going into the downturn was a recipe for disaster.
DuGan added that the proposal was made this summer to take the capital the company had and become a pure-play net-lease REIT. He said that the renewed focus has put the company in an excellent position to take advantage of market opportunities as they arise.
Gramercy manages $1.8 billion in real estate for others, the lending business which it is selling, and $200 million in liquid capital to invest in net-lease real estate.
DuGan was joined at Gramercy by two executives he previously worked with at W.P. Carey & Co. (NYSE:WPC) while he was CEO there for five years. Joining DuGan are Benjamin P. Harris, as president, and Nicholas L. Pell, as managing director, as new members of Gramercy's senior management.
"Nothing but Net" Makes Gramercy a Good Bet
It's kind of interesting that Gramercy is getting a second chance to prove itself as a net lease REIT. As mentioned above, the first deal with American Financial turned into a game played like the "bad news bears." From what I gather, the founders of American Financial, (founded by veteran REIT executive, Nicholas S. Schorsch) had put together a very high-quality net lease bank branch portfolio and after the company's founder (Schorsch) sold the company, the new owners levered up the assets and began to function more like a new bride, consistently intoxicated with leverage.
The new management team (led by Dugan, Harris, and Pell) are all veteran net lease executives (and shareholders) at Gramercy. Having significant experience in net lease investments and by focusing on strategic core net lease assets, the new company could become a contender again.
The company said it plans to slim itself down and cut costs. Gramercy will work to compensate senior managers more through equity rather than cash and better align incentives. DuGan himself purchased 1 million shares of Gramercy stock at $2.52 per share. As Dugan explained (September conference call),
We think … a more investor-friendly, more focused streamlined story is good for Gramercy, good for shareholders, and will help us grow this company.
With the recurring cash flows of net leases, Gramercy will seek to pay dividends, though it has not yet estimated when these dividend payments will begin.
On the Sept. 28 conference call, DuGan said the company needs to have enough recurring cash flows to allow it to pay dividends and also needs to reduce general and administrative expenses. He said that for now, it plans to accrue the preferred stock dividend and not pay a common stock dividend, though it will revisit this decision as Gramercy invests its capital and reduces expenses.
Gramercy Scores Big Win
Thursday, Gramercy announced that it had closed on a joint venture with Garrison Investment Group on the acquisition of a 115-property portfolio, for a total purchase price of $485 million ($87 per square foot). The Portfolio was acquired from an affiliate of KBS Real Estate Investment (KBS). At closing, the company and Garrison collectively capitalized the joint venture, on a 50/50 basis, with an equity investment of approximately $141 million, plus deal expenses. The company funded its portion of the equity contribution with approximately $56 million in cash and the issuance of six million shares of common stock to KBS, valued at $15 million at the execution date of the purchase agreement.
As likely the largest U.S. net lease closing in the fourth quarter, the Portfolio totals approximately 5.6 million square feet and is comprised of office buildings, branch-office buildings and operations centers. Bank of America leases approximately 81% of the total Portfolio and total occupancy is approximately 88%. The Portfolio consists of two sub-portfolios: The core portfolio, which consists of 67 assets and the held-for-sale portfolio which consists of 48 properties. The joint venture's strategy is to retain a core net-lease portfolio of high quality assets leased to Bank of America in primary and strong secondary markets and sell non-core, multi-tenant assets.
The core portfolio consists of 67 assets located in ten states. It is 98% occupied, with 96% leased to Bank of America under a 10.5-year master lease. For 2013, the core portfolio is expected to generate net operating income of approximately $27.2 million. At closing, the joint venture financed the core portfolio with a $200 million first mortgage.
Gordon F. DuGan commented,
We couldn't be more excited about this acquisition. The transaction allows Gramercy to deploy a significant amount of capital into an attractive, high-yielding, net lease opportunity. Furthermore, Garrison has been a tremendous partner in closing the largest and most complicated deal in my 24-year career.
In related news, Gramercy announced that the company closed on the acquisition of a two-property, 540,000 square-foot industrial portfolio located in the Indianapolis metropolitan area, in an all-cash transaction for a purchase price of approximately $27.125 million. The portfolio is comprised of two Class A industrial buildings, 100% leased to three tenants, with a 10.2-year weighted average lease term.
What Will the New Net Lease Team Look Like?
As noted, Gramercy has a veteran net lease team and the recently announced acquisitions will provide a solid foundation for the new group. With a market cap of just under $150 million, Gramercy will have to build on some more solid quarters and, more importantly, deconsolidate its troubled CDO business. Here is a snapshot of the projected disposition strategy: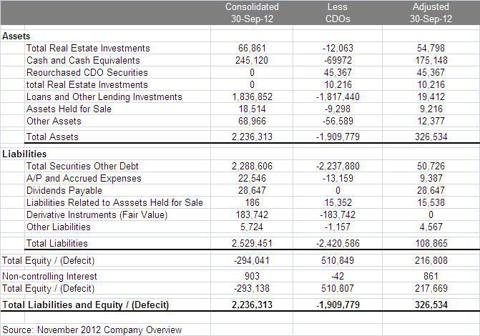 Today, the Gramercy REIT has no true track record, at least under its current management umbrella, and the net lease field is awfully crowded. The pure triple net REITs in the sector include Realty Income (NYSE:O), National Retail Properties (NYSE:NNN), American Realty Capital Trust (NASDAQ:ARCT-OLD), American Realty Capital Properties (ARCP), Agree Realty (NYSE:ADC), CapLease (NYSE:LSE), and W.P. Carey. Other specialty net leases REITs include Entertainment Properties Trust (NYSE:EPR), Getty (NYSE:GTY), and Lexington Realty (NYSE:LXP).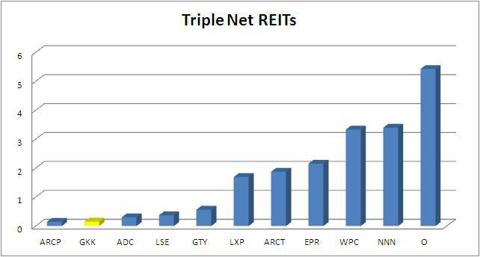 Note that Realty Income and American Realty Capital Trust have announced a merger (see my article here) and the combination, still subject to shareholder approval, is expected to close by the first quarter of next year and will create the world's largest net-lease real estate investment trust and the 18th-largest publicly traded REIT. The combined company will have a $7.6 billion market capitalization and an enterprise value of $11.4 billion, a size that makes it a candidate for inclusion in the S&P 500.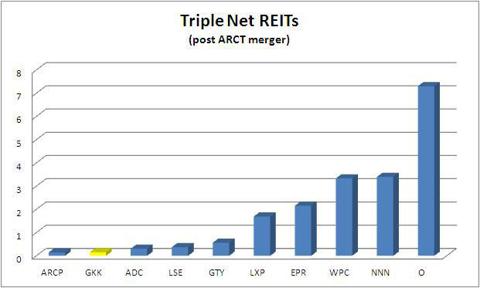 I find it interesting that the broad definition of "net lease" investing is beginning to become more like the broadly defined mortgage REIT sector. It is important that investors seek out net lease REITs with high-quality properties and experienced management teams (like O, NNN, ARCT, and WPC). With the large number of proposed REIT conversions today, the industry is becoming more defined by a sale/leaseback business model disguised in a net lease REIT wrapper.
Simply said, just because you invest in a casino, billboard, cell tower, or amusement park REIT, don't get fooled that you are investing in a diversified triple net REIT. The fact is, these new and proposed REITs are very specialized and the management teams are not experienced in managing risks related to property level operations. The monetization of net lease real estate has created a growing demand for securitization and investors should consider the risk and return components.
In summary, Gramercy looks like it could turn into another high-quality net lease REIT. The company is beginning a new chapter and the business model is sound. The shares are trading at $2.74 and there is NO DIVIDEND BEING PAID NOW. The experienced management team should be able to get this company back on the REIT track and start paying dividends again. Once Gramercy gets the stigmatized mortgage mess behind them (aka "the dark side" REIT), the new Gramercy REIT should enjoy success again by executing a triple net strategy of "nothing but net."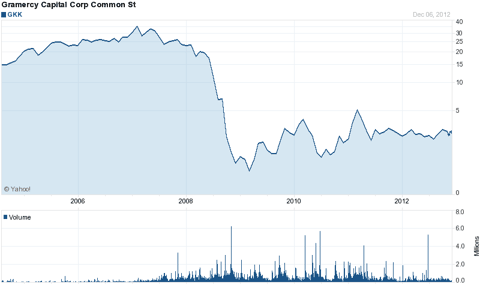 Source: Gramercy Nov. 12 Presentation, SNL Financial, Yahoo Finance
Disclosure: I have no positions in any stocks mentioned, and no plans to initiate any positions within the next 72 hours. I wrote this article myself, and it expresses my own opinions. I am not receiving compensation for it (other than from Seeking Alpha). I have no business relationship with any company whose stock is mentioned in this article.