In an earlier article I mentioned that Netflix (NASDAQ:NFLX) was a potential short-term short opportunity. The technical indicators pointed towards a short-sell opportunity to the down-side. Things have changed as the recent price action is leaning towards the long-run forecast I made, rather than the short-run.
Over the short-run, technical indicators are better at predicting the performance of a stock. This has not been the case, as Netflix blew past my expectations and traded up by 14.64% on December 4th. But on the previous day (December 3rd) Netflix was the Standard and Poor 500's biggest loser. The irony is that I had a strong buy recommendation for the long-term, and a sell recommendation over the short-term (when the stock fell on December 3rd). Now, I am putting a buy recommendation over the short and long-term.
According to TechCrunch "Subscription streaming provider Netflix (NFLX) has entered the big leagues, as it just struck a wide-ranging deal with Disney (NYSE:DIS) that will give it access to a bunch of Disney classics, bolstering its collection of kid-friendly content. And beginning in 2016, it will also be the exclusive distributor of new Disney live-action and animated features as they're rolled out. The exclusive part of the deal encompasses movies from Disney, Walt Disney Animation Studios, Pixar Animation Studios, Marvel Studios, and Disney nature, and includes distribution on all sorts of platforms."
Many of you have been worried about Netflix's ability to secure content rights with major distributors, and that competition should encroach upon Netflix's territory. It is hard to classify Netflix, as it can either be a monopoly or oligopoly. In either instance, entry into the market is difficult as only a few firms have the economies of scale to compete with Netflix. Even the firms who have the economies of scale have difficulty producing, marketing, and securing content for themselves. In other words, the market is very limited in size and scope so that only a few firms have both the economies of scale and can render services at a profit along the demand schedule Netflix falls under. This means that all these concerns over competition damaging Netflix's profits and competitiveness are well over-played. If there was room for added competition along the same demand schedule, we would have a duopoly of firms who have a similar amount of revenue in the same exact service category. This has not been the case, as it is difficult for an emerging firm to secure the capital necessary to secure 25 million subscribers (what Netflix has), along the same supply/demand curve Netflix already operates under. This means that Netflix operates under a natural monopoly where a barrier of entry exists.
The opportunity cost of a firm who renders similar services and tries to compete with Netflix will have difficulty becoming profitable, and if we follow Nash's theory of equilibrium, it is likely that Netflix will react aggressively against any new competitors in the same field, which leads me to conclude that Netflix has a wide moat around its business model. The deal that Netflix was able to secure with Disney clearly proves that there is a limit to the size of the market, and that there will only be one firm who will carry the right to stream Disney services on an online platform. This leads me to believe that Netflix is similar to Facebook (NASDAQ:FB), Google (NASDAQ:GOOG), and Amazon (NASDAQ:AMZN). All the firms operate in either a duopoly, or a monopoly. When firms secure a duopoly or a monopoly - this usually leads to an abnormal growth rate along with higher profit margins.
The economies of scale are already unfolding, and it is likely that Netflix will be able to meet analyst expectations of a 21.28 % growth rate. Mathias Holmstrom from Seeking Alpha in an article states, "I think many bulls ignore the potential downside. Bulls often argue that Netflix has huge growth opportunities in the US by pointing to the fact that it only has captured 25M subscribers out of a potential 80M." Based on the current growth rate forecasted for Netflix, Netflix will have approximately 65.6M subscribers by the end of 5 years, which means that it will not saturate the market within a five year time frame, which leads me to believe that the many firms who have already put a growth forecast on the stock have already taken into consideration the limitations of the market.
| | |
| --- | --- |
| Growth Est | NFLX |
| Current Qtr. | -116.40% |
| Next Qtr. | 12.50% |
| This Year | -99.10% |
| Next Year | 1000.00% |
| Past 5 Years (per annum) | 10.61% |
| Next 5 Years (per annum) | 21.28% |
| Price/Earnings (avg. for comparison categories) | 2,034.50 |
| PEG Ratio (avg. for comparison categories) | 95.61 |
The above data was provided by yahoofinace.
Netflix breaks above the trend line and 200, 50, 20 - day moving averages in the chart below. It is likely that what use to be the tail-end of a correction, reverted into a longer-term up-trend. This trend can be confirmed by Netflix breaking above the multi-year trend line. The 14.2% move upwards occurred due to a positive catalyst from the Disney deal. Today Netflix gains 3.36% on the session, which implies that Netflix is starting to form an up-trend. This gives me a positive bias, and allows me to focus on the long-run forecast of Netflix's stock performance.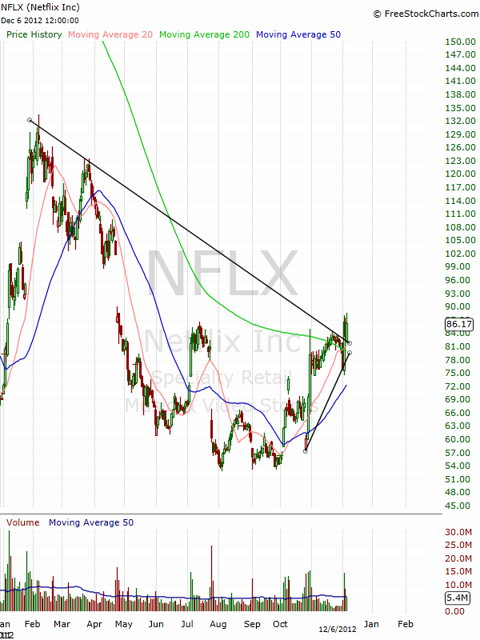 Chart provided by freestockcharts.com
I anticipate Netflix to trend higher due to improvements in earnings growth. According to yahoo finance the average analyst anticipates a 1000% improvement in EPS in the 2013 fiscal year. This means that investors and traders should position themselves in anticipation of a turnaround.
| | | | | |
| --- | --- | --- | --- | --- |
| Earnings History | 11-Dec | 12-Mar | 12-Jun | 12-Sep |
| EPS Est | 0.55 | -0.27 | 0.05 | 0.04 |
| EPS Actual | 0.73 | -0.08 | 0.11 | 0.13 |
| Difference | 0.18 | 0.19 | 0.06 | 0.09 |
| Surprise % | 32.70% | 70.40% | 120.00% | 225.00% |
Above table was provided by yahoo finance.
Based on the above data, it is likely that Netflix will be able to beat the consensus estimate for earnings. Netflix has beaten the consensus analyst estimate by 112% on average over the past 4 quarters. The table above shows a broad range, but when averaged, the EPS surprise is 112%.
I anticipate Netflix to grow earnings at a very high rate, and that outside competition will not be a major factor as today's upside catalyst suggests that Netflix will be able to retain content while remaining price competitive.
Below is a chart showing the forecasted EPS and price levels. I highlighted 2012 in yellow because Netflix missed the long-term growth rate for the 2012 fiscal year, and there was no point in computing a price target for 2012 when 2012 is going to be over in a single month. I decided to smooth the pricing and earnings over a longer-term time frame, and create a curve that illustrates the potential growth in earnings and stock appreciation for the next 5 - year period. The first table illustrates Netflix's earnings growth and stock appreciation when it does not beat the consensus estimate. The second table illustrates Netflix's earnings and stock appreciation, assuming it beats the consensus estimate. This is a comparison of either the best or worst case scenario.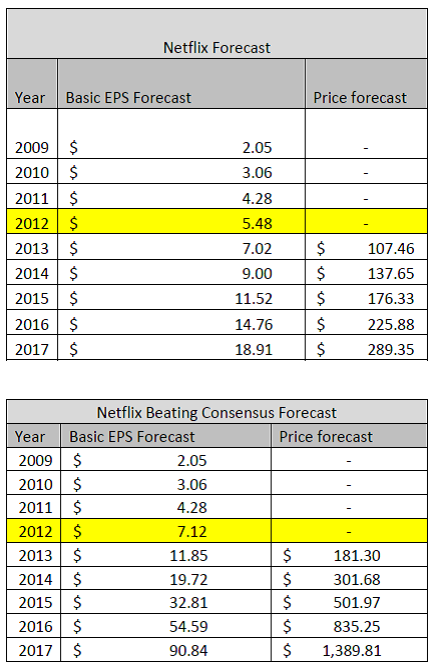 (Chart by Alex Cho)
In my original article I only had one price forecast (the blue line on the bottom chart). I decided not to forecast the stock price factoring in Netflix beating the consensus estimate. But now I have forecasted both instances where Netflix either meets or beats the analyst average growth rate forecast for the next 5 years. This price forecast anticipates a high rate of return for investors who invest into Netflix right now.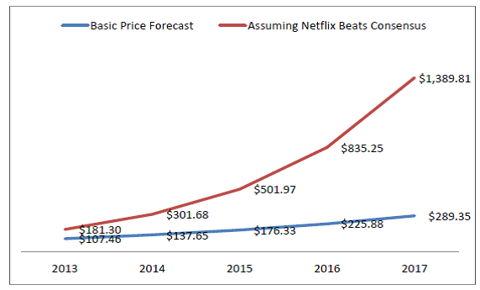 (Chart by Alex Cho)
The best case scenario illustrates the potential for Netflix to fetch a market capitalization of $77 billion. Now many would say that's unrealistic, market is too small, not enough growth factors, etc. But we have seen many internet companies, such as Facebook, Amazon, and Google undergo international growth which helped to boost both the earnings and market capitalizations of the firms. I believe Netflix will undergo a similar trend.
I don't guarantee the best case scenario will play out, and I don't believe the worst case scenario will play out either. I anticipate Netflix to trade between $289 - 1389.81 per share in the year 2017. This broad range indicates the volatile nature of Netflix. I anticipate Netflix to generate fat yields for investors in the years ahead.
Analysts have had mixed feelings over this company over the past several years. No one anticipated a Disney deal on December 4, 2012, which led to a massive short-cover rally. But a very large crowd on Wall Street is anticipating a major recovery in earnings, and this recovery is what should keep investors coming back for more. Netflix has, is, and will continue to be a great growth story for the years ahead.
Disclosure: I have no positions in any stocks mentioned, and no plans to initiate any positions within the next 72 hours. I wrote this article myself, and it expresses my own opinions. I am not receiving compensation for it (other than from Seeking Alpha). I have no business relationship with any company whose stock is mentioned in this article.