Cisco Systems, Inc. (NASDAQ:CSCO) is the world's leading supplier of data networking equipment and software. CSCO provides a line of products for transporting data, voice, and video around the world, including routers, switches, access equipment, and network management software. The Company is expected to expand its operating margin continuously with its substantial scale advantage, meaningful customer switch costs, and a reputation as a go-to provider of enterprise-class networking equipment. As Internet traffic grows, 50% or more per year with most estimates, demand for Cisco's networking gear will grow.
Recent Acquisitions
On Nov. 29, 2012, CSCO acquired software maker Cariden Technologies Inc. for $141 million as part of the effort to provide more tools for managing the increasing online traffic from mobile devices. Cariden Technologies is a privately held company and states it has been consistently profitable as its revenue has grown by a compounded annual rate of about 50 percent during past 5 years, which coincided with the rising use of smartphones and tablet computers to access online services.
On Nov 18, 2012, CSCO accounted its intent to acquire privately held Meraki Inc., a leader in cloud networking. The acquisition of Meraki complements and expands Cisco's strategy to offer more software-centric solutions to simplify network management, help customers empower mobile workforces, and generate new revenue opportunities for partners. As acquire by Rob Soderbery, senior VP of Cisco Enterprise Networking Group,
"The acquisition of Meraki enables Cisco to make simple, secure, cloud managed networks available to our global customer base of mid-sized businesses and enterprises. These companies have the same IT needs as larger organizations, but without the resources to integrate complex IT solutions. Meraki's solution was built from the ground up optimized for cloud, with tremendous scale, and is already in use by thousands of customers to manage hundreds of thousands of devices."
On Nov. 15, 2012, CSCO also acquired Cloupia, a Santa Clara, Calif.-based software company, for $125 million. Cloupia is a software company that automates converged data center infrastructure - allowing enterprises and service providers to simplify the deployment and configuration of physical and virtual resources from a single management console. As Cloupia by David Yen, senior VP and GM of Cisco Data Center Business Group,
"Cisco's data center strategy is based on the premise of making it easier for customers to deploy a unified and integrated infrastructure that is efficient, fast, and flexible. This strategy involves the delivery of the industry's most comprehensive data center networking portfolio, which includes physical and virtual products that support multiple hypervisors and storage stacks. The addition of Cloupia's automation software enhances the efficiency of such unified data center infrastructures, helping to accelerate the transition from physical to cloud environments more quickly and effectively."
With these acquisitions, CSCO will better adapt to the more mobile and more cloud-based environment, as well as the market for virtualization. As quoted from Cisco's Power Acquisition Strategy by Thomas V. Metz, Jr., "To dominate this fast-growing market, Cisco knew that internal development could not produce the range of technology that customers would require. Management decided that if they could not develop a technology quickly enough in house, they would look outside to acquire it. Cisco became an acquirer of both technology and talent." Acquisitions allow CSCO to adjust and expand in this fast changing environment quickly and paying certain premium would make sense in the long-term.
Analysts' Call and Estimate
On Nov. 28, 2012, CSCO's neutral rating was reiterated by Zacks with a target price of $20.00. Zacks' analyst report,
"Cisco Systems is the leading provider of IP-based networking and other products. The company's first-quarter earnings beat the Zacks Consensus Estimate, with forward guidance for the next quarter coming in line with expectations. We think that despite a sluggish macro-environment and increasing competition, it is hard to ignore the company's market position, innovative prowess, product range, growth initiatives and dividend payout. Additionally, all its end markets are likely to see very strong growth over the next few years. Given these factors and the reasonable valuation, we are reiterating our Neutral recommendation on CSCO shares."
Simon Leopold, an analyst at Raymond James, recently reiterated his price target on shares of Cisco at $25 with an "outperform" rating. Leopold said,
"We expect Cisco outlines its strategic vision to become a broader IT supplier with a greater software bias, which aids margin. We doubt the event represents a material catalyst, but should clarify Cisco's vision. As a tech bellwether, Cisco's commentary sets the table for the 2013 macro environment. We expect Cisco maintains its 5-7% long term growth target while offering cautious commentary on the near term."
On Dec. 4, 2012, CSCO received a target price increase to $21 from $20 at RBC. No Nov. 20, 2012, analysts at Needham & Company reiterated a "buy" rating on CSCO with a target price of $23.00. Analysts at BMO Capital Markets also reiterated an "outperform" rating on SCSO with a target price of $22.00 on Nov. 14, 2012. Lastly, analysts at Deutsche Bank raised their price target on CSCO to $22.00 from $21.00 with a "buy" rating, according to the report from Daily Political.
Analysts also increased their annual EPS estimate, ending on July 2013, from $1.94 to $1.96 in the past 90 days. The estimate for the year ending on July 2014 remains the same at $2.09, as seen from the table below.

Source: Yahoo! Finance
Fundamental Overview and Technical Analysis
With the data obtained from MorningStar, CSCO's key stats will be compared to its competitors in the communication equipment industry, including Alcatel-Lucent ADR (ALU) and Juniper Networks, Inc. (NYSE:JNPR). CSCO achieved higher revenue growth of 8.4 and EPS growth of 12.4 for the averages in the past three years, as compared to the industry average of -3.6 and 9.9. CSCO also demonstrated strong operation efficiency with higher operating margin of 22.5%, ttm, and net margin of 17.9%, ttm, comparing to the industry averages of 15.0% and 5.7%, ttm, respectively. CSCO also generates greater ROE of 16.7, as compared to the average of 8.0, with a lower debt-to-equity of 0.3, as compared to the average of 2.5. Currently, CSCO is under-valued with P/E of 12.4 and P/B of 1.9, as compared to the averages of 27.3 and 2.0. Based on the stronger growth and higher margins, CSCO should deserve a better valuation.
CSCO closed at $19.21 with 0.21% gain on Dec. 5, 2012. The volume of 36.98M is 12.99% less than the 30 day average volume of 42.50M. In the past 52 weeks, CSCO had been trading in the range of $14.96-$21.30 with a beta of 1.24. CSCO is currently trading above its 50-day MV of $18.13 and 200-day MV of $18.02. As seen from the chart below, CSCO had been showing a bullish sign since Nov. 14; however, the MACD difference continued to converge since Nov. 27. The momentum indicator, RSI (14), is showing an increasing buying momentum at 70.07. The next resistance will be $19.84, the R1 pivot point, followed by $20.77, the R2 pivot point.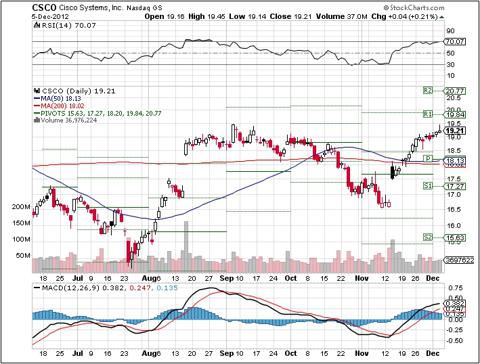 Source: StockCharts.com
Options Play
The long-term outlook for CSCO is promising, and CSCO is currently undervalued and short-term bullish, technically. A credit put spread will be reviewed for investors who would like to acquire CSCO stock at a discount price while gaining some upside potential.
Short 1x March 16, 2013 Put at the strike price of $18.00 for the credit of $0.54
Buy 1x March 16, 2013 Put at the strike price of $16.00 for the cost of $0.18.
The maximum profit is $0.36, and the maximum risk/margin requirement is $1.64 ($2 loss - $0.36 credit received). If CSCO closes above $18.00 on March 16, 2013, 21.95% return on margin will be gained. If CSCO falls below $18.00 upon options expiration, CSCO stock will be acquired at $17.64, which is 8.17% lower than the current price of $19.21. The expected annual dividend yield will be 3.17% based on the acquisition cost of $17.64 with the projected dividend of $0.14 per quarter.
Note: All the prices are quoted from the closing of December 5, 2012 and all calculations are before fees and expenses. Investors and traders are recommended to do their own due diligence and research before making any trading/investing decisions.
Disclosure: I have no positions in any stocks mentioned, but may initiate a long position in CSCO over the next 72 hours. I wrote this article myself, and it expresses my own opinions. I am not receiving compensation for it (other than from Seeking Alpha). I have no business relationship with any company whose stock is mentioned in this article.