The Federal Aviation Administration (FAA) approved production of 787 Dreamliner in August 2011. The aircraft was termed by the then U.S. Transportation Secretary Ray LaHoodas as an "incredible technological achievement" and the "key to meeting our NexGen goals." However, it has become a source of headache for the company that manufactures it, The Boeing Company (NYSE:BA).
Recently, Boeing has been getting a good deal of bad copy, most of it potentially harmful to the company's bottom line. Today, we examine the likelihood of recent bad news affecting Boeing's stock and what investors need to look at if there is a negative impact.
The Bad News First
The FAA has ordered inspection of the entire fleet for airworthiness after a United Continental Holdings, Inc. (NYSE:UAL) Dreamliner was forced to make an emergency landing due to an unidentified mechanical problem. Apparently, there was a problem with one of the six onboard electric generators. Earlier, Japan's All Nippon Airways, the airliner that launched the 787 Dreamliner, and Japan Airlines Co. had reported fuel leaks to FAA and Boeing. The FAA has ordered urgent safety checks on all 787s in service to check the fuel line connectors. It is to be noted that Boeing had to delay deliveries by as much as 3 ½ years due to issues with composite materials and reliance on suppliers.
The company is also embroiled in talks with leaders of Society of Professional Engineering Employees in Aerospace (SPEEA), the union that represents Boeing's engineers for renewal of contracts that expired in October. Some engineers are trying to garner support for calling a one-day wildcat strike, something that the union leaders are trying to stop. The Company on the other hand has called for a federal mediator, as despite months of negotiations, both sides have failed to come to an agreement. The mediator has, however, postponed negotiations which will only be held in 2013.
Financials
On October 24, 2012, Boeing reported its third quarter results. Revenues were up by 13% to $20 billion and net income was $1 billion or $1.35 per share. Free cash flow for the quarter was $1.2 billion. At quarter end, the company had $11.2 billion in cash and marketable securities (primarily short-term investments due within one year), which was up from the second quarter-end figure of $10.3 billion. According to the report, higher deliveries of commercial airplanes and strong operating performance resulted in significantly higher operating cash flow of $1.6 billion ($449 million for the third quarter 2011 and $3.34 billion for the first nine months of 2012), which more than offset the continued investment in the 787 program and discretionary pension funding.
There was no change in the total consolidated debt ($11.2 billion), which remained the same as it was at the end of the second quarter. Total company backlog at quarter-end was $378 billion, up from $374 billion at the beginning of the quarter, and included net orders for the quarter of $24 billion.
The third quarter results of Boeing beat earnings forecast estimates by 20.54%, something that has become a sort of habit with the company as shown by the graph below: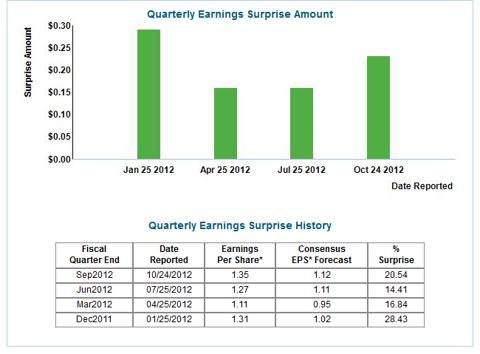 Source: Nasdaq website
As of December 5, 2012, market cap of BA is $55.70B and the stock is currently trading at P/E multiple of 13.06 and close to its 52-week high.
Besides strong financials, it is not like Boeing is getting only bad press. The company also entered into a new $56 million 5-year contract that has set the stage for Boeing's expansion into aircrew maintenance for training devices for militaries across the world. The new contract with the US Navy is for P-3C, EP-3, P-8A, EA-6B, EA-18G and SH-60B training devices stationed at Marine Corps Air Station Kaneohe Bay, Naval Air Station (NAS) Jacksonville, Fla.; Hawaii; NAS Whidbey Island, Wash., and Kadena Air Base, Japan.
Its order book is more than full and has been able to break yearly orders on December 5, 2012 with the delivery of 377th NexGen 737, which topped the previous 2010 record of 376 deliveries. Total orders for 737 airplanes (Next-Generation and MAX) for the year have crossed 1,000 (1,031 to be exact), a feat never accomplished before.
In addition, in an effort to ramp up production, the company is hiving off the design function from production and creating a dedicated division to handle design and certification.
Forecast and Recommendations
In The Boeing Company's fifth annual finance market forecast, Kostya Zolotusky, managing director of capital markets development and leasing at Boeing Capital Corp., the financing and leasing unit of BA said, "We expect that despite economic and political challenges, global air travel will again demonstrate its remarkable resilience in 2013. The industry's global growth and airlines' fleet replacements, accelerated by higher fuel prices, should keep demand stable and attract sufficient financing."
The company also projected that even as manufacturers increase production to meet demand, the industry will be able to generate reasonable liquidity for financing global deliveries. In light of the ongoing economic uncertainties and aircraft manufacturers using government export credit financing having to pay higher rates in 2013, this is indeed music to the ears for the industry in general and investors in particular.
As per forecast, the company expects jetliner deliveries to be close to $104 billion in 2013. It is worth mentioning here that 95% of that will expectedly be between Boeing and Airbus.
Inasmuch as it concerns BA, the consensus yearly earnings forecasts are encouraging. Revisions by analysts, if any, in the last four weeks, have only been for increasing the estimates.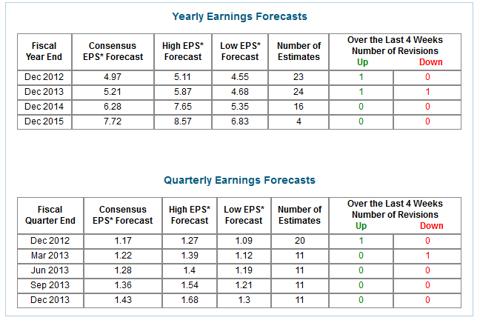 Source: Nasdaq website
Everything is going right for BA. It has adequate cash, and free cash flow has increased multiple times - from $50 million in nine months of 2011 to $2.1 billion in nine months of current year. At the end of third fiscal quarter, cash and its equivalents were the same as the company's consolidated debt.
Out of the 22 analysts submitting their forecasts, only one analyst recommends selling the stock whereas 19 recommend buying BA (18 of them recommending a strong buy). The remaining two recommend that investors should hold the stock.
Investment Thesis
Personally, I have a slightly contrarian view of Boeing. There is no doubt about the company's strong financials. The industry forecast earnings growth is 15.85% and BA's growth rate relative to industry is 97.32%. However, there is not much there for the average investor apart from the dividend yield.
As compared to other stocks in the industry, namely Lockheed Martin Corporation (NYSE:LMT), Textron Inc. (NYSE:TXT), Triumph Group Inc (NYSE:TGI), Embraer SA (NYSE:ERJ), United Technologies Corporation (NYSE:UTX), BA has shown the least YTD appreciation as is clear from the chart below.

If I was an investor in BA, I would remain invested if I was looking for a steady dividend income - YTD, the company has paid $1.76 per share at the rate of $0.44 per quarter, which comes to a 2.41% return on investment if you had brought BA in January at $73.
My major concern is that BA stock is trading at only 5% discount to its 52-week high, which casts a shadow on future short-term appreciation.
If I just had to enter the jetliner industry, I would buy BA ONLY on dips if the recent bad copy leads to some sort of a minor panic selling by traders because investors are hardly likely to exit a company like Boeing. The FAA inspection of all 787s is not likely to have a major effect on a company of the size of Boeing. Moreover, the company is riding on the success story of 737s - the Dreamliner has yet to develop a story of its own.
Alternately, I would also look at other stocks in the industry that are trading at larger discounts to their yearly highs and comparable, if not better dividend yield before settling on BA. ERJ, for example, is trading at 27% discount to its 52-week high. Although its EPS is on the lower side at $0.73, it has a dividend yield of 1.22. Moreover, you can buy almost three ERJ ADRs for the price of one BA share. LMT, on the other hand, is priced above $91 but has a dividend yield of 5.03, which is more than double of Boeing.
Disclosure: I have no positions in any stocks mentioned, and no plans to initiate any positions within the next 72 hours. I wrote this article myself, and it expresses my own opinions. I am not receiving compensation for it (other than from Seeking Alpha). I have no business relationship with any company whose stock is mentioned in this article.