Put aside any preconceptions about Cambodia. This storied country in Southeast Asia has become an increasingly popular destination for intra-Asian tourism, thanks to its vibrant services and entertainment sectors.
While perennial tourist favorites such as Angkor and the Silver Pagoda continue to draw crowds, tourists also are attracted by elaborate casinos and the weakness of the Cambodia riel (KHR1=USD0.0003=EUR0.0002=CNY0.002=KRW0.27).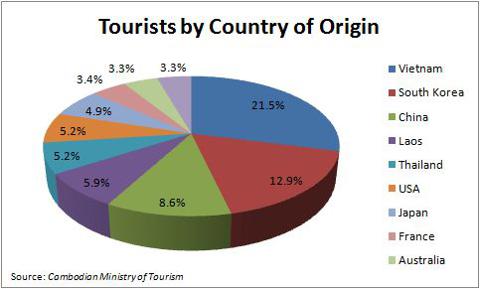 Gambling remains illegal in nearby emerging markets such as mainland China and Thailand and few organized gambling venues exist in most of the rest of Asia. The region's gamblers in search of a Las Vegas-like experience must choose between China's special administrative region of Macau, or Cambodia.
With the higher valuation of the Chinese currency relative to those of the rest of the region and the fact that Macau caters primarily to high rollers, Cambodia has become the gambling destination of choice for mid-stakes players in the region.
Naga Corp (OTCPK:NGCRF) has long focused on those gamblers, opening Cambodia's first casino about five years ago. Competitors have since emerged in the country-61 casinos are now in operation-but Naga Corp's NagaWorld remains the only gambling establishment in Cambodia's capital of Phnom Penh. It holds the exclusive gambling rights (until 2035) within 200 kilometers of the capital, also home to Cambodia's international airport, giving it a clear monopolistic advantage in its industry.
As tourist arrivals in the country have accelerated over the past decade, rising from just a few hundred thousand in 2000 to an estimated 7 million by 2020, the casino operator has enjoyed surging revenue growth as most gamblers opt to remain in the capital region. It has also parlayed its proximity to the country's major airport into a huge junket business-38 percent of revenues-which caters to foreign tourists who come to Cambodia specifically to gamble.
Naga Corp also has begun operating luxury tour buses between the Vietnamese capital of Ho Chi Minh City and its NagaWorld facility, with plans for more bus lines in the future which should push junket revenue growth beyond the 41 percent it clocked in the first half of 2012.
Rising junkets also have the added advantage of driving Naga Corp's non-gaming revenues, which are mainly made up of room rentals and food and beverage (F&B) spending. Occupancy rates jumped from just over 75 percent in the first half of last year to 84.4 percent this year, fueling a 20 percent increase in occupancy revenues. F&B revenues also shot up by 45 percent in the period, as NagaWorld opened additional gaming venues through expansions and ran promotions to entice soccer fans into its complex to view matches.
In addition to literally busing in business, Naga Corp has also successfully shifted its business mix away from gaming machines onto its public floor. While slot machines remain a major draw accounting for about 27 percent of its revenues, higher margin table games such as craps, poker and baccarat now account for 29 percent of revenues. That's up from less than a quarter just a couple of years ago.
Those strategies have provided significant boosts in gross revenues, which rose 37 percent in the first half of this year to USD38.3 million.
While growth was strong in the year's first half, it is expected to be even stronger in the second. According to the Cambodian Ministry of Tourism, tourist arrivals in the country have ticked up strongly in recent months, even as economic growth in some areas of the region has slowed.
Arrivals typically slow in the third quarter, but they reached an all-time high this year of 820,888, up more than 17 percent versus the same period in 2011. The fourth-quarter arrivals record is also expected to be broken this year, for a projected total of 900,000. In all, more than 3.2 million visitors are on track to enter Cambodia for the full year.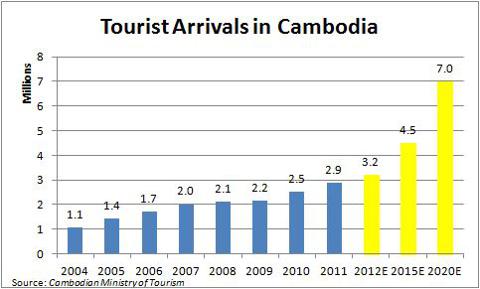 Tourist arrivals in Cambodia have historically been the most accurate indicator of Naga Corp's earnings trajectory. When arrivals are strong, the casino operator's revenues grow commensurately. Based on arrivals growth and the company's performance in the first half of this year, total revenues should come in at around USD300 million for the full year with net profits coming in well over USD100 million.
That's great news for shareholders, considering that Naga Corp typically distributes about 60 percent of its net profits in the form of dividends. In the first half of this year, the company paid a dividend of USD0.015 and its back half distribution should come in at about USD0.02, for a yield just shy of 5 percent.
Naga Corp also broke ground on a new addition to NagaWorld this month, which will add two new high-end hotel blocks to the complex and a new gaming floor, theater and shopping and dining options. In all, 1,000 new rooms will be added to NagaWorld as well as 50 VIP suites. That's the fourth addition to the gaming complex in as many years.
Despite all of that building activity, Naga Corp carries no net debt while it aggressively grows revenues. The casino business is inherently volatile-investors need only look at the fluctuating fortunes of Las Vegas or Macau-but Naga Corp is a sure-and-steady operation.
By carrying no debt and targeting mid-tier gamblers, the company has managed to maintain strong growth helped along by its convenient geography. Those trends should continue, particularly as Cambodia leaves behind its war-torn legacy and builds its reputation as an inexpensive and spectacularly scenic destination for cost-conscious Asian travelers.
Disclosure: I have no positions in any stocks mentioned, and no plans to initiate any positions within the next 72 hours. I wrote this article myself, and it expresses my own opinions. I am not receiving compensation for it. I have no business relationship with any company whose stock is mentioned in this article.