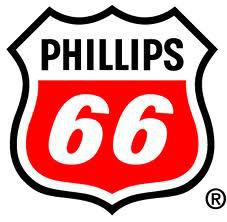 As a long-time shareholder of ConocoPhillips (NYSE:COP), I also became a shareholder of Phillips66 (NYSE:PSX) earlier this year when the mother ship spun off its refining, chemicals, and mid-stream assets into the stand-alone company. The results have been fantastic. PSX shares are up nearly 50% since May. PSX has benefited from lower feedstock costs in two of its three business groups. Margins and returns in the chemical joint venture with Chevron (NYSE:CVX) (CPChem) have been boosted by low domestic natural gas prices. At the same time, PSX's huge refining business has benefited from the spread between domestic oil prices and the worldwide price of oil reflected by the price of Brent crude.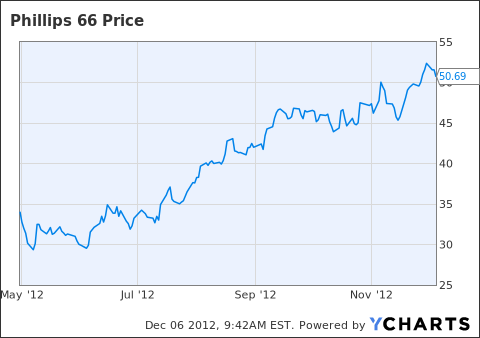 PSX data by YCharts
PSX = $50.69
Mkt Cap = $31.66 Billion
EPS (ttm) = $8.54
P/E (ttm) = 5.9
Div (Yield) = $1 (2%)
PSX surprised me earlier this year with the announcement in June it was buying as many as 2,000 railcars to transport shale oil to its refineries. At that time, PSX CEO Greg Garland said the company currently refines about 100,000 barrels per day of shale oil but could handle 500,000 bpd. I thought, OK, this makes a lot sense - PSX wants to capture the spread between Bakken crude and Brent. But there was much more to the strategy than this. The full story dawned on me yesterday as I was leafing through some slides from Continental Resources' (NYSE:CLR) December 5 presentation. As a side note, this presentation was titled "CLR Vision" (I like it!), a play on words using CLR's ticker symbol, but a most appropriate title considering the company's recent announcement that it was able to "see" the 3rd bench of the Three Forks (TF3) using its Charlotte well. But I digress - back to the presentation. It was slide 11 that caught my eye: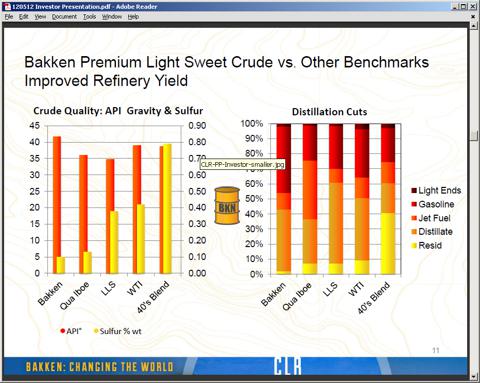 What is clearly shown by this slide is the very high quality of Bakken crude. I knew it was sweet crude, but I guess I had no idea just how sweet until I viewed this slide. Not only does it start off with a very low sulfur content (~0.10%), but look at the right-hand portion of this slide - the "distillation cuts." This is incredible! About 45% of a barrel of Bakken crude can be refined into gasoline and only a miniscule portion of each barrel ends up as residual. So each barrel of Bakken ends up with more refined product to sell than other grades of crude. My engineering background is not in petroleum engineering, but I suspect the low sulfur and residual numbers also result in less wear-n-tear on processing equipment, therefore possibly reducing maintenance and down-time costs as well.
So the refiners are not only increasing their crack spreads by capturing the differential between Bakken and Brent, but they are also expanding margins on better distillation cuts as more of each barrel ends up as product to sell. As the next slide shows, Phillips 66 has several refineries that are well placed geographically to benefit from Bakken crude transport. No wonder PSX bought those railcars! Also, note the increased 2012 crack spreads on the right side of the chart.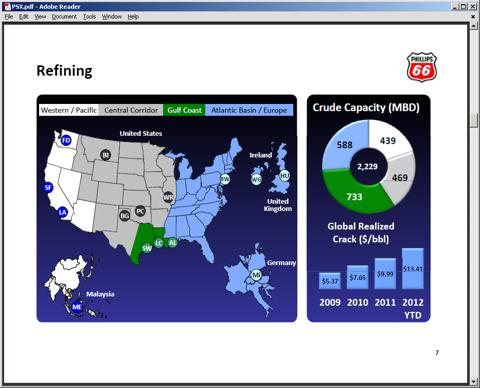 The next chart shows how PSX has been able to shift its feedstock away from high-priced Brent toward cheaper Canadian heavy and cheaper and higher quality shale oil.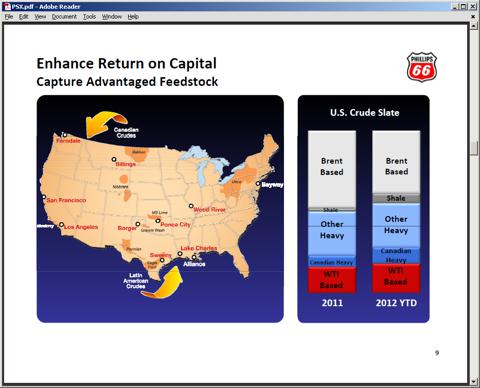 And this includes Eagle Ford crude as well. Back in August, Phillips 66 announced an agreement with Kinder Morgan Energy Partners (NYSE:KMP) for Kinder Morgan to transport Eagle Ford crude and condensate to Phillips 66's Sweeny Refinery in Brazoria County, Texas. Kinder Morgan will provide Phillips 66 with a significant portion of the lateral pipeline's initial 30,000 barrels per day (bpd) of capacity, which is expandable to 100,000 bpd.
Phillips 66 isn't the only company taking advantage of Bakken crude by rail. Direct shipments of shale oil to refineries are now becoming the norm, not the exception. Tesoro Corp. (NYSE:TSO) began direct rail shipments of Bakken crude to its Anacortes, WA refinery in September. In July, Marathon Petroleum Corp (NYSE:MPC) announced it began shipping Bakken crude by rail to refineries in the U.S. Midwest. MPC Chief Executive Gary Heminger did not specify to which refineries the North Dakota crude would be railed. He did say the company's 206,000-barrels-per-day refinery in Robinson, Illinois was well positioned logistically to receive crude from multiple sources. The company's 78,000-bpd Canton, Ohio, refinery can also run Bakken crude. MPC has a 226,000-bpd refinery in Catletsburg, Kentucky.
MPC has been on an absolute tear this year. One of my biggest investment mistakes ever was selling MPC after Marathon (NYSE:MRO) spun it off. Ouch! I missed out on more than half of MPC's ~75% rise YTD.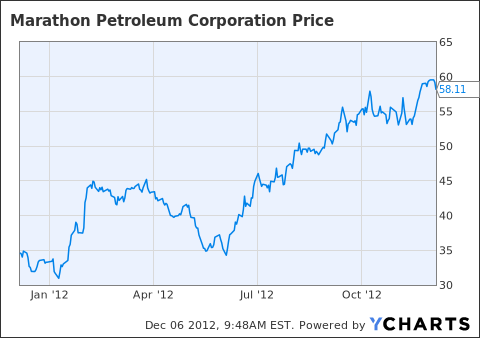 MPC data by YCharts
Is this story old news and is it time to take profits on the trend? After all, it is quite tempting to book some capital gains this year with all the talk of increased cap gains taxing coming next year and beyond. However, in the case of PSX, I think this is a multi-year trend, which is not close to being played out. CEO Greg Garland said back in June the initial goal was to increase delivery of shale crudes to Phillips refineries by 100,000 to 150,000 bpd within two years using railcars.
That's a pipeline on wheels. So, that could go to the Bakken. It could go to the Niobrara. It can shift as the opportunity shifts around the country.
So, it's clear shale crude by rail is a long-term strategy for the company. Proof is its buying the railcars as opposed to leasing them. But the catalyst is still there today and for the medium term at least. Remember, Garland also said PSX refineries could handle as much as 500,000 Boe/day of shale crude. So, the company is not even halfway toward full utilization of its shale crude capacity. This means at least one more year of increasing crack spreads and margins as more and more U.S.-produced shale crude displaces expensive and lower quality Brent. No sir. After selling MPC too soon, I will not make the same mistake with PSX - lower cap gains rates or not. Besides, PSX management is focused on rewarding shareholders. The dividend today is 2% and it is clear dividend hikes are on the way in 2013.
This is also a very bullish trend for Bakken and Eagle Ford oil producers including CLR, Whiting Petroleum (NYSE:WLL), COP, and my new favorite, Halcon Resources (NYSE:HK). As more refiners turn to Bakken crude, and as railcars make delivery transport easier than in the not-too-distance past, refiners are starting to bid aggressively to lock up long-term Bakken crude supplies. Although the price spread between Bakken and Brent still exists and is profitable for the refiners, their bid for product insures the spread won't widen to unacceptable limits for the Bakken producers.
Disclosure: I am long PSX, WLL, HK, COP. I wrote this article myself, and it expresses my own opinions. I am not receiving compensation for it (other than from Seeking Alpha). I have no business relationship with any company whose stock is mentioned in this article.
Additional disclosure: I am an engineer, not a CFA. The opinions expressed in my articles are my own. Please do your own research. I cannot be held responsible for investment decisions you make. Thanks for reading and good luck!