Harman International Industries (NYSE:HAR) is one of the leading players in audio and infotainment market worldwide. The market cap of the company is $2.68 billion. Harman's stock touched a 52-week high of $52.75 this year before correcting nearly 25%. It's currently trading around $40. In this article, I'll explain why the stock is cheap and could appreciate significantly over the medium term.
Fiscal Year 2012 Earnings
Net sales in fiscal year 2012 were $4.4 billion, an increase of 16 percent from the prior year. Sales increased in all three divisions (infotainment, lifestyle and professional) and the company continued to gain share in selected markets. Operating income in fiscal year 2012 was $300 million, an increase of 58 percent compared to the prior year.
Harman's achievements during fiscal year 2012 are closely aligned with the company's defined four-pillar strategy:
Growing the smart infotainment solutions business
Increasing penetration of the branded audio systems
Pursuing aggressive growth in the emerging markets
Driving continued improvement in cost and capital structure
Harman International: Company Overview
Harman designs, manufactures, and markets a wide range of audio and infotainment solutions for the automotive, consumer and professional markets. The company's automotive segment designs, manufactures and markets audio, electronic and infotainment systems for vehicle applications and its consumer segment designs, manufactures and markets audio and electronic systems for home, mobile and multimedia applications.
Harman's audio and infotainment solutions are supported by more than 15 leading brands:
AKG Acoustics - microphone/headphones
Audio Access - A/V controllers
Becker - car infotainment
BSS Audio - signal processing
Crown International - pro amplifiers
dbx Professional Products - signal processors
DigiTech - guitar products
HardWire - guitar pedals
Harman Kardon - home/car audio
Infinity - home/car speakers
JBL - home/car speakers & amplifiers, professional speakers
Lexicon - digital processing
Mark Levinson - home/car audio
Revel - home speakers
Soundcraft - mixing consoles
Studer - mixing consoles
Selenium - home, car and professional speakers, amplifiers, sound tables/mixers
The company is admired by audiophiles across multiple generations and supports leading professional entertainers and the venues where they perform. More than 20 million automobiles on the road today are equipped with Harman audio and infotainment systems.
Harman has a workforce of about 13,400 people across the Americas, Europe and Asia.
Division-wise Highlights in the Most Recent Quarter
Infotainment Division
Harman celebrated the start of production of the latest generation BMW infotainment system for all vehicles world-wide. Chryslers´ latest Ram Truck and Dodge Viper models launched into the market featuring the next generation Uconnect™ infotainment system, designed and built by Harman.
In September, Harman announced plans to establish a software engineering center in Chicago to further expand on its global network of Infotainment engineering and development centers.
Harman´s Aha™ Radio was launched as an integral feature in Honda's new in-vehicle connectivity system HondaLink™. HondaLink with Aha Radio debuted on the 2013 Accord in September and will be rolled out to Honda's entire U.S. line.
Lifestyle Division
Harman extended its global leadership in automotive audio with $800 million of new competitive awards from major automakers including BMW, Ford and Volvo.
In Italy, the Fiat Group has awarded Harman a second luxury branded audio contract for its famed Maserati sports car line, in addition to the JBL sound system recently launched on the Fiat Abarth 500 special edition.
Across Asia, Harman secured eight new program awards with six different OEMs. In China, Harman was awarded the first ever branded audio business with JAC, a major domestic automaker, as well as additional programs with current customers BAIC and Geely. In Japan, Harman's long-term relationships with Subaru (with the Harman/Kardon brand) and Lexus (with the Mark Levinson brand) continue, as Harman has been nominated for two replacement platforms with each company. In Korea, the company continues to expand its portfolio of business with Kia by securing Harman's first branded audio award in the small C-segment SUV platform.
Harman launched 56 new consumer audio products at the IFA show in Berlin. At this show, the Harman/Kardon SB30 sound bar was awarded a prestigious EISA award. As a long-time Apple technology partner, Harman was selected to participate in the iPhone5 launch showcasing JBL docking stations featuring new 8-pin Lightning connectors. The company also collaborated with Nokia to launch JBL PowerUp, the first co-branded wireless charging/docking speakers for the Nokia Windows 8 smartphones.
Professional Division
Harman equipment was installed in over 13 major venues, including the Oakland Arena, Williams Arena at the University of Minnesota, and Houston's 16,800-seat Lakewood Church. Harman received major contracts for equipment sales to outfit two new FIFA Official Stadiums for the 2014 World Cup in Brazil.
Harman introduced new category-leading signal processing, mixing console, installation loudspeakers and software user interface products. Harman's new integrated audio and visual information delivery solution called IDX is being adopted by a growing number of airport and transit facilities, and the IDX installation at Colombia's Bogota International Airport was completed.
The company's professional audio products were in use at major special events like the BMW Olympic Delegates Celebration in Beijing, Las Vegas' iHeart Radio Festival, and the Global Poverty Project Benefit concert in New York.
(Source: Harman Press Release)
Harman Launches New JBL Speakers
Harman announces availability of the first two JBL speaker docks built to support the new Apple iPhone 5, iPad Mini, new iPod models and the revised iPad with Retina display. The JBL OnBeat Micro and JBL Venue LT include the new Apple Lightning connector, the small, reversible, all-digital connector that allowed Apple to create thinner and faster iOS devices.
Harman's Revenues to Increase Faster Going Forward
The company has benefited from growing demand for increasingly sophisticated information and entertainment devices (WiFi, Televisions, MP3 players, and GPS) in cars. This market is still largely in its infancy with penetration rates of less than 20% in Europe and less than 10% in the United States.
The shaky macroeconomic condition across the world is showing signs of stabilization for the first time in many years. As a result, more people are expected to buy luxury products in the coming months and years. This will certainly boost Harman's revenues and profitability going forward.
The improved financial performance of most of the companies in S&P 500, as reflected in its tracking ETF (NYSEARCA:SPY), is certainly an indication of improved consumer confidence around the world over the last few months.
Now let's focus on some important metrics for a better understanding of the company's financial health.
Harman's ROIC and Revenues Improving
ROIC (return on invested capital) measures whether a company has an economic moat -- the ability to earn returns on its invested capital above that capital's cost. The higher the ROIC, the more efficiently the company uses capital. While many look to ROE (return on equity) as an indication of how effective management has been at running the business, I look to ROIC because it cannot be increased by adding more leverage.
Harman's ROIC has been increasing steadily and currently standing above 20%, which is an impressive sign on the capital front. The revenue per share has also been impressive.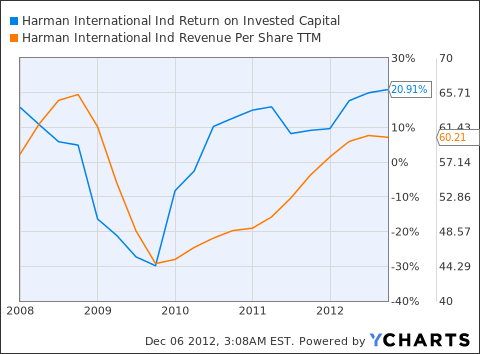 HAR Return on Invested Capital data by YCharts
Harman's Tangible Book Value Improving
The tangible book value number is equal to the company's total book value less the value of any intangible assets. A stock's price to tangible book value per share or PTBV represents the amount of money an investor would receive for each share if a company were to cease operations and liquidate all of its assets at the value recorded on the company's accounting books. The lower the PTBV, the better the company is from an investment perspective.
Harman's tangible book value stands at $1.394 billion, which is consistently increasing since the past five years. Its price to tangible book value per share is consistently declining at the same time. Currently, the PTBV stands at 1.926. This clearly indicates that there is a substantive mispricing in Harman's stock as the Street is not fully aware of Harman's potential.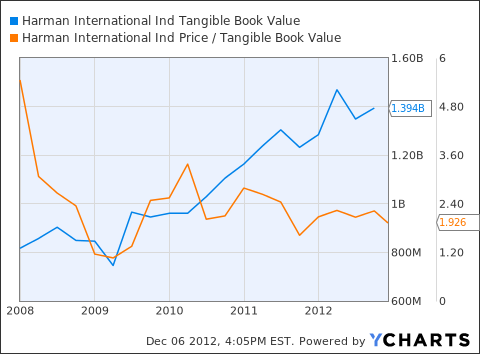 HAR Tangible Book Value data by YCharts
Harman's Free Cash Flow Yield
Harman's trailing twelve months EBIT margin stands at 6.7% and gross margin stands at 30%. This indicates that the company generates a healthy cash flow. Free cash flow yield is usually meant to measure GAAP earnings per share divided by share price. Generally, the lower the ratio, the less attractive the investment is and vice versa. The logic behind this is that investors would like to pay as little price as possible for as many earnings as possible. This is similar to earnings yield, except it considers cash flow instead of earnings, and is used primarily by individuals who believe cash flow to be a more accurate indicator than earnings.
Harman's direct competitors include Bose Corporation, Boston Acoustics and Pioneer Corporation in the consumer electronic equipment industry. All of them are privately held companies and their shares are not listed in the stock exchanges. Therefore, no direct comparison is possible with Harman. For comparing Harman's cash position, I have chosen Apple (NASDAQ:AAPL), which also operates in the consumer electronics space, and Wal-Mart (NYSE:WMT), which operates in the retail space that's directly linked to consumption. Harman's free cash flow yield is more or less in line with that of Apple and Wal-Mart.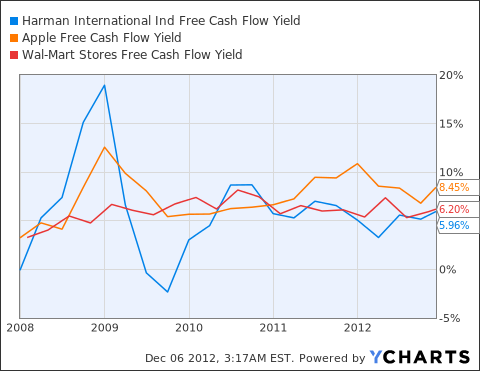 HAR Free Cash Flow Yield data by YCharts
Harman's Short-Term Solvency Position
Harman's total liquidity stands at $1.3 billion, which gives the company sufficient capital to cover its future operating, financing, and investment requirements. Now let's check out its current ratio and quick ratio.
Current Ratio: This ratio gives an indication of a company's ability to meet short-term debt obligations; the higher the ratio, the more liquid the company is. Current ratio is equal to current assets divided by current liabilities. Harman's current ratio is better than that of Apple and Wal-Mart.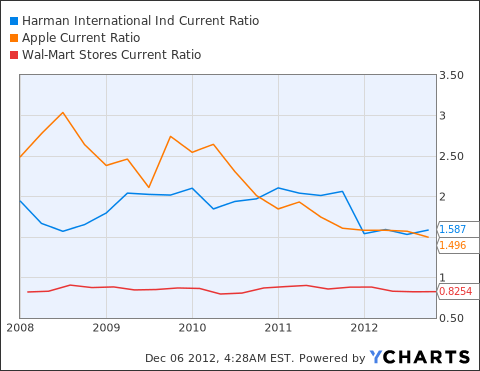 HAR Current Ratio data by YCharts
Quick Ratio: This ratio measures the company's ability to meet short-term obligations with its most liquid assets (current assets excluding inventory). The higher the ratio, the better the company's short-term liquidity position is. Harman's quick ratio is far better than that of Wal-Mart and slightly worse than Apple's. But while Apple's position has been deteriorating over the past several quarters, Harman's remains stable.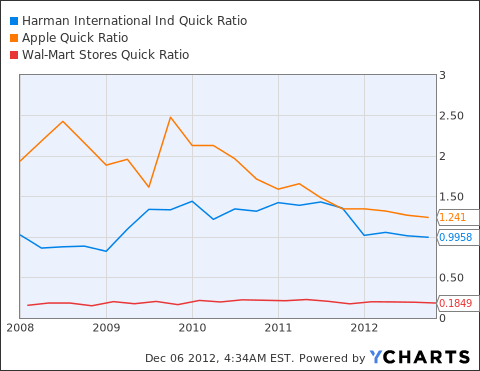 HAR Quick Ratio data by YCharts
Harman's Financial Leverage Position
Standard & Poor's raised Harman's corporate rating to investment grade. Moody's followed with an investment grade rating just a few weeks later, citing Harman's strong competitive position, revenue growth, and excellent liquidity profile as factors in their decision.
Concurrent with the latest ratings upgrade, Harman successfully concluded negotiations last month with a group of banks for a new $750 million unsecured revolving credit facility, obviously at much better rates than before. The company also secured a five-year $300 million term loan, which it used, along with $100 million of its own cash, to repay $400 million in convertible senior notes held by a series of investors, primarily KKR and Goldman Sachs Capital Partners. This transaction concludes any direct financial interest in Harman by these investors. Now let's focus on the company's debt to equity ratio.
Debt to Equity Ratio: This ratio measures a company's financial leverage; the higher the ratio, the riskier the company is. Apple being a debt-free company, its debt to equity ratio is zero. However, Harman's debt position is clearly improving, as seen in the chart and is far better than that of Wal-Mart.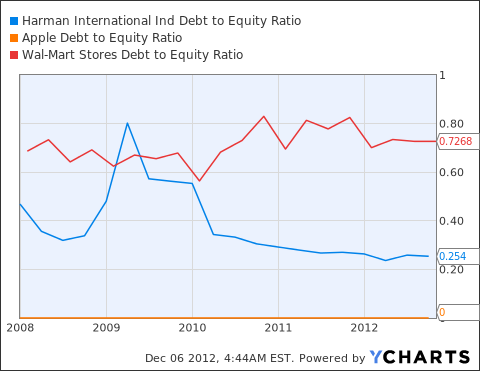 HAR Debt to Equity Ratio data by YCharts
Harman vs. the Industry: Important Stats
The following table contains important stats about Harman vis-à-vis the industry in which it belongs to. This is particularly important in the absence of any direct listed competitor for Harman.

(Source: Yahoo Finance)
It's quite clear that Harman's fundamentals are well ahead of the industry it belongs to.
Discounted Cash Flow Analysis
In my DCF model, I've assumed an average annual revenue growth rate of 15% for the company for next five years. According to the model, Harman's operating margin is expected to grow at an average rate of 10% annually for the next five years before leveling off to an annual growth rate of 3% thereafter. An effective annual tax rate of 27% has been assumed, as per the company's guidance. I've used 11% weighted average cost of capital to discount future free cash flows. Based on these inputs, I've arrived at an intrinsic value of $82 per share of Harman International.
Risks that could Detract Harman's Growth Engine
Harman invested heavily in BRIC countries, and the company is seeing the results in strong growth in these markets. However, going forward if any or all of these countries experience renewed economic slowdown, Harman's ROIC may get significantly damaged.
The company made strategic acquisitions, including an embedded audio company, MWM, in the U.S., and Selenium in Brazil, and Interchain in India. If the acquisitions don't turn out profitable, Harman's operating margin could be affected.
Another potential downside could be any delay in Harman's product launches, which is not uncommon in electronic equipment industry.
Fluctuations in currency exchange rates, particularly with respect to the value of the U.S. Dollar and Euro, could negatively impact future earnings.
The company's high exposure to auto manufacturers makes it subject to the cyclicality of the auto industry.
The Bottom Line
Harman International's robust financial health makes it a company worth considering for investment. The company delivered a strong financial performance in a challenging economic environment, which has changed rather dramatically over the last few months. I would recommend investing in Harman's stock at the current price around $40.
Disclosure: I am long HAR. I wrote this article myself, and it expresses my own opinions. I am not receiving compensation for it (other than from Seeking Alpha). I have no business relationship with any company whose stock is mentioned in this article.