By Julian Murdoch
Ask a room of base metals analysts what they are bullish on, and you'll get a tin ear. In fact, at the recent Inside Commodities conference, that's exactly what happened.
For the most part, tin doesn't get a lot of attention. For the uninitiated, tin seems like something for woodsmen and cups. But lowly, non-glamorous tin is becoming increasingly important, overtaking lead as the metal of choice in modern electronics soldering, especially after EU regulations requiring lead-free solders was implemented in 2006. In 2006, tin accounted for 50% of solders; in 2007, that market share grew to 52%.
This demand creep, however, isn't the sole reason for the positive feelings toward tin.
"The reason people are bullish on tin is not a demand story; it's a supply story," said Catherine Virga, an analyst with CPM Group in New York and one of the participants on the Inside Commodities base metals panel.
And that supply story has been building for years. The top two producers of tin are China and Indonesia, which combined in 2007 to produce 70% of the world's mined tin, and actions in those two countries are starting to limit the long-term supply picture. 
China First
China was responsible for 40% of all mined tin in 2007. But during 2008, China became a net importer of tin, whereas in the past, it was a net exporter. Virga explains it this way: "China experienced quite a bit of supply disruption this year, especially around the time of the Olympics."
The underlying reasons for the disruptions range from the usual suspects - power shortages and environmental concerns - to some idiosyncratic, Olympics-meets-tin specific ones. In other words, nobody wanted explosions going off while the entire world was on Olympics-heightened security alert, even if the explosions were intentional and controlled. As a result, mining was reduced.
Beyond the Olympics, however, China is reacting to the steady decline in tin prices. China's No. 1 producer of tin-Yunnan Tin-recently announced that it would reduce output of the metal by 30% in the fourth quarter of 2008 because of price concerns. 
Indonesia
In the case of Indonesia, the supply slowdown hasn't been because of Michael Phelps. In 2006, Indonesia cracked down on tin producers for tax and environmental reasons. But Virga says this is changing: "The government has slowly been reissuing permits, but it's not completely back up to previous levels."
On top of that, the recent low prices have raised concern among producers, just like in China, so much so that the government recently announced that it's considering capping tin production for 2009.
Not waiting for government intervention, a group of small Indonesian tin smelters (known as PT Bangka Belitung Timah Sejahtera) agreed to halt production on October 22 to help stem the price decline, taking 3,000 metric tons a month out of the market. The consortium is looking for an $18,000-per-ton price in order to resume production. Quite a bump from the $15,000 prices we're currently seeing.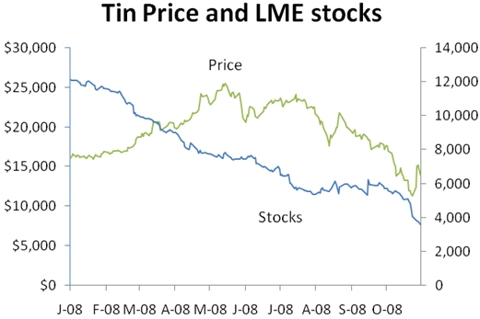 Prices have continued to decline even after production cuts, and now PT Timah (not to be confused with the group above), Indonesia's largest tin producer, may reduce its output to 45,000 tons of refined tin this year, down from an expected target of 50,000 tons. While this may not seem like a big reduction, it is a large decline from PT Timah's record 2007 output of 58,325 tons.
With production declines occurring in the largest-producing countries, the rest of the world's production becomes more important to global supply. 
Enter Congo
The Democratic Republic of the Congo was the fifth-largest producer of tin in 2007. "The Congolese government had planned a ban on exports of tin in certain provinces in 2009 as a way to encourage the further refinement of tin in the Congo," explains Virga. "This would have allowed them to benefit from the higher prices for refined exports."
But now it's the constant civil war and tumultuous political situation that is affecting exports. Many tin-producing areas are in locations with the most dangerous conflicts.
All of this has combined to drive tin stocks down to their current levels. 
An Opportunity
So the question becomes, with low stocks and low prices, is this an opportunity?
"The market is expected to be in deficit," says Virga, "even with the less-than-1% growth in demand that the market is expecting."
In fact, tin has been in deficit every year since 2006.
But even with this expected deficit, there's no sign of supply catching up, which does point to an eventual opportunity.
Virga is quick to point out this isn't an immediate get-rich-quick opportunity. "No large surge in price is expected anytime soon because of the economy," she says.
Still, the fact remains that tin is living in an extremely rare fundamentals position: dwindling supply, steady-state demand and an extremely suppressed price. Maybe no jump is imminent should the global economy continue to flounder, but the fundamentals are in place for a price jump when the recovery starts. For investors looking to take advantage of that jump, the easiest way is to purchase the iPath Dow Jones-AIG Tin Total Return Sub-Index ETN (NYSE: JJT), launched by Barclays Global on June 26, 2008.