Overview
I recently wrote an article about Facebook's (NASDAQ:FB) valuation and medium term prospects where I posited that the shares are a sell at current levels. If you missed my valuation discussion, you can read it here. My basic premise was that the combination of FB's inability to monetize mobile users, lockup expirations, and general valuation metrics are all reasons why FB is a sell at $27+ per share.
This article is not a rehash of the valuation discussion; rather, we are going to look at some bearish options trades to take advantage of a decline in Facebook shares if you agree with my bear thesis. The daily chart is below for reference.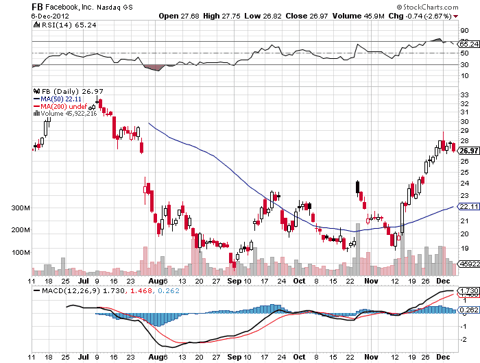 All option prices quoted were the midpoints between the Bid/Ask prices at the time of writing. As always, you should perform your own due diligence before acting upon any trades presented. Also, all trades presented are for March 2013 expiration. I chose this expiration because, as you can see from the chart, Facebook has had a monster run off the $19 line, and I think the stock is due for a pullback in the near term.
Also, my Profit/Loss graphs show results at expiration and calculations only consider the range of prices of $12 - $45 at March expiration. I am fully aware that some of these trades have technically infinite risk but I doubt that FB will rally another 70% from here to make a new all-time high by March. Please understand I know that risk exists, but it's so small (to me) that it isn't worth putting on the P/L graphs. If FB hits $45 by March, any bearish trades put on now will get killed and you should be out long before that happens. In addition, these exclude commissions for simplicity's sake. Having said that, let's move on to the trade ideas.
March 2013 23/27 Bear Put Spread
This trade involves buying one $27 Put and selling one $23 Put. This is a very simple and cost effective way to express a moderately bearish stance on Facebook shares. It has limited risk ($1.60) and limited reward ($2.40) but allows the trader to get short without enormous risk to the upside. The limited risk does mean you need FB to fall below $25.40 by March expiration to make a profit. Here's the structure:
| | |
| --- | --- |
| 23 Put Price | 1.35 |
| 27 Put Price | 2.95 |
| Max Loss | 1.60@27.00 |
| Max Gain | 2.40@23.00 |
| Break Even | 25.40 |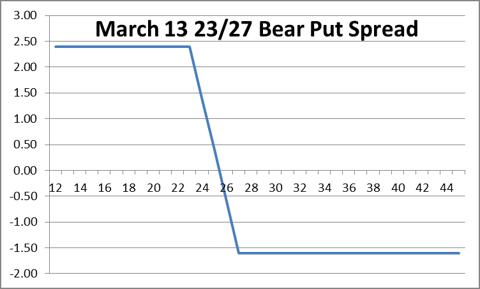 March 2013 23/27 Bear Put Spread and Short 32 Call
This trade is the same Bear Put Spread from above but adding a short $32 Call. This short call raises the breakeven point significantly and also raises the maximum profit. The tradeoff, of course, is potentially unlimited risk to the upside. I realize the maximum loss is 3 times the size of the maximum gain but to understand the trade, you need to look at the P/L graph. You can see the range of prices where this trade makes money is substantial and if FB were to exceed this range before March expiration, you'd probably want to close the trade out anyway. Here is the structure:
| | |
| --- | --- |
| 23 Put Price | 1.35 |
| 27 Put Price | 2.95 |
| 32 Call Price | 1.65 |
| Max Loss | 12.95 |
| Max Gain | 4.05@23.00 |
| Break Even | 32.05 |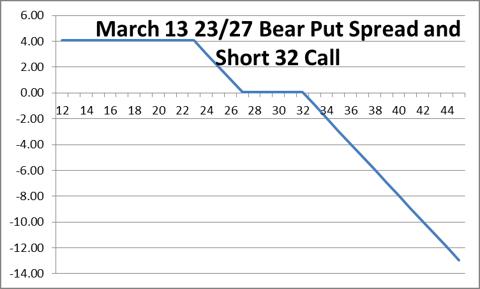 March 2013 28 Strike Risk Reversal
This is a higher risk strategy that involves selling one $28 Call and buying one $28 Put. This effectively gets you short FB for a debit of $0.40. The risk is that FB closes above $27.60 on March expiration and you are on the hook for unlimited losses to the upside. But as I said, this one is riskier and is for the trader who has more conviction about FB going lower from here. Here's how it works:
| | |
| --- | --- |
| 28 Put Price | 3.45 |
| 28 Call Price | 3.05 |
| Max Loss | 17.40 |
| Max Gain | 15.60 |
| Break Even | 27.60 |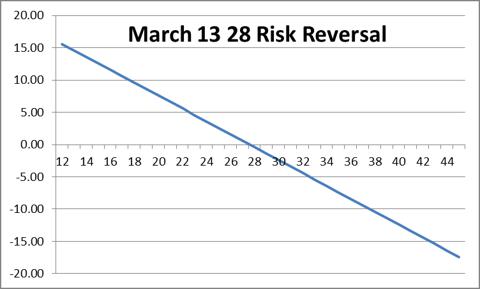 March 2013 Short (2) 32 Calls and Long (1) 28 Call
Our last trade involves more margin since you are short more calls than you are long, but it also adds the bonus of breaking even at any price below $36.25 on March expiration. The trade is to short two $32 Calls and buy one $28 Call. This gives you an enormous margin of safety on this trade in exchange for the margin requirement and additional risk of being short the extra call. The breakeven point is roughly 32% higher from today's price. Here's how it works:
| | |
| --- | --- |
| 32 Call Price (2) | 1.65 each |
| 28 Call Price | 3.05 |
| Max Loss | 8.75 |
| Max Gain | 4.25@32.00 |
| Break Even | 36.25 |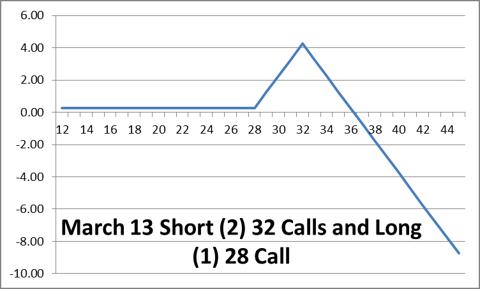 Conclusion
We have seen four completely different structures with varying levels of risk and margin requirements that all express bearish postures on shares of Facebook. If you believe, as I do, that Facebook is overvalued following its springboard rally off of $19 last month, you can use these structures to get short Facebook without having to borrow the shares. Once again, if you missed my valuation discussion, the link is in the first paragraph.
In addition, if you disagree with the strike prices, you could switch them around to better suit your view on the shares. One last point: someone who is long Facebook shares could use one of these structures to hedge the long position against a large drop in the shares.
If you have any thoughts, I'd be happy to discuss them in the comment section.
Disclosure: I have no positions in any stocks mentioned, but may initiate a short position in FB over the next 72 hours. I wrote this article myself, and it expresses my own opinions. I am not receiving compensation for it (other than from Seeking Alpha). I have no business relationship with any company whose stock is mentioned in this article.