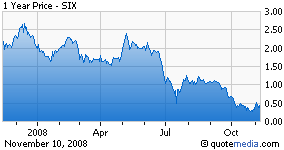 Six Flags (NYSE:SIX) reported dramatically improved results. The management made the case that the spend is up and attendance is also up. Free tickets have been curtailed but the pricing model is a strong value proposition. The key item is that they are cash flow positive for the first time in some six years. Strong comments where made about "Watch our dust when we get rid of the huge leverage"

Analysts almost exclusively focused on balance sheet issues. They seem concerned with leverage and valuations. It's too late for that the leverage is already astronomical by any measure. The analysts did not really focus on the operations side.

I worry about management view that operations will be adequate. The economy is in the tank. Spending will be curtailed. They need to be focusing on how to survive when millions are tapped out on their credit cards and cannot meet their mortgages.

I also worry about the analyst community which clearly has missed significant improvements in operations. There is a back story here. Comments are being made about Korea and Dubai. Watch for some dramatic restructuring to loosen the shackles of onerous debt. The danger will be for existing shareholders. Will you be adequately compensated for the risks you have taken. Or will you be crushed by strong new capital arriving in a very big boat.