For me, it's starting to feeling like December 2011 all over again. I guess you could call it Deja Vu. You see, last year, one of my biggest stock plays was a relatively undiscovered company called Cheniere Energy (NYSEMKT:LNG). I must have done countless hours of research into their new business plan and vision. I think that I reviewed almost anything that I could get my hands on regarding Liquefied Natural Gas known in the industry as LNG. The more due diligence that I did convinced me that there was no doubt in my mind that there was definitely something very big brewing here. I felt strongly that the world as we know it was making a paradigm change to LNG as a future leading fuel source like petroleum and coal is today. The US was about to be a part of that change. Energy critics here said no way; Oil is king and there is no way that the US would ever allow the export of our natural gas to other countries. Well, Charif Souki, Chairman and CEO of Cheniere Energy (a true visionary) took his vision and is executing his plan at Sabine Pass like he envisioned years ago. One should note that the stock was a huge holding of hedge fund guru John Paulson and he sold out of his position at around $5.50 from his entry into the stock at $3.00. I didn't. I stayed in, but did trade it a few times then went all in around November 2011. The stock drifted down through December. It looked scary. I endured some pain, but I stuck to my plan to hold for a run and boy, did it. Please see the chart below.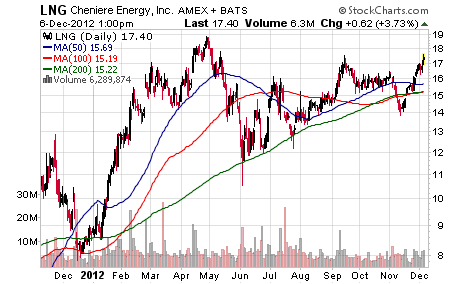 Anyway, the point of my story is that I too am a relatively large holder in Vringo (VRNG) stock. I truly believe that we are on the ground floor of a very good investment opportunity much like Cheniere Energy was in 2011.
Yes, I see a lot of noise and confusion on the Internet which includes SA, Motley Fool and various stock message boards. Everyone has an opinion. Some might just be categorized as distorted long or short articles and posts. Investors like me just want the real facts.
Here Are Some Questions For The Doubters:
Didn't Vringo pull off the merger with IP/Engine that they announced that they were working on? (People said it wouldn't happen, but it did.)
Within only 4 months of establishing the patent enforcement division of their business plan, didn't Vringo win the verdict against Google? (Again, people said it wouldn't happen, and they won big.)
Didn't Vringo's legal team beat Quinn Emanuel's litigation team? Yes, check.
Do

companies

like Nokia (NYSE:NOK) who now know that Vringo has a strong enforcement division want to have a business relationship with Vringo? Yes, check again.
Court Litigation Track Record:
1) Don Stout vs. Research In Motion (RIMM). Stout won big.
2) Vringo's David Cohen (prior to joining VRNG) vs. Apple (NASDAQ:AAPL). Cohen's legal team won big.
3) Ericsson vs. ZTE injunction patent case. Ericsson won big.
Now Let's Compare Two Company Valuations At The Time Of A Similar Win Between VirnetX and Vringo:
The companies to compare are VirnetX (NYSEMKT:VHC) and Vringo. VirnetX owns a portfolio of valuable patents relating to 4G LTE and Internet security. Vringo also owns a portfolio of patents on Internet search, 2G, 2.5G, 3G and 4G. These patents are also known as GSM, WCDMA, LTE and others. These are very significant patents.
Comparing Lawsuit Wins
1) VirnetX - Won their first big lawsuit and settled with Microsoft (NASDAQ:MSFT) on May 17, 2010. Microsoft lost $100MM in the lawsuit, but paid $200MM. With 50MM shares outstanding - the stock was $6 - it placed their valuation at $300MM
2) Vringo - November 6, 2012 the company wins their first lawsuit against Internet giant Google (NASDAQ:GOOG) - They have 113MM shares outstanding - The stock trades at around $3.00 - Let's call the valuation here around $300MM.
OK, so what? The stock "valuations" are similar taking into account the number of shares and stock trading price at the time of the wins. Like VirnetX after their first win, it took some time for investors to truly comprehend the value brought to their shareholders. After digesting these wins the market saw great value. The stock reacted positively. I believe that this is what we are also experiencing with Vringo.
Recapping Some Interesting Facts:
The VirnetX vs. Microsoft win was $200MM, but with the Vringo lawsuit, the net net, at the end of the day may very well equate to between $500MM - $600+MM or possibly more with the 3.5% reasonable rate on running royalties (RR's).
OK, let's forget about the $30.5 judgment by the jury, eliminate the laches, and just erase all of the past financial numbers, including the alleged damages errors and confusion altogether. Let's just focus on the future and go from here. Doesn't it make sense that if Vringo applies a 3.5% running royalty rate based on 20.9% of Google's US AdWords revenues through 2016 that it could very well equate to a much bigger win than the Microsoft win of $200MM? My calculations are conservatively north of $500MM and aggressively north of $700+MM giving Google's yoy ad revenue growth increase of 20%.
During these similar instances VHC stock hovered around the $6.00 level before moving up to $20 a few months later. Then as new defendants were added the stock traveled up to over $40?
Again, going back to our comparison to VHC's 50 MM shares vs. Vringo's 113 MM shares if VHC went to $20+ then wouldn't it be safe to say that VRNG could see $10, then possibly $20 just like VirnetX did over time. Maybe or maybe not. Time will tell.
So, am I concerned at the price action today? Well yes, but not if I take a view leaning more towards a value play. Given the filings and upcoming catalysts, this stock could spark in the coming weeks and months. Although in this business nothing is guaranteed and nothing is set in concrete, if we simply review the charts below and compare (as a simple exercise of similarities) we see that VHC moved once investors really understood the story there. I suspect the same will happen with VRNG stock in time.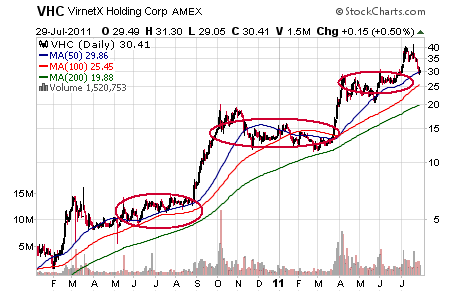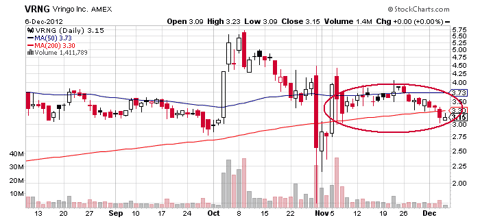 Now Let's Look at the ZTE Lawsuits And The German Court System:
Vringo files a second lawsuit against ZTE in the UK and the third Vringo enforcement action filed against ZTE to date. Link to Lawsuit info.
In the US, because of a prior EBAY case, a US company cannot get an injunction in the US, but they can get an injunction in Germany. The court system is different there. Its brutal.
In Germany the threat of an injunction can bring a settlement
Threats of injunctions as in the case of Ericsson Vs. ZTE brought a settlement of over $600MM
You can search key words: German Mannheim injunction for more data
More about Vringo Infrastructure and ZTE. Link to more info.
Lets Point Out A Few More Real Facts:
1) Patents have real value. If not then why did Google buy Motorola's patents for $12.5 billion? Why did Microsoft buy AOLs patents for over $1B?
2) This company is more than just a trial vs. Google. (The floodgates to future lawsuits with other tech giants in the US , China and Europe could follow.)
3) The jury was confused on past damages. This will get addressed.
4) Vringo's long investment value will eventually be obvious once the company explains their legal strategy.
5) Vringo has achieved a landmark victory against a giant company, Google.
Like Cheniere Energy in 2011, what gives me courage to hold Vringo in this sloppy market is the rotation into this company by strong institutions who are buying the stock. Vringo is now seeing filings from institutions as well coming from: AIG (NYSE:AIG), Alyeska, and Kingdon Capital Markets who have taken sizeable positions in Vringo. Cheniere also experienced large investors acquiring their stock in 2011 from strong firms like: Blackrock (NYSE:BLK), Orbis, Kleinheinz and FMR to name a few.
OK, you ask, then what do I do now? You have to stick with your gut as I am doing. The patents do have value. The truth will prevail. It usually does despite all the games and noise, and there is plenty of it if you go looking for it. It's a pretty safe assumption, and I honestly believe that Vringo will file several motions on or before the deadline of December 18th to address and fix the past errors that may be obvious to many followers in this court case. I also think it would be prudent to take a bit more of a longer term view of the stock vs. a swing trade that you could have taken advantage of in prior months.
SUMMARY:
Let's take a breath, get out of the jungle, and take a 200 foot view above the trees. Remember, when there is uncertainty and confusion people get frustrated like me and just want clarity. If scared, stockholders may even decide that they want to exit the stock and find a better company to invest in, but where does that get you? All stocks have some level of risk and volatility. Haven't we all had these thoughts as investors from time to time? I know I have. This is normal behavior. I know what you must be thinking and I know how you must feel: fear, frustration and anxiety. It goes with the territory, especially with all of the Fiscal Cliff debates plaguing the market. Before that it was the debt ceiling, and before that it was Greece fears. Fear is to be expected, but eventually we do work through the challenges. I'm sure that you are especially fearful if you are under water on this stock. I'm right there with you, however I intend to stick with the facts and refuse to get emotional as hard as it may seem. This too shall pass. Some aspects of trading and investing in the market is purely psychology.
Sit back and look at the bigger picture of why this might be a winning stock for 2013. Let the company continue to build a strong story moving forward as they have been doing. This stock is not a short term trade, but rather a longer term investment opportunity and value where it currently sits at the low $3.00 range.
Remember, if VHC went to $40 on settlements with Microsoft and Apple, then couldn't VRNG theoretically go up on the Google and ZTE lawsuits?
Lastly, I hope this article has given you something to think about. My money is on a team that has done what they say that they would do from the start. So far they have been extremely successful and I expect more successes down the road.
Disclosure: I am long VRNG. I wrote this article myself, and it expresses my own opinions. I am not receiving compensation for it (other than from Seeking Alpha). I have no business relationship with any company whose stock is mentioned in this article.