I'm going to refer back to one of my tables in the first of this two part series called "Searching For The Right Balance Of Income And Appreciation Funds" to help explain what I mean. You can read that article here, here, and the focus of the article is the three tables showing most of the high yielding equity based closed-end funds (CEFs) sorted by their YTD total return performances.
The one table I want to bring to your attention is the one sorted by each fund's total return Net Asset Value (NAV) performance for 2012. Green represents funds which had outperformed the S&P 500 and red represents funds which have underperformed. Keep in mind that many of these funds include fixed-income bonds in their portfolios and/or international stocks and so the S&P 500 may not necessarily be their benchmark index. Note: Total return includes all distributions added back but not reinvested. This includes all dividends for the S&P 500 ETF (NYSEARCA:SPY) which was up 14.9% through November 30, 2012.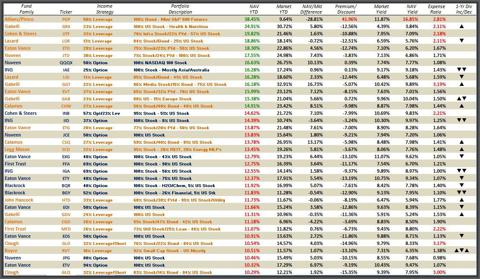 What I want you to notice is that most of the funds at the top of the list which have outperformed the S&P 500 are leveraged funds shown in orange. If I had shown you this table for 2011, this would have been flip-flopped and most of the top tier funds would have been shown in blue, which are the option-income funds. There is also another class of equity CEFs called the "dividend harvest" funds shown in olive green but there are only a few funds that use this strategy and none of them made the list since I was only able to show only about half of the 75 funds included. I would not recommend investors buy any of the "dividend harvest" funds anyway.
These classes of equity CEFs, 1). leveraged, 2). option-income and 3). dividend harvest, describe the method by which these funds derive their income which they pass on to investors in the form of high distributions and yields. You can see their high yields in the table under Market Yield and NAV Yield. Though all of these funds are high yield, for the purposes of this article I am breaking them down into income and appreciation funds because each strategy excels in a certain market environment and knowing which funds will outperform in an up market and which funds will outperform in a flat to even down market can put you ahead of the game since most investors don't differentiate between these funds at all.
So with that said, I wanted to list a few funds I like based on how the markets perform going forward. I should add that each fund has a unique portfolio of securities and some funds may use a combination of strategies so one should not come away thinking that all leveraged funds will outperform in an up market or underperform in a down market while all option-income funds will outperform in a flat to down market or underperform in a strong up market. As you can see from the table above, good and bad performing funds can come from all strategy types in up or down markets.
A Strong Up Market (10%+)
My first fund is the Legg Mason Capital & Income fund (NYSE:SCD) - SCD is a leveraged fund that is mostly in US based equities, including 25% of its portfolio in energy MLP', 21% in REITs and most of the rest in dividend yielding stocks. At only a -3.7% discount and an 8.1% market yield (quarterly pay), SCD is more of an appreciation play in the recovery of the US real estate and energy markets to go along with a strong equity market. SCD has been narrowing its discount for most of the year whereas most funds have seen their discounts widening recently so there seems to be anticipation that SCD will be in the sweet spot heading into 2013. SCD goes ex-dividend on December 12th, 2012 meaning you would have to own the security by the close the day before to be entitled to the distribution.
Nuveen Tax-Advantaged Dividend Growth fund (NYSE:JTD) - You want to stick with funds that are firing on all cylinders and JTD is definitely one of them. With a NAV up 17.3% YTD and a market price up 25.1%, JTD has been one of the best performers in 2012. JTD is a leveraged domestic and preferred stock fund that can have big market moves due to its small size. Though its discount has been reduced to only -3.5%, JTD gets a lot of interest in a strong up market, and look for a potential distribution increase in 2013 if the US markets have another good year. JTD offers a 7.1% market yield and goes ex-dividend December 12th, 2012.
Cohen & Steers Global Income Builder (NYSE:INB) - INB is the only option-income fund in the strong up market group because INB is also leveraged. With a pure global stock portfolio, i.e. no bonds, and a relatively low option-coverage on its portfolio, INB has a lot of NAV upside in a strong global market as evidenced by its 14.7% total return NAV performance YTD. And at a -10.4% discount and an 11% market yield (quarterly pay), INB offers one of the best total return opportunities of all equity CEFs in a strong up market. INB should go ex-dividend the third week of December.
Eaton Vance Tax-Advantaged Global Dividend Opportunities Fund (NYSE:ETO) - ETO is another leveraged fund whose NAV is up a very strong 18.2% YTD. And yet ETO has one of the widest discounts of all equity CEFs at -13.2% partly due to its relatively low 7.2% yield (monthly pay). Compared to ETO's sister funds (NYSE:ETG) & (NYSE:EVT) which are also leveraged and include up to 32% fixed-income securities, ETO is relatively cheap and I wouldn't be surprised to see a distribution increase in 2013 if the global equity markets continue their upswing. One nice feature of all of the Eaton Vance leveraged funds (ETO, EVT and ETG) is that they go ex-dividend twice in December as the January distribution is pushed back into the end of December.
An Up Market (0% to 10%)
My four funds for an up market begin with the Calamos Global Dynamic Income fund (NASDAQ:CHW) - CHW has had a very good year so far in 2012 up 23.2% YTD. Part of the reason for the strong market price performance was a large distribution increase earlier in the year for both CHW and its sister fund, the Calamos Strategic Total Return fund (NASDAQ:CSQ).
What makes both funds attractive is their relatively high 50% fixed-income bond exposure in their leveraged stock and bond portfolios. Like equities, fixed-income has had a good year and if you go to CEFconnect.com, you'll see that most pure fixed-income CEFs (high yield, investment grade, munis, etc.) trade at either close to par or premiums and yet here is a fund that is over 50% in fixed income securities (mostly high yield bonds and convertibles) trading at a -10.5% discount and an 8.9% market yield (monthly pay), substantially higher than most pure bond CEFs. Then consider that as a leveraged fund with US and overseas stock exposure, CHW can have more NAV upside than most fixed-income bond CEFs.
But the real selling point of CHW is its relative valuation compared to CSQ. That's because both funds have essentially the same fixed-income bond portfolio but CHW has a higher overseas stock exposure. This has actually been working in CHW's favor recently with a NAV up a robust 15.4% YTD, better than CSQ's NAV not just on a YTD basis but even on a longer 5-year basis surprisingly enough. And yet its CHW trades at a -10.5% discount, well over twice CSQ's -4.3% discount. Historically, these two funds have traded in lock step so the fact that CHW has better NAV performance, a higher yield and trades at twice the discount makes this fund the one to own. Both CHW and CSQ also pay distributions twice in December with the first ex-dividend date today, December 7th.
Cohen & Steers Infrastructure fund (NYSE:UTF) - UTF has had one of the best total return NAV performances YTD, up over 19.8% and its longer term performance has also been outstanding. However, I'm putting UTF in the up market category and not the strong up market category because even with its leverage, UTF includes a lot of global utility and infrastructure stocks which have fallen out of favor recently. Nonetheless, UTF's superior short and longer term NAV performances makes the fund a must own at a ridiculously wide -11.1% discount, much wider than most utility CEFs that still trade at premiums and not much different than at the end of 2011 when most CEFs dropped to their widest discounts. UTF offers an 8% market yield (quarterly pay) and should go ex-dividend around the 3rd week of December.
Eaton Vance Enhanced Equity Income fund (NYSE:EOI) - Don't look now but EOI has quietly become one of the best performing Eaton Vance option-income funds, up 11.6% at NAV YTD. Historically, EOI has been a laggard and I have preferred EOI's sister fund, the Enhanced Equity Income fund II (NYSE:EOS), but EOI's relative outperformance, 9.7% yield paid monthly and extremely wide -13.4% discount makes EOI the fund to own now.
Nuveen Equity Premium and Growth fund (JPG) - I'm adding JPG to the up market list because like many equity CEFs, it has seen its discount widen considerably recently and I believe this offers an excellent entry for an option-income fund that is more defensive than most selling 80% option coverage on its US based stock portfolio while still offering excellent NAV upside in an up market environment. At an -11.4% discount and an 8.7% market price yield, JPG is an excellent value. Goes ex-dividend December 12th, 2012.
A Flat to Down Market (-10% to 0%)
For a more defensive market environment, there are no better funds than several of the option-income funds from Eaton Vance (NYSE:EV) and Nuveen. This is because their most defensive funds offer the highest option coverages of all the option-income funds which allows their NAVs to hold up better in a down market environment. This is not to say that their NA's won't appreciate in a strong up market environment, they just won't outperform.
My current favorites from Eaton Vance are the Tax-Managed Buy/Write Opportunities fund (NYSE:ETV) and the Tax-Managed Global Buy/Write Opportunities fund (NYSE:ETW), both of which go ex-dividend this rotation in December, usually during the third week. ETV, with a US only stock portfolio, currently offers a 10.5% market yield at a -10.2% discount while ETW, with a global stock portfolio, offers a 10.6% market yield at a very wide -12.5% discount. These funds will become even more attractive in 2013 when they move from quarterly pay to monthly pay. Combined with a 10% share repurchase program announced in August by Eaton Vance and their tax-advantaged distributions, I can honestly say that if investors truly realized the advantages of these funds, they would be trading at closer to premiums rather than wide discounts.
For the most defensive option-income funds which don't use a collar option strategy, Nuveen's Equity Premium Opportunity fund (JSN), Equity Premium Advantage fund (JLA) and Equity Premium Income fund (JPZ) are excellent funds to own. These were the best performers in 2011 with NAVs up 5.5% to 6.0% when many market indices were down on the year. This is why these funds provide a good balance with more aggressive funds in case the US markets turn downward. As an example, here is JLA's NAV total return performance compared to the S&P 500 from close to the market high at the end of the 3rd quarter 2007 to around the bear market low at the end of the 1st quarter 2009.

Here you can see that JLA's NAV held up far better than the S&P 500 during the bear market financial crisis. Of course, JLA's market price can go wherever investor's take it but that's where the opportunity is because again, most unsophisticated investors will not differentiate between defensive funds like JLA, JSN and JPZ from bull market funds when the going gets rough.
Of the three, I like JLA the best because it is more NASDAQ-100 stock weighted, trades at the widest discount at -11.4% and offers the highest yield of the three at 9.4%. All the Nuveen equity CEFs go ex-dividend on December 12, 2012.
Conclusion
Here are all the funds mentioned in the article updated through December 6th, 2012 and sorted by their NAV total return performances.

Finally, the end of the year tends to see equity CEFs discounts widen and so for some of the higher valuation funds like SCD and JTD, I would recommend waiting for a better entry point. Most of the others I believe offer excellent entry points here though be prepared to add to positions on any weakness towards the end of the year.
Note: Many of the option-income funds have high Return-of-Capital (ROC) in their distributions. This should NOT be considered a red flag for the funds I have listed and in fact, should offer an even greater advantage in 2013 if dividend oriented funds are taxed at a higher tax rate.
Disclosure: I am long CHW, UTF, INB, EOI, ETV, ETW, ETO, EVT, JLA, JPG. I wrote this article myself, and it expresses my own opinions. I am not receiving compensation for it (other than from Seeking Alpha). I have no business relationship with any company whose stock is mentioned in this article.
Additional disclosure: Short SPY, IVV