INTRODUCTION:
Our last article, "Apple Is Still A Bargain, Likely Headed Past $500", the stock was trading at $489. Not only did the stock cross $500 but $600 then $700 on September 18, 2012. The stock has been backtracking ever since trading at $548 at the time of this writing. So what, if anything, is wrong with Apple (NASDAQ:AAPL)? We'll break down the discussion as follows in an attempt to find answers:
Performance
Financials & Valuation
Conclusion
PERFORMANCE:
The TTM (trailing twelve month) product revenue is shown below: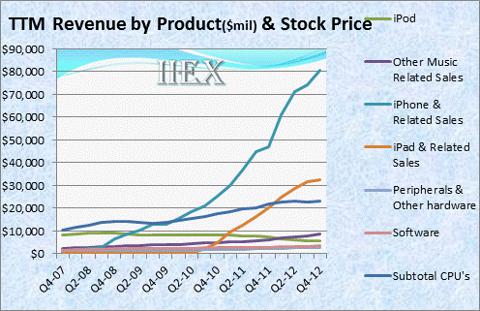 The stock is being driven by the steep increase in iPhone and iPad sales (below).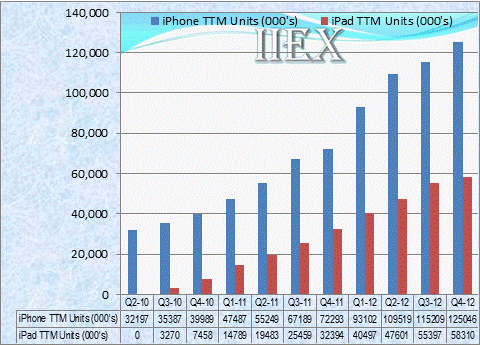 The stock should trend higher if the EPS and cash flow growth rates remains in the double digits, although this will be dependent on the iPhone and iPad markets going forward. Valuation is dependent on strong growth for these products in the absence of new product rollouts.
Although growth on a TTM basis is trending up unit sales for the quarter were not as robust as past performance shown below.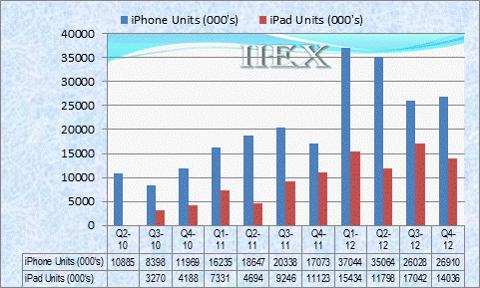 It is important to note that a drop or slowdown in quarterly sales is nothing new. The TTM data is a better indicator then quarterly snapshots.
The quarterly data used in this article can be found here.
FINANCIALS & VALUATION:
We'll examine trends based on management's financial track record to highlight longer-term trends. The annual data used in this analysis can be found here.
EPS TRENDS: The following graph for EPS and cash trends are arrived at by calculating the statistics for a trend line using the "least squares" method. This determines the line that best fits the historical data and consensus estimates.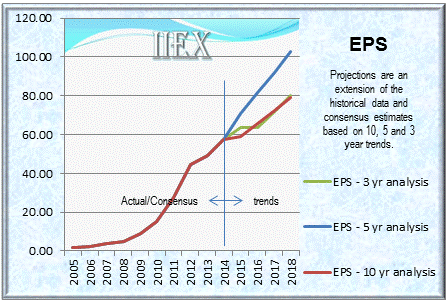 The above represents the following trends:
| | |
| --- | --- |
| Analysis Period | EPS Growth Trend |
| 3 year | 8.81% |
| 5 year | 15.82% |
| 10 year | 32.68% |
| Long term used | 15% |
FCF (Free Cash Flow) TRENDS:
.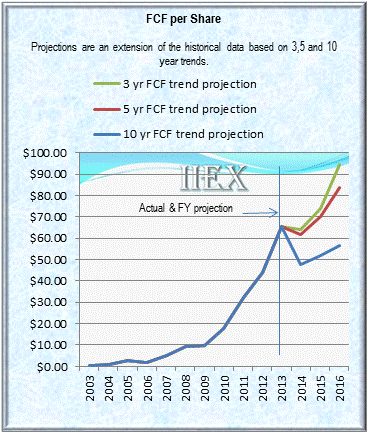 The above represents the following trends:
| | |
| --- | --- |
| Analysis Period | FCF Growth Trend |
| 3 year | 13.1% |
| 5 year | 21.2% |
| 10 year | 41.3% |
| Long term used | 13.4% |
VALUATION: The following fair value analysis is based on management's longer-term financial performance as measured by the previous data. Fair values are based, in part, on the following: Discounted cash flow, a modified Graham's intrinsic value formula and a P/E analysis. The valuation model consists of two parts.
The discounted cash flow and the modified Graham's intrinsic value are blended to arrive at a fair value.
A P/E analysis based on historical adjusted values.
Fair value used is the minimum value of the two parts.
Part 1: Discounted cash flow and the modified Graham's intrinsic value.
An estimated long-term EPS growth rate of 15% and long-term cash per share growth rate of 13.4% were calculated from the data described above. Analysts are more optimistic according to data presented at Nasdaq.com, projecting a five-year EPS growth rate of 21% as of this writing.
Running these projections through our pricing model, excluding the P/E analysis, produces a fair value of $726. Needless to say, the result is sensitive to changes in the growth rates as illustrated below.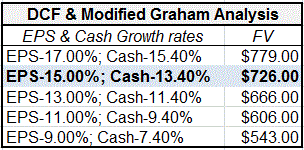 Part 2: P/E Analysis
The model looks at current and past periods to calculate a limiting P/E value. This produces a maximum allowable P/E of 18 yielding a fair value of $876. The P/E is not the controlling factor in this case.
Final fair value is the minimum of the two methods or $726.
CONCLUSION:
So what is wrong with Apple? Nothing based on the fundamental analysis presented above. It could be fear generated from one or both of the following:
Tax/Economic uncertainty
Emerging competition
The three ring circus going on in Washington known as the "Fiscal Cliff" has many taking action now; i.e., tax rates are going up on investment gains and if there is no agreement; fear of a recession. The stock is up 36% for the year after the pullback so why not take advantage of this year's tax rates. If the politicos in Washington send the country into a recession pushing fear to panic it's not hard to imagine all the years' gains lost and not just confined to AAPL.
One of my favorite descriptions about investor fear or panic is from Benjamin Graham's "The Intelligent Investor" updated with new commentary by Jason Zweig. He explains how fear can affect judgment. This excerpt starts on page 220 (emphasis mine).
When stocks drop, that financial loss fires up your amygdale-the part of the brain that processes fear and anxiety and generates the famous "fight or flight" response that is common to all cornered animals. Just as you can't keep our heart rate from rising if a fire alarm goes off, just as you can't avoid flinching if a rattlesnake slithers onto your hiking path, you can't help feeling fearful when stock prices are plunging.

In fact, the brilliant psychologists Daniel Kahneman and Amos Tversky have shown that the pain of financial loss is more than twice as intense as the pleasure of an equivalent gain. Making $1,000 on a stock feels great-but a $1000 loss wields an emotional wallop more than twice as powerful. Losing money is so painful that many people, terrified at the prospect of any further loss, sell out near the bottom or refuse to buy more.
We've yet to hit the point where fear becomes so pervasive any market drop defies logic but fear about what is to come could be a catalyst to sell. Why risk potential panic if gridlock rules the day and the economy goes over the cliff. After all the wash rule doesn't apply to profits so nothing prevents buying back stock if things improve, in the meantime any profits taken in 2012 will get favorable tax treatment vs. 2013.
The second scenario is emerging competition. Competition going forward is much more intense especially in tablets. Will Microsoft's (NASDAQ:MSFT) Windows 8 be a game changer for tablets going forward? Let's face it Windows 8 is built for tablets and MSFT already has a large developer and customer base for Windows. Windows touchscreen devices that did not exist a year ago are starting to trickle out or planned in the near future. Here's a sampling:
How this affects iPad unit sales growth down the road is yet to be seen but this new wave of competition is here to stay.
So which is it, tax and economic uncertainty or Windows 8 competition? I'd speculate the looming fiscal crisis along with higher taxes is responsible for much of the selling but not all. Based on history and short term projections the stock appears undervalued; assuming we are not about to enter a recession.
Even if EPS and Cash growth were reduced as shown in the "DCF & Modified Graham Analysis" table presented earlier, the downside appears limited from today's (12/6/12) closing price.
Disclosure: I have no positions in any stocks mentioned, but may initiate a long position in AAPL over the next 72 hours. I wrote this article myself, and it expresses my own opinions. I am not receiving compensation for it (other than from Seeking Alpha). I have no business relationship with any company whose stock is mentioned in this article.
Additional disclosure: I am long MSFT