In the advancing world of technology, staying ahead of the competition requires a healthy flow of ongoing innovation. It is this ability to introduce change through such innovation that allows for the development of market advantages over industry peers. For this reason alone, high-tech companies continuously invest into their research and development departments in order to turn tomorrow's products into a realized reality. As this is the case, it might be said that a company that has secured the ability to accelerate such innovation discovery may indeed have been placed into one of the most attractive strategic positions on the market.
Therefore, investors may find one of the most interesting long-term investment opportunities available in a company called Intermolecular, Inc (IMI). What possibly makes Intermolecular a hidden gem lies in the fact that the company can significantly increase R&D productivity. At first glance, it may be easy to dismiss this small company with a $307 million market capitalization. Yet dive a little deeper into the company's business model and those with a touch of foresight may soon be stashing away their negative presuppositions. After all, the company's long-term business revolves around the ability to establish royalty-bearing arrangements.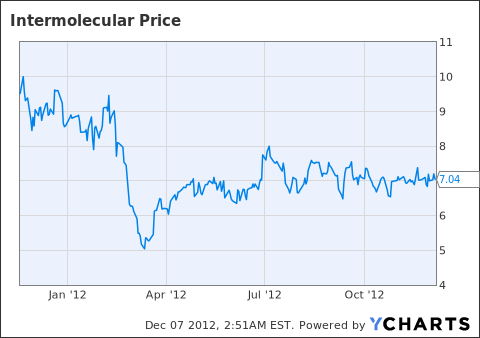 Yet why would other companies be willing to enter into these kinds of arrangements merely for an outsourced service? The reason is not hard to find. According to the company's S-1 Filing found here, Intermolecular states that it's high productivity combinatorial [HPC] platform allows for "experiments to be performed at speeds 10 to 100 times faster than traditional methods." The HPC platform also utilizes a proprietary and patented combinatorial method to parallel process up to 192 experiments on a single substrate. This is contrasted against the traditional methods in which typically only a single experiment can be ran at a given instance. It would be worthwhile to pause and dwell on this for a minute. Experiment time that has been accelerated on the level of several multitudes results in many unique advantages. Some of the most overt benefits include the following possibilities:
Lowered R&D costs.
Improved quality

and

depth of research.
Shorter product development cycles.
Increasing technological advantage over the competition.
The reason Intermolecular pioneered an approach to accelerate R&D is because it is a company that specifically specializes in R&D. It utilizes combinatorial processing systems in order to improve upon the methodology of how research is conducted. The current approach that is used to explore new material and processes can be cumbersome as production tools can typically only run one process at a given time. Therefore, when a production tool is used to perform and evaluate experiments, it is no longer servicing a high-volume manufacturing line. Additionally, third-party approaches to complementing internal R&D efforts are typically not customized for specific customer application needs nor do they often provide high-volume manufacturing-ready technology.
What Intermolecular brings to the table is a significant advantage when it comes to R&D. The company's HPC platform integrates three key elements. The Tempus HPC processing tools quickly conducts different experiments consisting of various combinations of materials, parameters, sequencing and device structures. It also includes automated characterization in order to rapidly generate experimental data while matching the processing throughput. Last of all, the HPC platform uses proprietary informatics and analysis software in order to automate experiment generation, characterization and analysis of the data while also matching with the processing throughput.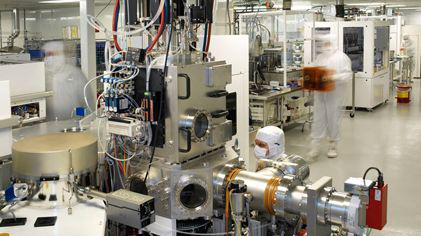 Intermolecular generates its revenue through three means: collaborative development program [CDP] and services; product sales; and licensing fees and royalties. CDP revenues may include payments for full time employees, milestone payments, subscription payments for workflow tools and consumables used. Product revenues often consist of the sale of workflow hardware and embedded software. These revenues are expected to be low in number as they are only done selectively in order to increase additional business opportunities. Licensing fees are payments made for licensing the HPC platform capabilities and related software. Most importantly, the royalty payments include the payment of royalties on products commercialized by Intermolecular's customers that incorporate technology developed through the company's CDP relationships.
At the time of the company's IPO in July 2011, Intermolecular owned or had exclusive rights within their field of use to 577 U.S. patents and patent applications. According to the aforementioned S-1 filing the company explicitly stated that these "provide us with a competitive advantage in the use of combinatorial methods and systems in our target markets." Yet one important and unique advantage is that the company can often claim additional intellectual property from inventions derived from its HPC platform. By early January 2012, the company announced that its intellectual property [IP] portfolio had grown to 730 U.S. patents and patent applications as seen in the news release found here. In fact, the company had filed 207 patent applications in 2011 which spanned across a variety of innovations in the fields of semiconductor technology, photovoltaics, light-emitting diodes, and energy-efficient glass.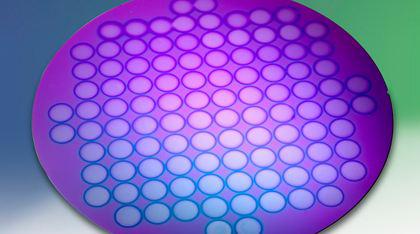 The rapid pace of development and exclusive control over the company's platform plays a key role in attracting some of the most prominent players in their respective industries. In early 2012, Intermolecular not only retained but also expanded and extended its CDP with Guardian Industries, the world's largest manufacturer of coated glass for automotive and architectural uses. By June 2012, First Solar (FSLR), the world's largest thin-film solar panel manufacturer, entered into a newly signed CDP with Intermolecular. Most recently in October 2012, Intermolecular also snagged a large information technology product and service provider when it entered into a relationship with IBM (IBM). Thus, in less than a year the company managed to expand and develop three large partnerships with leaders in three unique industries.
Looking forward, the analysts continue to predict steady growth for Intermolecular. With its partnership model and ability to earn royalty payments off of next-generation technology, Intermolecular's future remains seemingly stable and bright. Yet as a consequence of development cycles, the ramp-up in profits will also be somewhat slow in their realization. Here is the analyst outlook according to the estimate compilation found here:

One factor that inherently remains problematic for Intermolecular is the fact that the company is reliant upon financial well-being of its customers. In February 2012, this was put to the test as Elpida, a significant customer of the company, went under and filed for protection under the Corporate Reorganization Act in Japan. Inherently, this situation made the guarantee of future revenues obligated by Elpida to Intermolecular less than predictable. The below graphic illustrates the company's revenue diversification. Customer D can be assumed to be Elpida and the asterisks indicate a "less than 10%" figure.

While Micron Technology Inc. (MU) would eventually acquire Elpida and brighten the outlook for Intermolecular's situation, the company continues to be put at risk in light of the heavily competitive environment of its customers. Ironically, the heavy competition serves as a double-edged sword. On the one hand, it is this intense competition that continues to drive companies to partner with Intermolecular. On the other, it can also serve to introduce risk as seen in the case of Elpida.
Yet despite the possible risk found in revenue concentration, presumably Intermolecular will be able to further diversify its revenues as more customers begin to tap on the company's shoulder for a CDP. The development of royalty revenue streams may also continue further diversify away the revenue concentration risk should companies discontinue their CDP relationships. Likewise, the expansion into additional industries should also serve to enhance the revenue spread.
Investors should continue to watch Intermolecular as it strives to develop its key partnerships. The company's long-term strategy succeeds most favorably when its partners successfully develop technical advancements that are critical to their success and strategy. Yet it's for this very reason that such companies come to Intermolecular to begin with. Such synergy becomes the very epitome of a corporate "win-win." This is why Intermolecular has already established relationships with First Solar, IBM, Guardian Industries, SanDisk (SNDK), Taiwan Semiconductor Manufacturing Company (TSM), and Toshiba to name a few.
Because Intermolecular exists for the sole purpose of research and development, the company will inherently continue to fortify its patent portfolio as a result. The previously mentioned 207 U.S. patent applications filed in 2011 is just a demonstration of the company's ability to innovate on behalf of its customers. Its ability to retain ownership over the intellectual property that is derived using the HPC platform remains an ongoing intangible value of significant worth to the company and to its investors. When one fully considers the outlook for Intermolecular's competitive advantage in R&D, the long-term future for the company remains a highly profitable prospect.
Disclosure: I am long IMI, MU. I wrote this article myself, and it expresses my own opinions. I am not receiving compensation for it (other than from Seeking Alpha). I have no business relationship with any company whose stock is mentioned in this article.