By Steven Orlowski
In the four years since the U.S. Federal Reserve brought rates down to zero, U.S.-based investors are forced to take extra risk and look in less common places to achieve desired income levels. One such place is a closed end fund (NYSEMKT:CEF) that invests overseas, has a nice current yield and expects to continue a long history of solid performance.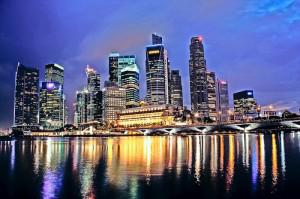 The Singapore skyline
The Aberdeen Asia-Pacific Income Fund, Inc. (NYSEMKT:FAX) is a team of 25 professionals located in 10 offices in places including Singapore, Australia, Malaysia, and Thailand. The fund has been managing money in Asia for more than 20 years. The fund has about $2 billion in assets under management.
FAX has performed well for a very long time. Its net asset value (NYSE:NAV) rate of return has averaged in excess of 10% per year for the most recent 1, 3, 5 and 10 year periods. It has averaged 8.11% per year for the past 15 years.
Since 2010 the fund has trended comfortably higher. Although it did take a beating in the 2008 – 2009 financial crisis the fund has made a very strong comeback.
The portfolio is well diversified even though it contains a few concentrated elements. It owns securities denominated in Australian and New Zealand dollars (45%) and US dollars (37%), a clear majority of the portfolio, as well as various other developing Asia regional currencies. Although many of the securities are denominated in US dollars fund management made a point that the underlying assets are 100% Asian. Other currencies the fund has exposure to include the South Korean Won, Philippines Peso, Malaysian Ringgit, Singapore Dollar and the Thai Baht.
42% of the portfolio is invested in Australian and New Zealand debt. The rest is well diversified around Asia. 47% of the portfolio is in government bonds while 34% are corporate issues. 83% of the fund is investment grade. The fund also holds debt issued in South Korea, Phillipines, Malaysia, Hong Kong and mainland China among others.
The fund manager believes that the advantages enjoyed by investing in Asia will continue for some time. Extraordinarily high debt levels in the west will further weigh down performance there. In comparison with China, the Philippines, Indonesia and South Korea – which have much lower levels of government debt – Aberdeen expects developing Asian economies will continue to facilitate growth through government spending initiatives.
The FAX team expects developing Asia to represent 49% of global GDP by 2050. They see 3 out of top 5 countries at mid-century to be Asian.
Despite their optimism Aberdeen is not arguing that Asia won't also be impacted by a continued slow growth environment in the West. The company has lowered its expectations for Asian growth for 2013 and beyond to 6%. This does however still exceed the most optimistic expectations for the developed Western economies.
It was also noted that the environment of stronger growth, fiscal flexibility, low levels of debt and current account surpluses in developing Asia is conducive to continued out-performance. The team at Aberdeen sees continued strength in the regions currencies which will support positive fund performance by attracting more investment dollars. Superior inflows will also be lured by the yield advantage that investors are enjoying overseas.
The fund boasts a current yield of 3.5% which compares quite advantageously to similarly structured US bond funds. Agreeing as we do with the outlook for the increasing influence of Asian economies it is no doubt advisable to have exposure to the type of debt FAX invests in. For emerging market investors the Aberdeen Asia-Pacific Income fund is a great place to start.