The GRVY train came and left pretty quickly. But now it's back. Back at $1.17 o'clock.
In case you are new to this company, Gravity (NASDAQ:GRVY) is a Korean online game company that I have talked about extensively. Think Zynga (NASDAQ:ZNGA).
The company has hit a fresh 52-week low after rocketing up over 100% earlier this year before their flagship game was released in Korea. The problem was that acceptance in Korea has been slow and their Q3 results are not great. According to the unaudited financials, GRVY has lost money this quarter and their expenses have increased by quite a large amount. The expenses have increased because of the investment required to launch an English version for international markets.
But at $1.17, forget about how well their game will be received overseas. GRVY has returned as a net-net strategy.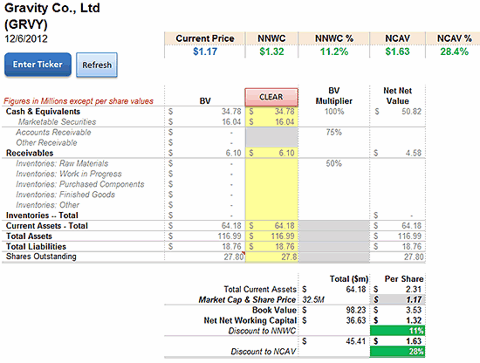 Current price: $1.17
NNWC: $1.32
NCAV: $1.63
Book value: $3.53
Tangible book value: $2.28
The lowest of all low-ball valuations of a company is the net-net working capital. At the moment, the market does not believe that GRVY is worth its liquid assets. So we are back to square one again.
I sold quite a bit before all this recent selling, but with the stock price where it is now, it is starting to get interesting again. If investing in GRVY as a net-net holding, the opportunity is great. You need to be extra patient, but the current price offers excellent value.
However, if this was more of a typical value opportunity, then it's not so good based on what I've experienced so far. Selling at today's prices is a bad move. As long as the balance sheet remains intact, even with the occasional losses I will continue to hold GRVY, and maybe even add if it goes lower.
Disclosure: Long GRVY.