We have been following Diamond Foods (NASDAQ:DMND) since Q1 2011. We were interested in the company because it was the company that made two of our favorite snack foods (Kettle Chips and Emerald Nuts). We considered buying into it when it was trading around $49/share. DMND had originally reported $1.51 EPS in the first half of its 2011 fiscal year (DMND's fiscal year ends around July 31st) and had increased its supposed EPS forecasts for FY 2011 to $2.51. We felt a twinge of regret that we missed DMND's 100% run-up from $48/share in March to $96/share in September. The one good thing about missing that run-up was that DMND's share price had resulted in the company's PE reaching 37X adjusted FY 2011 EPS. That kept us from "panic buying" DMND's shares and that has helped us avoid an 85% negative total return since September 2011. Although we regretted not shorting the company, we are pleased that at least we didn't lose money on DMND thanks to its accounting scandal forcing it to restate earnings. Now that Diamond has recently restated EPS, it remains to be seen if it can store the shine and luster previously associated with its shares.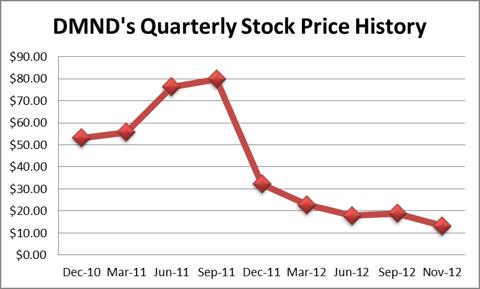 Source: Morningstar Direct
In September 2011, Diamond Foods CEO Michael Mendes must have been pleased with himself in that he took Diamond Foods from a little-known walnut grower's co-operative to a fast-growing mid-cap branded snacks purveyor. Diamond was able to realize its "growth" due to a combination of acquisitions, organic growth and clever product advertisements such as its 2007 Super Bowl ad with Robert Goulet. The company had "recorded" strong revenue and profit growth for FY 2011 and had raised its guidance for FY 2012. Furthermore, Diamond had executed an agreement with Procter & Gamble (NYSE:PG) in order to acquire its Pringles potato chip business. Unfortunately for Mendes and Diamond Foods, the company announced in November that its acquisition of Pringles would be delayed due to issues relating to DMND's accounting of certain crop payments to walnut growers. This helped sink Diamond's share price by 50% from the beginning of November to the end of the 2011 calendar year.
The issue with regards to DMND's accounting of certain crop payments to walnut growers centered on how it treated a series of payments sent to walnut growers in September 2011 for their crops. Diamond's growers are paid in installments, with final payment for the prior fall's crop coming late the following year. DMND had told conflicting stories with regards to these payments to the analyst community and to its growers. DMND told analysts that these payments were advance payments for the upcoming walnut crops while telling the farmers that the payment was to settle up the prior year's crop, but "would be budgeted into the next year." This raised the issue of moving grower payments into prior years in order to manipulate EPS.
Douglas Barnhill was one of Diamond's growers as well as an accountant and in the process of reevaluating letters Diamond sent to him, Barnhill saw a pattern in which year after year Diamond, citing industry figures, would initially predict sizeable year-end inventories. But later, after having paid growers, Diamond would report significantly lower actual inventories, leaving Barnhill suspicious. On February 8 this year, following an investigation, Diamond's audit committee said it had found payments of $20 million to walnut growers in August 2010 and $60 million in September 2011 that were not booked in the correct periods.
Because of these accounting restatements, Diamond had to fire its CEO Michael Mendes as well as its CFO Steven Neil. Diamond also had to call off the Pringles deal with Procter & Gamble. P&G later sold off Pringles to Kellogg's (NYSE:K) for $300M more than what Diamond was going to pay and Kellogg's paid the merger consideration in cash rather than with shares. The good news for Diamond was that the company was still profitable in 2010 and 2011 and its $80M in incorrectly treated grower payments during 2010 and 2011 were partially offset by lower tax expenses in those years. Unfortunately for Diamond, its EPS in 2011 had sagged by almost 18% versus 2009 levels.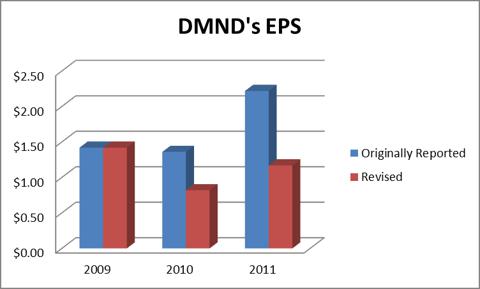 Source: Diamond's Original 2011 Annual Report and Revised 2011 Annual Report
Diamond Foods recently completed its financial restatement and in addition to reporting its revised FY 2010 and FY 2011 results, it reported its results for the first nine months of its FY 2012 fiscal year. The good news for Diamond is that it still eked out a small sales growth for its first nine months of FY 2012 and is projecting a slight increase in revenues for the full FY 2012 period. The bad news is its adjusted EBITDA declined from $89.6M in YTD 2011 to $58.9M in YTD 2012. This was due to a 6% increase in recurring SG&A expenses in order to support sales efforts as well as a substantial decline in walnut crop deliveries to Diamond and an increase in average walnut cost per pound of over 50 percent. Rising prices of other commodities and higher operating costs primarily due to excess plant capacity also contributed to the downward pressure on gross margin.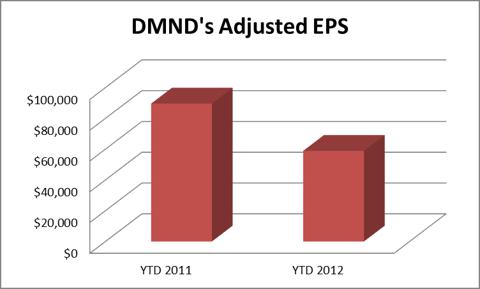 Source: Diamond's Q3 2012 Earnings Release
The good news for Diamond Foods is that it has a number of institutional investors that have taken a position in the company. The largest institutional shareholder is Litespeed Management, LLC and Litespeed has an 8% stake in DMND. Litespeed is an event driven hedge fund firm founded in 2000 by Jamie Zimmerman focusing on distressed investment opportunities and was featured in Barron's earlier this year. Litespeed increased its position by 31% in Q3 2012 versus Q2 2012 levels. Other notable managers include WHV Investment Management (3.56%), the Bill and Melinda Gates Foundation (2%), Rivanna Capital, LLC (1.78%), Bruce & Company (1.4%) and Gabelli Funds/GAMCO (1%). WHV is a subsidiary of Laird Norton and it manages $11B in equity assets as of Q3 2012 using a Growth at a Reasonable Price (GARP) philosophy. Bruce & Company manages the four-star rated Bruce Fund, which is a well-known multi-asset allocation mutual fund. Gabelli's stake in Diamond is largely held by its five-star rated Gabelli Small Cap Growth Fund.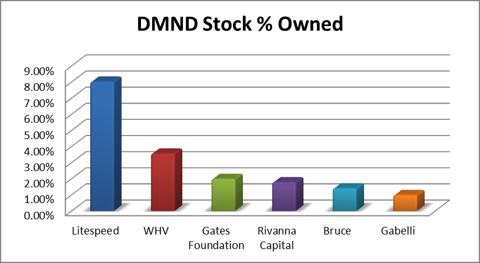 Source: Morningstar Direct
In conclusion, we're reopening up coverage on Diamond Foods. While it has seen better days, we believe that the absolute worst is over for Diamond. Diamond's brand name and image has been severely damaged due to the chicanery of its previous management. It will take a long time for the company to restore the shine and luster that it previously enjoyed with consumers and investors. However, we have reopened coverage in Diamond Foods because a number of leading investment boutiques have taken a position in the company and because we were previously interested in it in the first place. One thing we learned about Diamond that we can apply to other companies is to not feel the need to "buy it in a panic" even when the price goes up by 100% within less than a year.
Disclosure: I have no positions in any stocks mentioned, and no plans to initiate any positions within the next 72 hours. I wrote this article myself, and it expresses my own opinions. I am not receiving compensation for it (other than from Seeking Alpha). I have no business relationship with any company whose stock is mentioned in this article.
Additional disclosure: This article was written by an analyst at Saibus Research. Saibus Research has not received compensation directly or indirectly for expressing the recommendation in this article. We have no business relationship with any company whose stock is mentioned in this article. Under no circumstances must this report be considered an offer to buy, sell, subscribe for or trade securities or other instruments.