The six-month S&P 500 (NYSEARCA:SPY) return forecast by our Performance Analytics Return Model (PAR Model) increased once again this month, to 19.2%. This is only the second time in a decade of backtesting that the model gave such a high return forecast. The last time this happened before was in 1H-2009. We consider this to be a tremendous buying opportunity that comes across only a couple of times in a decade.
The PAR Model is the proprietary factor model that we use to forecast equity returns over a six-month period. The model is based on a dynamic multi-factor regression of S&P 500 returns over economic, valuation, and market variables. Factors are chosen automatically each month based on their statistical significance from the initial set of 22 factors that have proven to be significant over time. Forecasts are revised twice a month.
The model provides the answers that tactical asset allocation managers need:
- What's the return forecast for equities right now?
- What factors that really affect equities should we be looking at?

An asset class with double-digit six-month potential return is very attractive to most investors (assuming risk is properly accounted for). And very rarely do expected returns approach 20%. In fact, as can be seen from the backtesting chart above, the last time the PAR Model™ forecast was as high was in the first half of 2009. Actual S&P 500 returns followed suit, with six-month total returns (including dividends) being above 20% in every six-month period that started between January and June of 2009, and as high as 40% starting in February 2009. Neither actual nor expected returns have been as high in any other period in the last decade -until this month's forecast of 19.2%. That's why we think that this month's result from the model indicates a buying opportunity that happens only a couple of times in a decade.
We encourage investors to take advantage of this opportunity that is presented in the market. We recommend that investors overweight equities significantly relative to their normal, or benchmark, allocation - close to the maximum according to their risk tolerance. To implement the overweight, any liquid instrument tied to the S&P 500 index can be used, such as the S&P 500 ETF .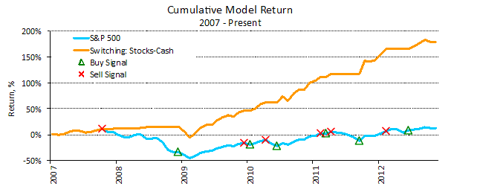 The chart above depicts the Buy and Sell signals that the model gave since 2007 in backtesting (while the year 2012 is as reported in real time). Among a variety of TAA strategies that can be implemented based on the model, perhaps the simplest one is switching between stocks and cash - its return is shown on the chart. We will be reporting detailed performance of our model strategies in our next quarterly issue of this report, but as you can see, it performed very well, with annualized return in the last five years of above 20%.
In a short term, markets are focusing on the "fiscal cliff", which caused a minor sell-off in the last two months. We don't mean to downplay the seriousness of the U.S. fiscal situation - we think that the levels of government debt and deficit are a real and serious problem. It is now obvious that a viable long-term solution must involve higher taxes on the wealthy, and some budget spending cuts. Implementing such a solution will not be easy. In the short term, however, we think that markets priced-in the worst-case scenario of continued stalemate, but some form of a solution will be found. Remember the "debt ceiling" a couple of years ago?
Two economic factors - Industrial Production and Durable Goods Orders - were switched-off this month as part of automatic model specification procedure, due to their low level of statistical significance. They were replaced by one other economic and one market factor. The increase in the forecast from last month of +5.5% is entirely due to this change in factor composition.
Valuation Factors: 3.0%, Net-Positive
Valuation continues to be net-positive, aided by the drop in the S&P 500 in the last two months. As detailed in the bottom chart below, the contribution of P/E Ratio to the return forecast is 4.0%, and Price to Book Ratio is 2.0%; offset somewhat by the negative effect of Earnings Quality (-3.0%).
Economic Factors: 9.9%, Positive
Housing continues to be a very significant element of the PAR Model™, constituting two out of three economic factors that remain switched-on in the model. New Houses for Sale has by far the largest positive contribution at 17.1%, offset somewhat by Median Home Sales Price at -7.2%.
Market Factors: 6.3%, Positive
Market Factor #3 that measures the health of the banking sector was switched-on this month as a result of the automatic model specification procedure. This factor's contribution is the second-largest of all factors, 8.3%.
While crude oil prices rose last month, its effect on the return forecast remains only mildly negative (-2.8%) due to the lag in this effect. According to the AAII, the ratio of bearish to bullish individual investors remained high in November, no doubt aided by the fear of the fiscal cliff. This factor has a small positive contribution of 0.8%.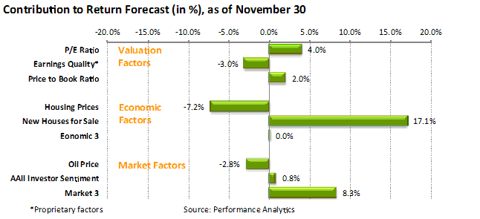 Disclosure: I have no positions in any stocks mentioned, and no plans to initiate any positions within the next 72 hours. I wrote this article myself, and it expresses my own opinions. I am not receiving compensation for it. I have no business relationship with any company whose stock is mentioned in this article.