Overview
Much focus has come Apple's (NASDAQ:AAPL) way over the last week, trying to figure out what in the world is dragging it down. Apple has lost $50 billion in market capitalization over the last week, marking the worst performance in the stock since 2010. The stock has actually been down 9 out of the last 11 weeks and lost $150 billion in that time frame.
Sounds like there must be something seriously wrong with the company for this type of devastation of shareholder wealth right? Different reasons for the massive fall have been postulated by me and many other pundits regarding the drop. The major factors so far have been end of year tax loss selling, the fiscal cliff, increased competition, shrinking margins, the death cross, margin requirements being raised, Steve Jobs being gone, product parity and the law of large numbers to name a few. But the fact of the matter is Apple is simply transitioning from a growth or momentum stock to a value stock.
Moving from Growth to Value
I posit the move from growth to value is key factor in the decline. Microsoft (NASDAQ:MSFT) is the perfect case study for Apple. When Microsoft grew into a behemoth and began declaring dividends that was the beginning of the end for its growth and the start of over a decade of dead money, which it finds itself still in as of today.
When we heard Apple announce plans to declare a dividend and buy back shares in March of this year, I saw this as a warning sign that the era of Apple's extraordinary growth may be coming to an end. Nevertheless, investors caught up in the euphoria couldn't see the forest through the trees and continued buying.
When you review the chart, you see the price action over the last three quarters created a parabolic design which often marks the end of a growth stock's upward momentum. All parabolic moves are inevitably proven unsustainable and break down at some point.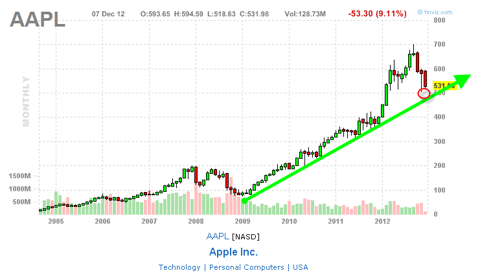 How many high profile skyrocketing momentum stocks have you watched come crashing back to earth recently? The answer is a whole bunch. Netflix comes to my mind first, followed by Green Mountain Coffee Roasters Inc. (NASDAQ:GMCR), Open Table (NASDAQ:OPEN), Travel Zoo (NASDAQ:TZOO) and Soda Stream (NASDAQ:SODA). All pumped incessantly by pundits during their huge runs and then left for dead when they ran out of steam.
The following is a famous quote from Benjamin Graham, a famous value investor who has made millions in the market:
Most of the time common stocks are subject to irrational and excessive price fluctuations in both directions as the consequence of the ingrained tendency of most people to speculate or gamble ... to give way to hope, fear and greed.
I believe it is quite apropos regarding Apple's recent moves both up and down. I posit Apple is at an inflection point. As growth shareholders' dreams of doubling their money on Apple fade and they sell out, a new cadre of value investors is replacing them.
Growth investors chase upward trends in a stock's price. They believe that these stocks will continue to soar due to the "momentum" already behind them. The problem is a momentum stock is hot until it's not. Momentum Stocks tend to take the stairs up and the elevator down as Apple has over the last few weeks.
Value and income investors are looking for solid companies with strong fundamentals which may provide capital gains and income at a reasonable risk premium. This would seem to fit Apple perfectly. I can't tell you how many times I've heard someone ask the questio n… why is Apple trading for only 10 times forward earnings? Maybe because it's a value stock.
The Bottom Line
"If it looks like a duck, swims like a duck, and quacks like a duck, then it probably is a duck." - James Whitcomb Riley
This famous quote from Riley seems quite apropos for the current state of Apple. If you only looked at Apple's fundamentals without knowing the name of the company, I posit most would make the call it is a value stock. The company trades for 12 times free cash flow, has a forward P/E of 9.44, a PEG ratio of .63, pays a dividend, has over $100 billion in cash and plans to buy back shares. Sounds like a value play to me, and a good one at that.
Nevertheless, Apple finds itself without Jobs now, and I can't help but think there may be another Jobs emerging to steal Apple's thunder. Perhaps Google (NASDAQ:GOOG) might with the help of its Android operating system coupled with Samsung Electronics (OTC:SSNLF), the world's top maker of memory chips and smartphones. The South Korean firm, which surged past Apple as the world's top smartphone maker in the third quarter of 2011, is quickly building on its supremacy with sleek designs and a rich product line-up surpassing the likes of HTC, Nokia (NYSE:NOK) and BlackBerry maker Research In Motion (RIMM), which are still in the game by the way.
Apple's profit margins will suffer from the increased competition and even Apple's earnings guidance which stands by the age old parable of under promise and over deliver may finally draw the ire of analysts. Yet, I would not bet against Apple at this point.
With most of the irrational exuberance rung out of the stock and Tim Cook's plans for the future, I see a major buying opportunity approaching for long-term value investors to start a position in Apple.
Thursday during an NBC special Apple CEO Tim Cook challenged those doubting Apple's prospects for the future.
"Don't bet against us, Brian, don't bet against us," Cook stated to NBC's Brian Williams in response to a question about Apple's attempts to divert from a company's usual cycle of life and death. Cook went on to say, "We have to make sure at Apple that we stay true to focus … laser focus. We can only do great things a few times, only on a few products."
In short, the current sell off was inevitable and healthy for the stock. I believe Apple will reach the $475 mark before all the growth buyers have sold out and the value investors finally take hold. This will be the time to buy.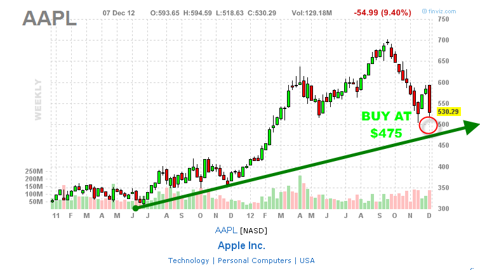 With all the hot air out of the stock and Tim Cook at the helm I feel confident they can continue to perform at a sustainable pace. This is the first legitimate buying opportunity in Apple in over three years.
Disclosure: I have no positions in any stocks mentioned, but may initiate a long position in AAPL over the next 72 hours. I wrote this article myself, and it expresses my own opinions. I am not receiving compensation for it (other than from Seeking Alpha). I have no business relationship with any company whose stock is mentioned in this article.
Additional disclosure: This is not an endorsement to buy or sell securities. Investing in securities carries with it very high risks. The information contained within this article for informational purposes only and is subject to change at any time. Do your own due diligence and consult with a licensed professional before making any investment.