By Gene Kirsch, Senior Banking Analyst, WeissRatings.com
Our first domestic bank stock portfolio wrapped up with 10 of 14 picks outperforming their target price and seven of 14 reaching their book value price. Overall, the undervalued portfolio had a 31.07 percent return for nine months ended October 26. The charts below show the final individual stock performance and monthly portfolio performance:
(click images to enlarge)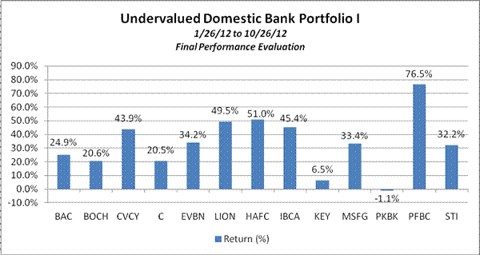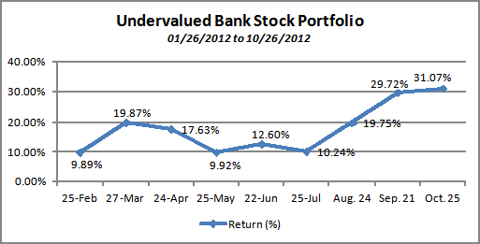 After the carnage in domestic banking stocks during 2011, especially the large money center banks like Bank of America (NYSE:BAC) (down 58 percent), Citigroup (NYSE:C) (down -44 percent) and Wells Fargo (NYSE:WFC) (down 41 percent), the turnaround in 2012 so far has been just as remarkable: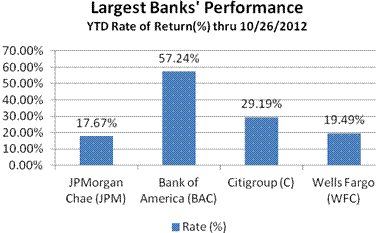 These four largest banks control 56 percent of all U.S. banking assets and 50 percent of all revenues. As these four banks go, so goes the entire U.S. banking sector. In that regard, the KBW Banking Index (NASDAQ:KBWB), a weighted index of 24 geographically diverse stocks representing national money centers and leading regional institutions, gained 15.7 percent in 2012 through October 26. This includes the four largest banks, plus others like SunTrust Bank (NYSE:STI) (up 46.3 percent). However, PNC Financial (NYSE:PNC) has lost another 2.2 percent so far in 2012 on top of the 5 percent decline in 2011. The S&P Banking Index, a much broader banking index that includes all banks in the Standard & Poor's, is up 10.2 percent so far in 2012.
Given the short-term pricing pressure that may face the U.S. banking sector in the coming months (see the latest article in the series "Major Headwinds Confront Banking Industry"), it may be difficult to duplicate the stellar returns experienced in the first portfolio and the price appreciation for all bank stocks this year.
With the success of this first U.S. banking portfolio and the turnaround in the banking sector in general, a new, more stringent set of criteria was used to identify the next list of undervalued U.S. bank stocks. All stocks in the new portfolio meet or exceed the minimum criteria set below:
Weiss Financial Strength Rating of C- (Fair) or higher
Stock price greater than $2.00 per share as of October 26
Average one-month daily trading volume greater than 25,000 shares
Positive earnings per share (EPS)
Price appreciation potential of at least 10 percent
Other selection criteria include comparing several ratios among the banks: price to book, price to tangible book, current price to 52-week high, forecasted EPS and price target. The table below represents the best selections of all 1,159 publicly traded U.S. banks.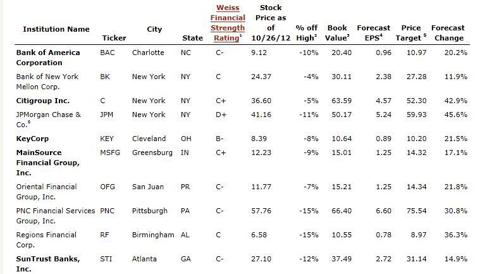 1Weiss Financial Strength rating is based on Q2 2012 data; A=Excellent; B=Good; C=Fair; D=Weak; E=Very Weak; Plus sign=top of grade range; Minus sign=bottom of grade range
2Percentage off one-year stock price high
3Basic book value calculated for the most recent quarter available
4Forecasted EPS is the mean of all analysts' estimates for 2013
5Price target is based on a blended average price-to-earnings ratio (P/E) for all publicly traded banks (11.44x)
6JPMorgan Chase & Co. has a financial strength rating of B- (NASDAQ:GOOD) despite the operating company's rating of D+ (Weak)
This new basket of 10 stocks represents the best value available in the banking sector with an average expected return of 29.7 percent over the next 12 months. Five of the names (in bold) were also in the previous basket. They are still included here, because they still represent a good value based on updated price-to-book calculations, adjusted earnings estimates and current prices. Conversely, nine names were dropped from the previous portfolio due to their current prices exceeding their target price or book value as well as low average daily volume (below the 25,000 per month threshold).
The new group's average current price is 90 percent of its 52-week high, but just 80 percent of its two-year high and 70 percent of its three-year high. The portfolio's price-to-basic book value is 0.74, and its price-to-tangible-book value is just six basis points above the average of all publicly traded banks at 1.04. For example, Bank of America, which has a current price of $9.12 and is 10 percent below its 52-week high, is still 40 percent off its two-year high. BAC's price is also well off basic and tangible book of $20.40 and $13.16, respectively, which indicates that good value is still available. With the average analysts' estimates of $0.96 per share for fiscal year 2013, the bank's forecasted stock price over the next 12 months projects out at $10.97 for a return on investment of 20.2 percent.
It is reasonable to expect, as with the first basket of undervalued U.S. bank stocks, that the returns of this new basket will exceed the broader market and banking benchmarks.
Disclosure: I have no positions in any stocks mentioned, and no plans to initiate any positions within the next 72 hours. I wrote this article myself, and it expresses my own opinions. I am not receiving compensation for it. I have no business relationship with any company whose stock is mentioned in this article.