How important is a strong management team to a growing biopharmaceutical company? Just ask any of the Santarus share holders. The Santarus story should be a prerequisite for any CEO starting a biotech company. As you read this article I think you will discover the true potential of Santarus. I believe a $20 stock price in 2013 is a conservative prediction.
A brief history
A few short years ago Santarus (NASDAQ:SNTS) looked like a sinking ship on the verge of destruction. The company lost its lead product, Zegerid, when the U.S. District court for Delaware ruled in favor of Par Pharma on claims the Zegerid patents were invalid. Upon the news, the stock price crumbled as investors questioned how Santarus could survive the loss of Zegerid which was responsible for 70% percent of the company's 2009 net revenue. In my opinion, CEO Gerry Proehl and his management team are the only reason Santarus is still in business and thriving today. In June 2010, two months after the lower court's decision, Par launched generic Zegerid, Santarus followed suit and launched its authorized generic through Prasco Pharma. Santarus was left with a falling stock price, a deeply discounted generic and Glumetza, the company's only branded marketed product with 2009 revenue of $23.9 million. Management acted quickly and reduced the sales force to 110 reps, thus reducing expenses by $40 million.
In September 2010, Santarusin-licensed Cycloset a novel type 2 anti-diabetes agent. Cycloset was a nice addition because it complimented Glumetza and allowed reps to continue focusing on their current called on physicians. Also in September, Santarus in-licensed Ruconest for Hereditary Angioedema. These moves were impressive considering the challenge Santarus faced, of convincing potential partners to hand over the keys to products worth potentially millions to a company that was attempting to rebuild on the backs of a generic Zegerid and Glumetza. Along with their two in-licensed products Santarus continued pushing forward with 3 other pipeline products they had previously acquired (Uceris, Rifamycin SV MMX and San-300). The fiscally smart model the company followed left them with cash of $65 million and little debt, enough money to fund future R&D, and in-license products. Santarus proved they could turn the corner on adversity and begin to show signs of life. Santarus now has a wide portfolio of marketed and late stage products. I'll briefly discuss each product and the potential value it brings to the company.
Santarus struck a promotional deal with Depomed (DEPO) in July 2008 for exclusive rights to promote Glumetza a once-daily, extended-release formulation of Metformin for the treatment of type 2 diabetes. Glumetza's patented delivery system allows patients the ability to reach their optimal dose of Metformin with fewer GI side effects. GI issues are a common occurrence with Metformin, leading to patient non-compliance and early additions of 2nd line anti-diabetes agents. Most type 2 diabetics start therapy with 500mg bid of generic Metformin. At 1000mg the vast majority experience GI adverse events and require the addition of a 2nd agent. The ADA's goal for optimal Metformin therapy is 2000mg, but rarely do patients achieve that level. Glumetza's unique delivery system delivers a QD dose of Metformin slowly over 8-9 hours resulting in 24 hr hour consistent control and fewer GI side effects. Physicians can push doses to 2000 mg thus delaying the need for additional agents.
As previously mentioned, Glumetza revenue was $23.6 million in 2009 the first full year of promotion. Recently, the company reported Glumetza YTD 3Q net product sales of $102.4 million and is tracking to do full year sales of $150 million. Growing a product in a market dominated by generics is difficult enough, but Santarus has still managed to explode sales revenue with a strategic marketing plan designed to target not only patients unable to tolerate generic Metformin, but also 1st line use in newly diagnosed patients. Santarus restructured their deal with Depomed in September 2011, enabling them to control pricing, manufacturing, shipping etc. Following the agreement Santarus raised Glumetza's price by 60% and in doing so saw a 148% increase in revenue for Q4 2011 vs. Q4 2010.
In an effort to be more competitive at the pharmacy an e-voucher program was initiated giving patients a $10 co-pay. The program had analysts concerned because it would cost Santarus about $40 per script to cover each co-pay, however Santarus was confident that the program would help to reduce switches to generic Metformin products at the pharmacy level. The move proved to be brilliant with switches dropping 50% in just the 1st quarter of implementation. Patients can now get Glumetza for a co-pay in the range of generic Metformin making the drug much more attractive to patients and physcians. The significant benefits of Glumetza along with the $10 co-pay has allowed Santarus to target more 1st line use in a growing market place. Trend lines indicate 2013 revenue for Glumetza could hit $200 million. All charts in this article can be found using the above link titled trend lines.
(click to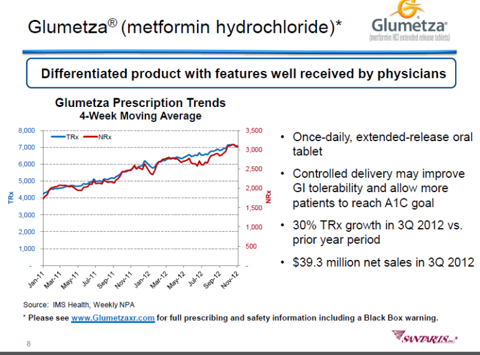 In September 2012, the U.S. Court of Appeals reversed the Delaware district court decision by validating 2 of the patents for Zegerid. After Santarus won on appeal, Par stopped selling their generic version leaving Santarus with the option of terminating their contract with Prasco in an effort to bring branded Zegerid back to market. Santarus made the decision to continue selling the generic version, a smart move for a few different reasons. First, trying to convert all the business from generic to branded could have resulted in patients being switched to generic Omeprazole instead of Zegerid. Pharmacists are incentivized to fill generic whenever possible and while Omeprazole is not Ab rated some pharmacists ignore the law and switch patients anyway. By keeping Zegerid generic, Santarus should be able to convert almost all of Par's business.
In fact, as of September this year, Santarus had converted about 85% of the business and expects to be fully converted by the end of the 4th quarter. Secondly, when a physician writes a Zegerid script it's already generic so Pharmacists have no incentive to switch patients off Zegerid. Investors began to speculate on how this win would impact Zegerid sales moving forward. To date no official guidance has been given, however recently at an investor conference Santarus CEO Gerry Proehl added a little color in reference to Zegerid's future. He mentioned that prescriptions were down about 50% since the generic launch over 2 years ago. Prior to the generic, branded Zegerid had a WAC price of $6 and a net of $3 per pill. Generic Zegerid was $1.50 net per pill and both Par and Prasco had about 50% of the generic market share. 2009 annual Zegerid sales were approximately 119mil with roughly 1.2mill Rx's. Although prescriptions are down 50% since the generic launch Prasco has raised the Wac price to $9.50 per pill, with an avg discount of 40% resulting in a net price of $5.75 per pill, almost double what Santarus was receiving for branded Zegerid. The chart below is just a rough estimate based on the numbers Proehl provided at the investors meeting.
| | |
| --- | --- |
| Pre-Generic 2009 | 2013 |
| 1.2-1.3 million Rx | 650,000 Rx |
| $3 net price per pill | $5.75 net price per pill |
| Zegerid Sales = 119 million | Zegerid 1 yr Sales=112 million |
It's important to take into account that Zegerid prescriptions are still on a slight decline, but the sales force will begin promotion again when the company launches Uceris (assuming FDA approval on 1/16/13). I am confident the sales force can quickly stop the bleeding and even start to grow the product again. Santarus reversed both the Glumetza and Fenoglide trends almost immediately when they acquired the products. Additionally, the share of voice from competition in the PPI marketplace is almost gone with Nexium and other big players now generic. As of September, YTD sales of Zegerid were $27.2 million. With the recent price change and majority of Par business converting over I expect the 4th quarter revenues to be substantial. Santarus could be looking at $100 million+ through 2016 when the patents expires. Santarus is also expected to collect damages from Par for lost revenue including damage to the overall brand. Analysts expect a nice pay day for Santarus. I should mention that Par has appealed the decision the back to the fed court, although it's unlikely the appeal will be granted as only about 2% of cases are re-heard. Instead the case will be sent back to the lower court where Santarus will seek a jury trial to assess damages.
Cycloset (bromocriptine mesylate) is the first and only centrally acting oral type 2 diabetes product. Santarus launched Cycloset in Nov 2010 into a crowded diabetes marketplace. Cycloset has an avg A1C reduction of (0.6 -0.9) which is similar to the other anti-diabetes agents. What separates Cycloset from the herd is impressive cardiovascular safety from a 52 week study with 3070 patients demonstrating a 42% relative risk reduction for composite CVD endpoint vs placebo. Cardiovascular safety is a serious concern physicians have when prescribing medications for type 2 diabetes. The TZD class of medication has seen market share decline dramatically due ongoing cardiovascular concerns. The FDA also appears to be dropping the hammer on medications that show any potential risk. After a slower than expected launch Cycloset sales have climbed nicely. 2012 sales are on target for $15-18 million. If Cycloset prescriptions continue on the current trendline, Santarus could easily see revenues of over $30 million for 2013.
In February 2012 Santarus launched Fenoglide (fenofibrate) a drug designed to reduce (LDL-C), (Total-C), (NYSE:TG). Efficacy is similar across the class but a 10 e-voucher co-pay should help to boost sales moving forward. Fenoglide is a promotionally sensitive drug as demonstrated by the chart below. 2012 sales should fall in the $8 to $10 million range. Projecting 2013 sales with no history of revenue is difficult but a conservative number of $15 million seems appropriate.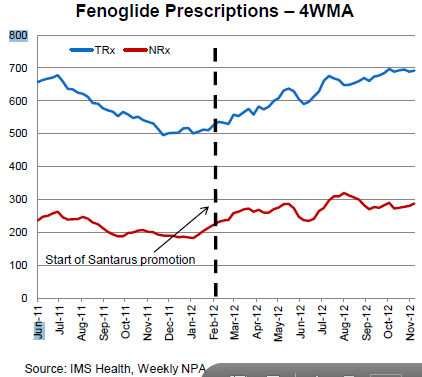 Uceris is a locally acting (non-systemic) corticosteroid in a novel, patented, oral tablet formulation, which utilizes proprietary MMX multi-matrix system technology, its designed to result in the controlled release and distribution of budesonide throughout the length of the colon. Budesinide has topical-anti inflammatory activity and due to an extended first pass effect, has less systemic absorption than other corticosteroids leading to less side effects. Corticosteroids are typically used to treat severe cases of UC as well as patients who do not respond to 5-ASA's. Physicians love the efficacy of corticosteroids but hesitate to use more often because of the vicious side effects (infection, GI bleeding, weight gain, insomnia to name a few.)
It's estimated that 30% of patients on 5-ASA's require add on therapy of a corticosteroid and Uceris should be an automatic addition for these patients because of the dramatic difference in side effects. Santarus started enrollment of an additional phase 3b study to specifically address those patients not adequately controlled on 5 ASA's and requiring an add on. Enrollment should be completed in early 2013. With a Pdufa date of January 16 2013, approval looks very likely based on positive data from 2 phase 3 studies showing Uceris is safe and effective. Both studies were statistically significant for the induction of remission of active, mild to moderate ulcerative colitis with over 1000 patients. In the U.S. trial Uceris had better remission rates compared to Asacol and placebo. In the Europe trial Uceris 9mg outperformed Entocort and placebo. Adverse events were similar among all treatment groups.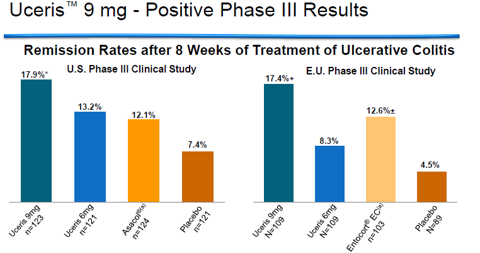 Santarus estimates peak sales around $300 million. This number seems conservative considering Uceris outperformed Asacol and Entocort in 2 separate phase 3 studies. Asacol is a $770 million product and Entocort had peak sales of $375 million before going generic last year.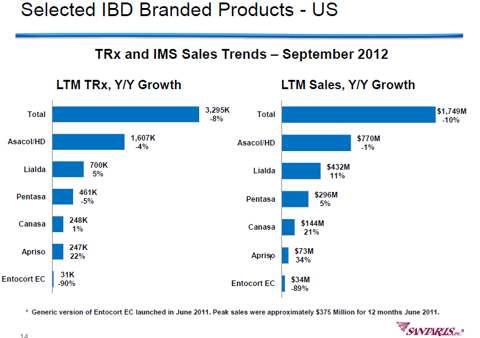 I should mention that failure to gain approval would have a short term negative impact on the stock price.
Santarus recently announced positive results from a phase 3 study for Ruconest. Ruconest(Recombiant Human C1 Esterase Inhibitor) is for treatment of acute attacks of Hereditary Angioedema. Santarus believes Ruconest could be a best in class product to treat HAE and I agree after seeing the recent phase 3 results. The company plans to submit the NDA in 2013. While this product should do well in the market place I think the real potential lies outside of this indication. At a recent investor conference, Proehl stated that the company plans to initiate a proof of concept study for Ruconest to treat acute pancreatitis, a disease that affects 250,000 people in the U.S. alone. Patients who suffer from this, experience extreme pain in the abdomen which can last for several days requiring hospitalization and in severe cases death. There are no disease modifying therapies available so patients are treated with pain medications, IV fluids or surgery. If the proof of concept study has a positive outcome the potential value Ruconest could bring to the table is astronomical.
In September the company announced top line results of Rifamycin SV MMX for travelers diarrhea. The results were highly statistically significant and adverse events were similar to placebo. A second phase 3 study in India is expected to complete enrollment in the first half of next year followed by an NDA submission sometime in the first half of 2014. Together Ruconest and Rifamycin have peak sales potential of $200 million.
San-300 is an anti-VLA-1 antibody that has "blockbuster potential." as quoted by Santarus CEO Gerry Proehl. The preclinical studies in IBD, RA, psoriasis, and organ transplant showed "stunning results." Currently patients with RA are being enrolled in a phase 1 study expected to be completed this year followed by a phase 2 starting sometime in mid 2013. It's still early but any positive clinical data could add significant value to Santarus stock price.
So, Why is Santarus undervalued?
Santarus is currently trading around $9.85 with a market cap of $622 million and 3.31 P/S. The average biotech stock trades at 5 P/S. The current stock price at a P/S of 5 should be $15. More importantly looking ahead to 2013 the following chart shows a conservative look at sales. Using the current 3.31 P/S ratio at $375 million the stock price would be $20. At the sector average of 5 P/S stock price = $30.
| | |
| --- | --- |
| 2013 | Revenue=375 million |
| Zegerid | $100 m |
| Glumetza | $175 m |
| Uceris | $70 m |
| Cycloset | $20 m |
| Fenoglide | $10 m |
Since most investors value a company on potential sales of all products including late stage, I think it's important to calculate and show the actual value of the company.
| | |
| --- | --- |
| Glumetza, Cycloset, Fenoglide -combine peak sales=$300-$400 million | P/S 3.31 =stock price $48 |
| Uceris, Ruconest, and Rifamycin-combine peak sales $500 million | P/S ratio of 5= a stock price of $72 |
| Zegerid-$100 million | |
| Total=$900 million (using 300 million for Glumetza Cyc, and Feno) | |
Santarus has cash of $81 million and very little debt. None of the above calculations took into account potential damages Santarus should receive from Par in 2013.
No matter how you view it, Santarus is undervalued and on the verge of a huge breakout. Analysts current estimate for 2013 revenue are $300 million. That's $75 million off the conservative estimates I used above. I want to remind investors that while Uceris looks very positive for approval in January, the FDA has been known to surprise people.
I urge anyone interested in Santarus to perform your own research before making a decision to buy. I am not a professional analyst and have made certain assumptions on future stock prices that are strictly my opinion. *The product slide data is from a recent investor conference.
Disclosure: I am long SNTS. I wrote this article myself, and it expresses my own opinions. I am not receiving compensation for it (other than from Seeking Alpha). I have no business relationship with any company whose stock is mentioned in this article.